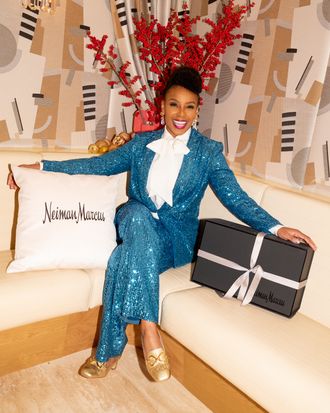 Photo: Courtesy of the Subject
Amber Ruffin, obviously the host of The Amber Ruffin Show, doesn't dress like her fellow late-night hosts, a largely white group of men who seem to gravitate toward bland suits designed to attract the least attention possible. Instead, Ruffin looks for ones that are incredibly, almost offensively, loud. "If I'm doing too much, I'm doing it right," she says. "Every suit I wear is insane."
But tailoring is relatively low on Ruffin's list of priorities these days. She's co-writing two musical adaptations, including a Broadway remake of Some Like It Hot, and in November, she released her second book co-authored with her sister, Lacey Lamar. She spends most of the week working on The Amber Ruffin Show, which is in its third season, and also writing for Late Night with Seth Meyers, where she's been working since 2014. On December 6, she hosted Neiman Marcus's annual White Elephant exchange in a bright blue sequin suit — which, by her standards, is underdressed. There, she witnessed (some might say, encouraged) one editor stealing a sparkly green Bottega bag from another in the game. All is fair in love and White Elephant!
Let's talk about these suits.
When I found out I was gonna have my own show, I knew I wanted to wear suits. The show happened during COVID, so everyone who had a late-night show was dressed in, like, sweatsuits. I'm a Black lady in America; I can't just be lounging around. I wanted to dress like a little fancy guy. When I'm picking out a suit, I'm looking for whichever one makes me the happiest. And whichever is a little too far.
I've always loved a suit, but it's not even about the suit or me, it's about the fun little bowtie. I love those things so bad. Also, I need to be covered. I used to dress crazy — you couldn't get clothes on me. From, like, 23 to 27, I never had my stomach covered in any type of way. I was too cute in these streets. Now that I'm a little older, I'm retired from showing my legs.
We're in the third season of your show. What have you learned about being a showrunner?
At the beginning, I would usher each little element of the show along. I don't want anyone to have to do a ton of work, so I might as well do as much as I can so people have it a little bit easier. That's my motive. But now I know everything is better the less I help. I always try to not give our writers too much direction. If you think you have an opinion on the lighting, you probably don't. It's outside your expertise. So I pride myself on letting the experts do what they're experts at.
You're also co-writing two musicals. What's your favorite place to sing?
I sing on the treadmill. I walk to work and I have my headphones in, and I want so desperately to be singing, but I don't want to be one of those people who's singing loudly walking down the street, so I hold it in. But it's natural. Once you're walking to a beat, you want to sing a song. So now I have a little treadmill, and I sing on the treadmill.
What's your go-to karaoke song?
"Last Dance" by Donna Summer. That's a good party starter, even though it should be the finale.
You and your sister wrote two books together. What is it like to work with a sibling?
Lacey and I are very, very fun. The two of us are happy, silly people. She's probably the easiest person I could work with. Also, we're not doing anything. All we did was write down the stories that we all remember, talk about them, and then write down the words that we said when we were talking about them. It was the easiest project I'll ever be a part of.
When you're the youngest, people let you act bad. They're, like, Give the last piece of pizza to the baby. Watch the baby do her little dance she made up. Aw, play the baby's favorite song. Like that. You know what was bad, though? Naptime.