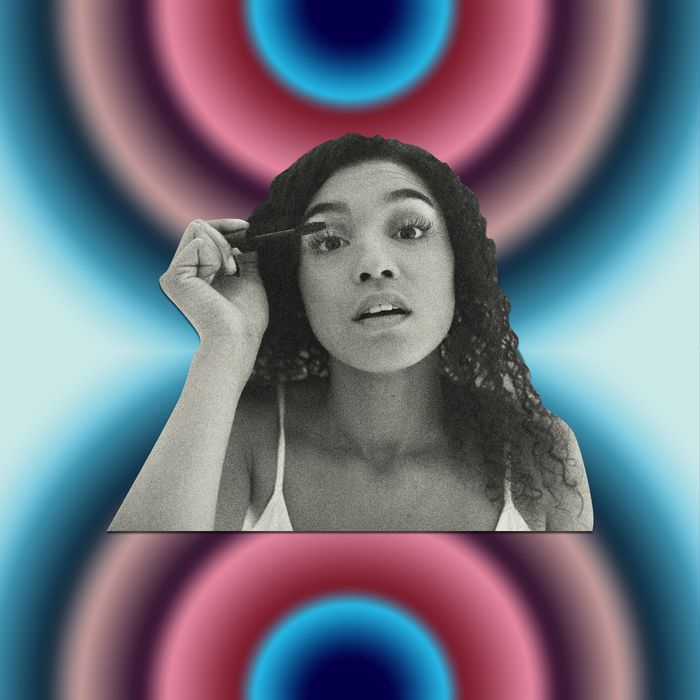 Photo-Illustration: by The Cut; Photo: Getty Images
The short answer here is that you probably haven't found the one. But that's also misleading, because it implies there's one mascara that will be your ride-or-die favorite in all situations, for the rest of your life. That's just not the case. There are so many factors that affect mascara's smudge-ability, like your lash type, your facial structure, your eye shape (which changes over time), your skin type, your skin laxity, the skin care you use near your eyes and how you apply it, the mascara formula, the brush, the freaking weather … I could go on, but you get the point: infinite variables. "You have to experiment," says makeup artist Val Garland, who regularly works with dames (Helen Mirren), models (Liya Kebede), and musicians (Lady Gaga). But Garland and the other pros I spoke with said there are some things you should do — like tweaking your application technique, swapping your brush, and powdering under your eyes (yes, really!) — to give your formula a fighting chance.
First, the order you apply your makeup matters. Sometimes, smudges are the result of fallout during eye-makeup application. A rogue droplet of mascara or sprinkle of shadow may be imperceptible when it first lands under your eyes, but the minute you sweat or your skin pumps out a little sebum, the pigment remoistens, slides, and smears. Makeup artist Daniel Martin, who got Meghan Markle through her wedding with her eye makeup intact, always applies eye makeup first, so he can gently and thoroughly cleanse the skin under the eyes before any face makeup or concealer goes on.
Moving on to the formula, it's best to ignore the names and adjectives on the labels — one company's "volumizing" could be another's "lengthening," and both may end up smudging on you. The only word that matters? "Waterproof," says makeup artist Ashunta Sheriff, the founder of Ashunta Sheriff Beauty, who works with celebrities like Taraji P. Henson and Garcelle Beauvais. "You'd be surprised how many people tell me their mascara smudges, and then I ask if they're wearing waterproof, and they're not," she says. (FWIW, tubing mascaras, which contain polymers that wrap lashes in tiny tubes that stay in place until you physically slide them off as you're washing your face, count as waterproof in my book.) Sheriff is also a fan of the white, fibrous mascara primers, especially for clients with oily eyelids or oily skin, who tend to have more problems with smudging. Clinique makes a good one.
When it's time to trial a new mascara, how you apply it matters too. For the top lashes, Garland likes to concentrate the product near the roots, because the tips are often responsible for transfer (the movement of mascara from lash to skin). "I hold the brush close to the lash line for about five seconds, so it dries just a little bit, before pulling it through to the lengths," she says.
And don't be afraid to use a different brush. Product formulators spend months designing mascara wands, brushes, and wipers (the mechanism at the neck of the tube that removes excess product) to match their formulas, but they can't please everyone. Martin says sometimes a mascara that smudges when applied with its accompanying brush will work better with another. His client Gemma Chan, for example, likes to use a clean L'Oréal Voluminous Lash Paradise brush for application, no matter which formula she's dipping it in.
On bottom lashes, the right brush is even more important. Most spoolie-style brushes are designed with top lashes in mind, so they often deliver too much (read: enough to cause smudging) product to skimpier lower lashes. For a lighter touch and more precision, Garland suggests using a tiny, flat-topped brush to paint on the formula (her favorite is discontinued, but this fan-style brush from Bdellium Tools is similar). Or try a mascara with a bristle-less metal applicator, like the Neogen one that's been popular in Korea for a few years and recently went viral in the U.S.
The final thing you can do to prevent smudges? Powder the areas under your eyes after you apply your face makeup. Garland suggests pressing on a loose, translucent powder with a small, domed brush, letting it sit for a minute or so, then whisking away the excess. The powder creates a seal between between the oils on your skin and in your face makeup and the waxes, pigments, and polymers in your mascara, so they can't interact and cause a mess. (I asked a bunch of makeup artists which powder would work best in this scenario, and Laura Mercier Invisible Translucent Loose Setting Powder was the clear winner.)
If you're following the steps above, have tried dozens of options (including all the formulas below), and still have smudging, you can always get a professional lash lift. Every time I've gotten one from a SugarlashPro Certified Artist, it's been excellent. Or it might just be time to move on to strip lashes. "They'll never smudge on you!" says Sheriff.
Indestructible Mascaras
If all of these smudge on you, it may be time for strip lashes.
This is a fairly new entrant to the tubing game, but multiple guests on my podcast have already recommended it. (I also love that there's a mini version, so you can try it before you commit to the full size.)
"I'm convinced the less expensive mascaras smudge less," says makeup artist Val Garland. This is her personal favorite, and she promises it will last all day.
Both Martin and Sheriff love the no-smudge volume they get from this curling mascara. There's also a waterproof version, but fans say this one has just as much staying power and is way easier to remove.
This is incredible for thinner, shorter lashes, according to makeup artist Daniel Martin. "The waterproof, fiber-like formula does not budge, and is great for Asian lashes," he says.
"I never have time to fuss with my face after my ten-minute makeup routine in the morning. Whenever I apply this volumizing mascara, I can trust that my lashes will look luscious and full, with no fallout left behind, even after a very long day. A win-win in my book!" says Maya Allen, beauty director-at-large.
Jennifer Sullivan answers all your beauty-related questions with practical advice and zero judgment. Send your questions to AskABeautyEditor@nymag.com. (By emailing, you agree to the terms here.)