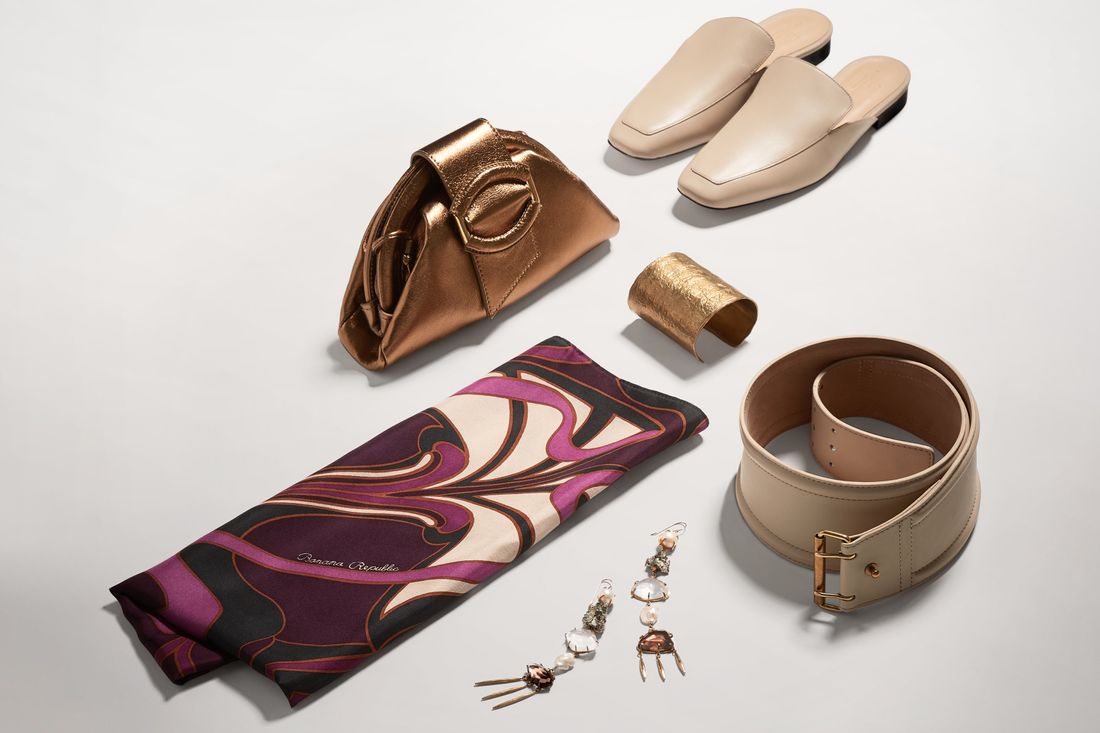 Real talk: It's getting down to the wire. You might already have holiday party invites this weekend, and still don't know what to wear yet. Of course, you could go bankrupt buying a new dress for each occasion on the docket. Or you could smarten up and choose your accessories carefully so that each look feels different enough to be photographed in twice.
The best holiday party accessories aren't celebration-specific. They're festive, sure, but they should work cross-seasonally, too. Think: Glittering earrings that make both your LBD and your usual office garb sing; a festive rhinestone belt that doesn't feel like it's ripped off the MTV Movie Awards red carpet; a shimmery clutch that doubles as a crossbody so your hands are free to hold hors d'oeuvres.
Statement Earrings
Made from clear and smoky quartz, natural pyrite clusters, creamy white baroque, delicate button pearls and dangling brass beads, these earrings are basically a guaranteed conversation starter.
Sculptural Belt
Inspired by Romanian brass sculptor Constantin Brâncuși (you may have heard of him?), this belt is at once minimalist, elegant, and way better than any old rhinestone number. Cinch a pair of trousers with it, then throw on a matching blazer and a red lip — and you've got one heck of a holiday party look.
Oversized Clutch
A slouchy, buttery clutch that's still roomy enough to hold all the essentials is a holiday party must-have.
Sparkly Socks
Not everyone loves a socks-and-sandals moment, but if there's any time to try it out with minimal risk, it's December. Wear these embellished chiffon socks with any pair of strappy shoes already in your closet for subtle sparkle — or go all out with a matching glittery shoe for a more dramatic look.
Satin Evening Sandals
The best way to make your LBD stand out from the crowd? Luxurious satin stilettos in a festive hue.
Chunky Necklace
This striking black onyx choker isn't just perfect for holiday parties: It's also a surefire way to spice up any jeans-and-tee look well after the circuit is over.
Geometric Tights
Let the geometric pattern on these Art Deco-inspired tights peek out from underneath a mini skirt-knee-high-boot combo and nobody can accuse you of missing the brief.
Bejeweled Ring
Embellished with sapphires and pink tourmalines, this rose quartz ring is designed and handmade by local artisans in Southeast Asia and Africa — and it's guaranteed to command attention.
Crystal Hair Pins
For a more subtle holiday look, secure a low bun or side-part with these Swarovski crystal-embellished slides. (Bonus points if you use all five at once.)
Sequin Bag
Sure, you could technically wear one of Paco Rabanne's flashy designs any time of year, but what better time to pull this one out than New Year's Eve? Pair it with traditional suiting for a sophisticated look, or juxtapose the all-over gold-tone sequins with silver shoes or jewelry for a mixed-metal effect.
Furry Collar
The holiday party circuit offers a singular excuse to wear a fur stole unironically. Don't let the opportunity pass you by.
Crystal Scarf
If everything '90s is cool again, this rhinestone scarf — which, by the way, can double as a belt if you're really committed— is practically Kate Moss-approved.
Mesh Boots
Behold: An ankle boot that won't bore you to tears. Pair them with sparkly silver socks for added effect.
This advertising content was produced in collaboration between Vox Creative and our sponsor, without involvement from Vox Media editorial staff.