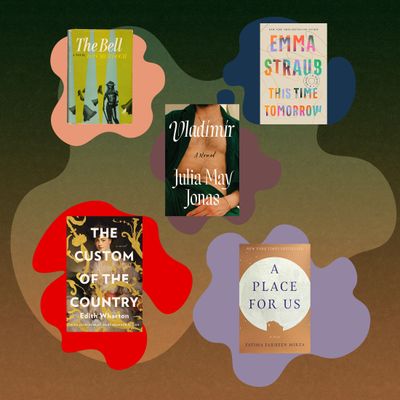 Photo-Illustration: by The Cut; Photos: Retailers
There's no denying that something shifted this year. It wasn't just the implosion of Twitter or the rapid increase of celebrity-backed products that left us scratching our heads at the end of 2022, asking how, exactly, did it come to this. What really affected us was the realization that our attention spans had rapidly diminished. In our conversations with friends, we noticed that compared to the early days of lockdown, 2022 was rather difficult for many of us when it came to sitting down and fully devouring a good book, followed by another one and another one. But if you, too, have recently had a hard time getting back on track, several Cut editors are here to present the book (or two) that pulled us out of our reading slumps and got us back into the swing of things. Some were published this year and introduced us to new voices and perspective. Others came several years before but felt just as fresh in their incisive analyses of society. All are books that we read and enjoyed in 2022, and you can check them out, below.
I've actually been trying to read this book since 2021, but Mirza captures the Muslim immigrant experience so surreally that I get so emotional I have to pace myself. The prose is beautiful, the story line is heart-wrenching, and Mirza does a magical job of making her characters so human by letting us in on their strengths and their flaws. Don't read this if you don't want to cry. —Danya Issawi, fashion news writer
Vladímír is a sexy, slim novel and exactly what I needed to kick-start my reading habit again at the top of this year. It follows an English literature professor at a liberal arts college whose husband, John (also a professor at the school), has been disgraced for having sexual relationships with students. But when she starts to obsess over Vladímír, a young, brilliant writer arriving on campus ostensibly to take her husband's spot in the department, things get even more complex for the narrator, her husband, her daughter, and Vladímír's family, too. It's about compromises made in marriage, complicated relationships between parents and their children, entanglements that might only exist in your head, and so much more. And how could you not be grabbed by the cover, which emphasizes a man's torso barely covered by a dark green corduroy shirt? Jonas is a playwright, and with Vladímír being her debut novel, I am so excited to read whatever form of fiction she writes next. —Brooke Marine, deputy culture editor
Photo: HA.com
I was visiting my mom, saw this book on top of the stack she'd recently borrowed from the library, and immediately picked it up — the original 1958 cover is so good I couldn't resist. It's not especially relevant right now to anything (as far as I know, no one's turning it into a miniseries), but it's one of the great English novels. It's also one of my favorite "genres": take a group of mixed-up people, throw them together in an isolated setting, see what happens. —Rachel Bashein, managing editor
At the risk of sounding pretentious, I'm not a person who needs plot in order to devour a novel. I enjoy writing that makes me slow down and think deeply about why we humans are the way we are. That's probably why I liked The Idiot, Batuman's debut novel, so much, and why I was excited for its sequel, Either/Or, to come out this year. Both novels follow Selin, Batuman's alter ego and a student at Harvard in the '90s, who wants to live an interesting life and be a writer but can't get past her tendency to overthink absolutely everything. The overthinking holds Selin back from the meaningful experiences she craves, but it also makes for wonderfully sharp and witty reading about how we live and relate to one another. I found myself limiting how many pages I read at a time so that I could savor Batuman-as-Selin's musings for as long as possible. —Catherine Thompson, senior Power editor
Everyone reads — or should read — Wharton's Age of Innocence and House of Mirth, and there's every reason to do so. But I have to confess that while those novels, dutifully ingested around college, haven't lodged in my memory, I feel certain that Custom of the Country will. It's a scammer's tale, the saga of a Gilded Age anti-heroine named Undine Spragg (is there a more deliciously horrible name in all of literature? Dickens couldn't improve it) whose desire for money, position, and security drive her to the kind of scheming social realpolitik that most novelists would look down on. But Wharton makes her the most vibrant part of her landscape, outshining aristocrats, simps, and her long-suffering provincial parents. You might look down on her — but you can't look away. —Matthew Schneier, features writer
One of the few books this year that managed to crack my left-over-from-the-pandemic reading slump. Something about the fantasy of getting a do-over in life, the nostalgic setting of '90s-era New York City, the warm intimacy of a father-daughter relationship that … okay, maybe this book was just scientifically formulated for me. I'm a native New Yorker who "what ifs" too much and is very much her father's daughter. Still! The thrill of not knowing how Straub's self-inspired protagonist's story will end — did I mention there's time travel? — is enough to keep you page-turning and not doom-scrolling no matter who you are. —Jen Ortiz, deputy editor
Not your typical coming-of-age novel, A Cigarette Lit Backwards follows Kat, a Croatian American teen growing up in North Carolina in the early 2000s. Her inner monologue is deeply insecure, comically dramatic, and dryly funny, and her process of self-discovery through a combination of bad choices and traumatic experiences makes me feel like she's gonna be okay, despite how many times I wanted to scream at her, WHY ARE YOU DOING THAT? I think that's what makes the book work so well — it captures both the frustration of being a misunderstood teen and the frustration of dealing with one. —Katja Vujić, social media editor
I know everyone has read this book or wants to read this book, but you know what? That's because it's an excellent book. I did not have the mental capacity to read much nonfiction this year, but hooks's clear, sharp prose allowed me to focus my processing power on really hearing the sometimes hard truths she was so casually dropping. Months after reading, I'm still thinking about it. —K.V.