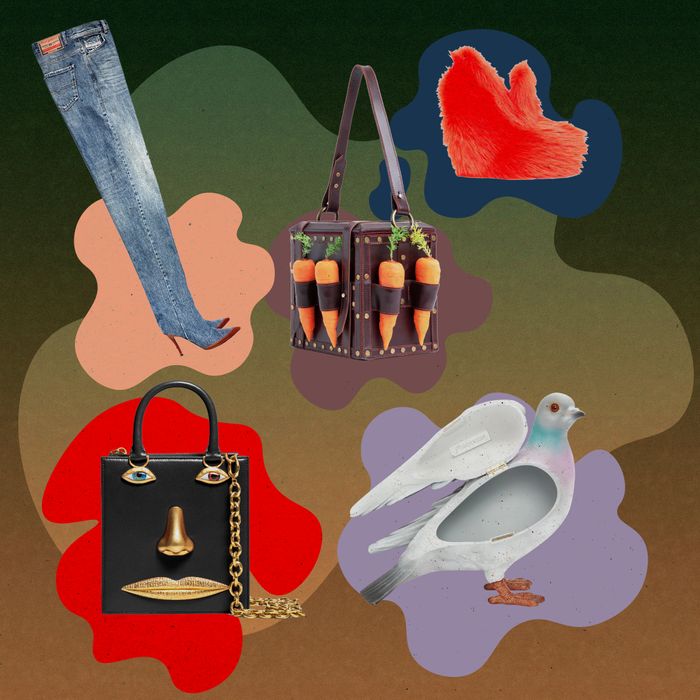 Photo-Illustration: by The Cut; Photos: Retailers
Oddball accessories kept us entertained this year: Joots? Busted Converse that cost $1,850? Bags that look like real-life birds?? While I can't say that I'll be wearing any of them anytime soon, for many brands, accessories are not only a great way to make a profit but also headlines. A striking hat, bag, or shoe (or pantashoe) can more easily grab the public's attention than, say, a new silhouette or the rise and fall of a hemline. (Jacquemus's giant hats and tiny bags come to mind.) And they can also be a vehicle for a designer's ideas in a more obvious and digestible way. Jonathan Anderson, for example, wanted to take Loewe in a more surrealist direction this year, and his accessories — from heels that made the wearer look as though they were literally walking on eggshells to balloon-like sunglasses — were exceptionally playful. Instagram bait, to be sure. But they were also thoughtfully designed objects that made you think twice, as the best accessories always are.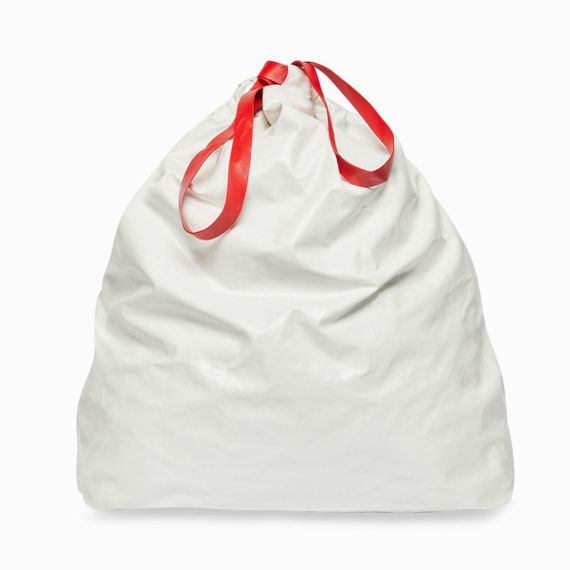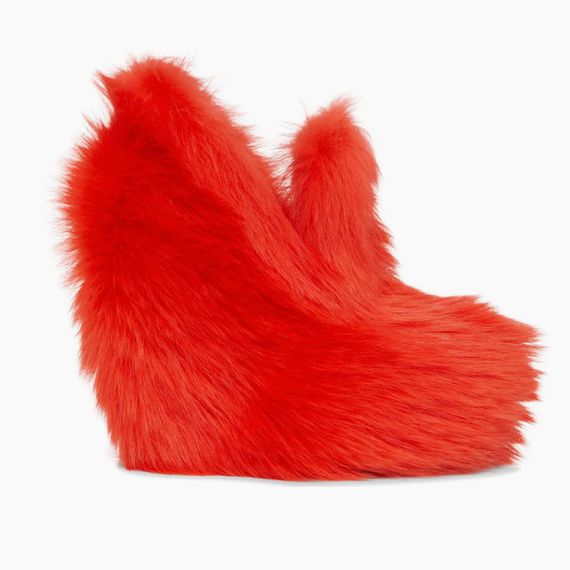 Why did we see so many absurd accessories on the runways this year, though? After a particularly surreal period, it makes sense that designers would want to have some fun. Why not wear cheese on your head or broccoli on your wrist? Balenciaga showed models carrying leather trash bags down its fall 2022 runway and bags of chips the following season, but also true to form, both collections had a darker side as well. Sometimes, it went too far. Most recently, the brand's ads featuring children holding teddy bears in bondage harnesses and costumes received swift backlash.
Meanwhile, other accessories were just plain silly. Fuzzy Bottega Veneta shoes fed our hunger to touch and feel again. Denim also took a backseat during the sweatpants era, so it was no surprise that it was back with a vengeance this year, with designers like Glenn Martens finding new and unexpected ways to manipulate the classic fabric and even incorporating it into couture. We knew things were getting really weird when Julia Fox and Kim Kardashian both wore joots, or jean boots, on the same day.
Below, we tried to make sense of the 32 most nonsensical bags, shoes, and hats of 2022.
Good Enough to Eat
To quote the late great André Leon Talley, my eyes were starving for beauty this year, and the runways filled me right up. You could practically go grocery shopping during New York Fashion Week, with brands like Puppets and Puppets and Collina Strada showing food-themed accessories season after season. Thankfully, brands like Moschino and Marine Serre provided cutlery as well.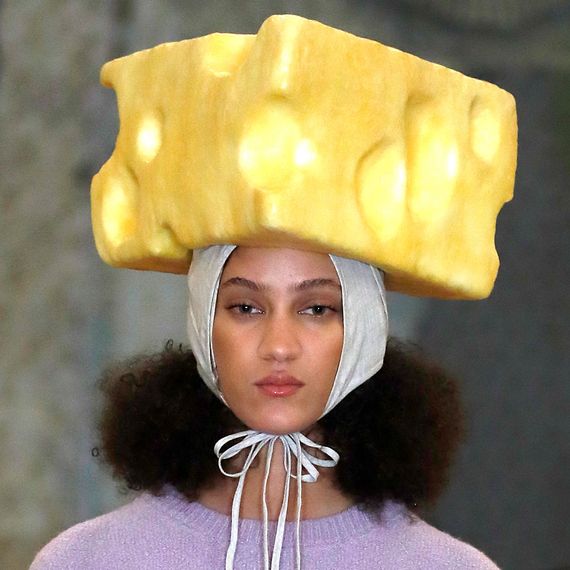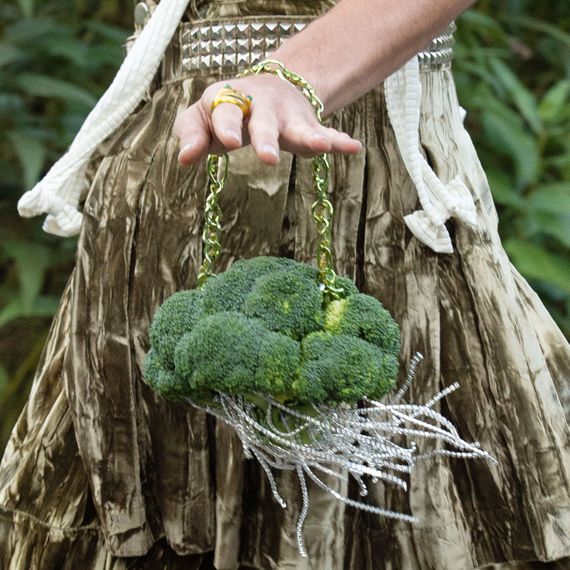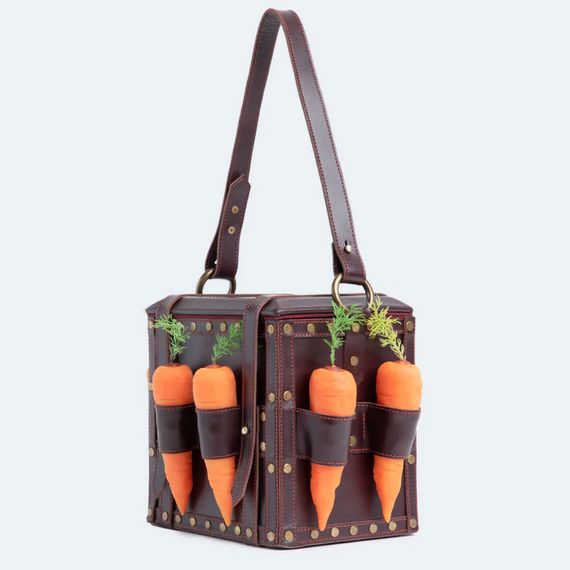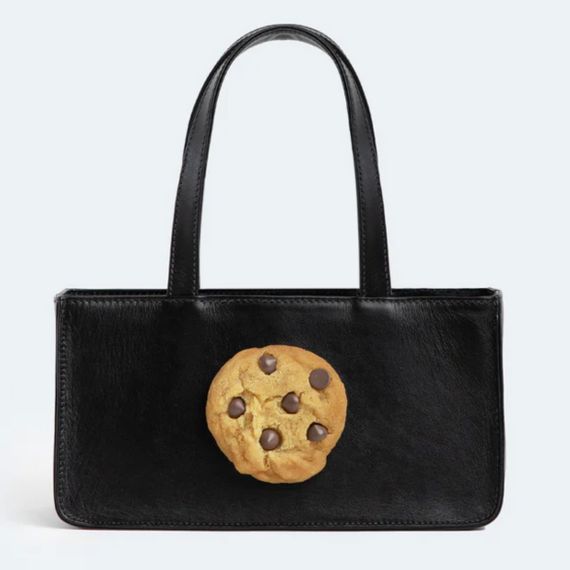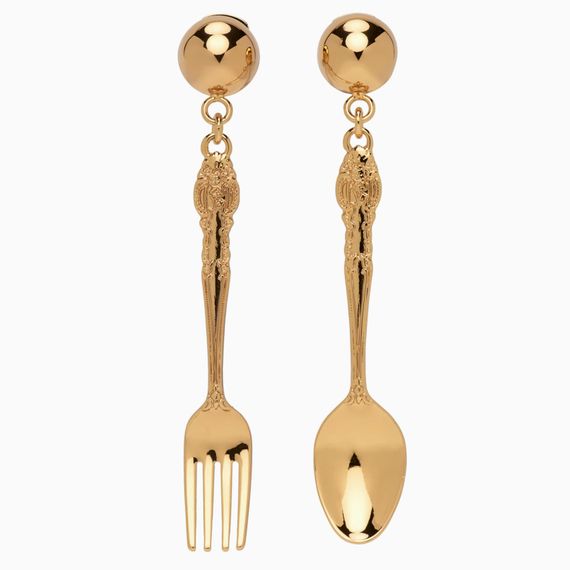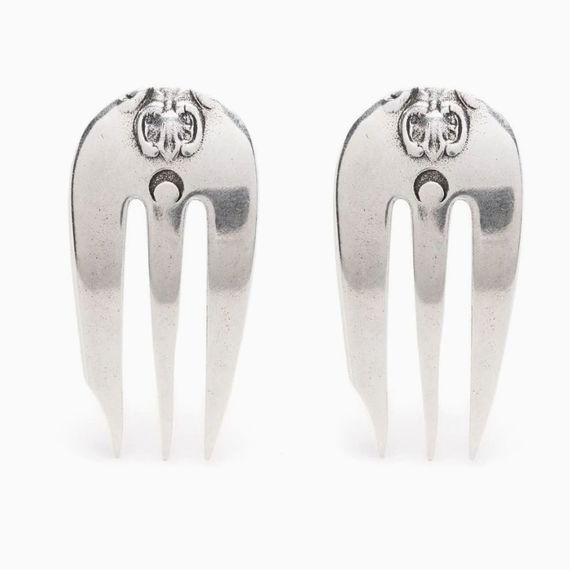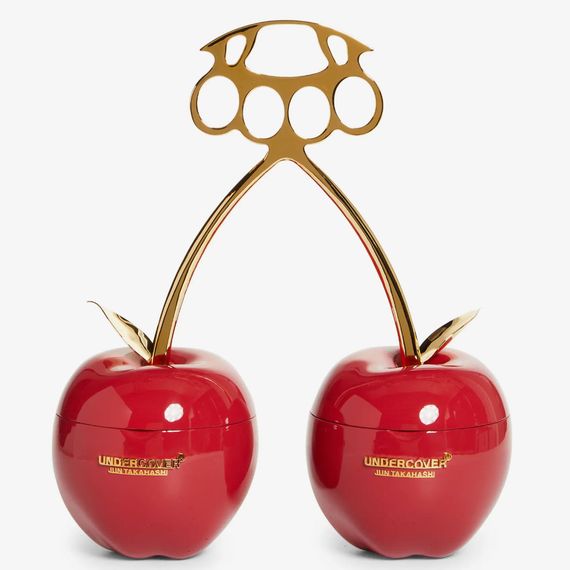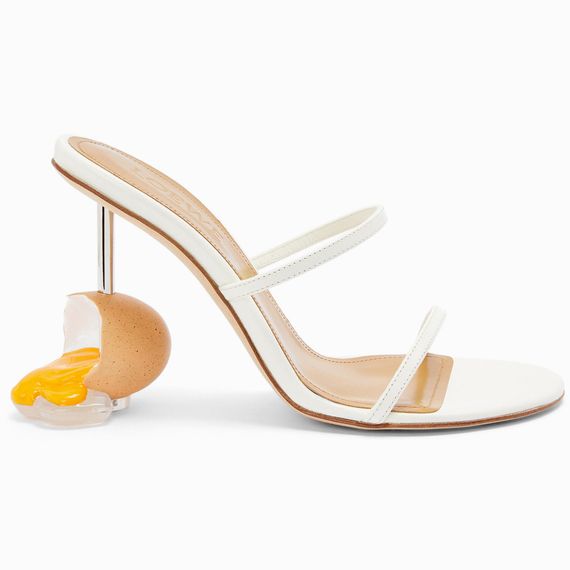 The Denimaissance
What wasn't made out of denim this year? In addition to joots, I saw jurses (jean purses), jats (jean hats), and even jillows (jean pillows). Julia Fox was really the patron saint of the Denimaissance, taking things into her own hands at least once to fashion a bandeau top out of the waistband of her bottoms. "Now that latex is kinda played out, denim, you're all I have left," she said of the trend. We can only imagine what's going to come next.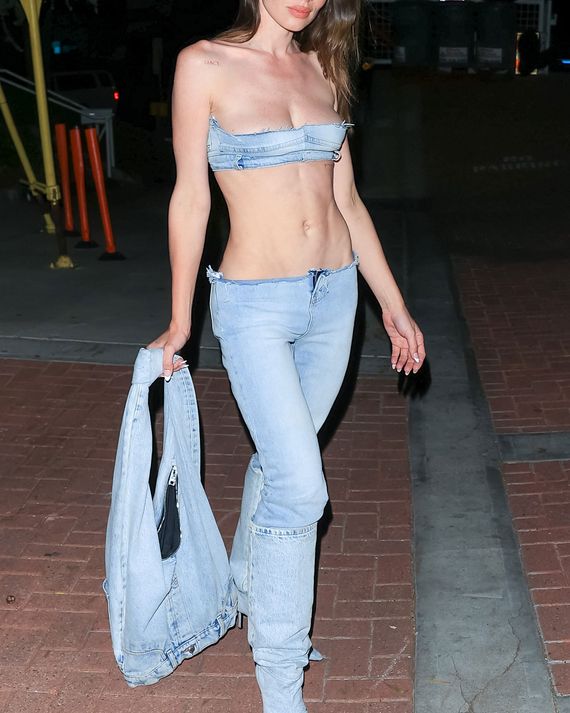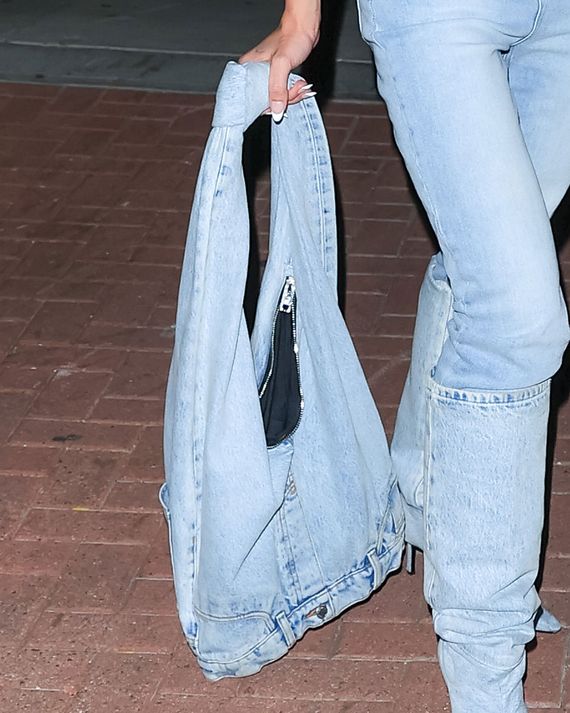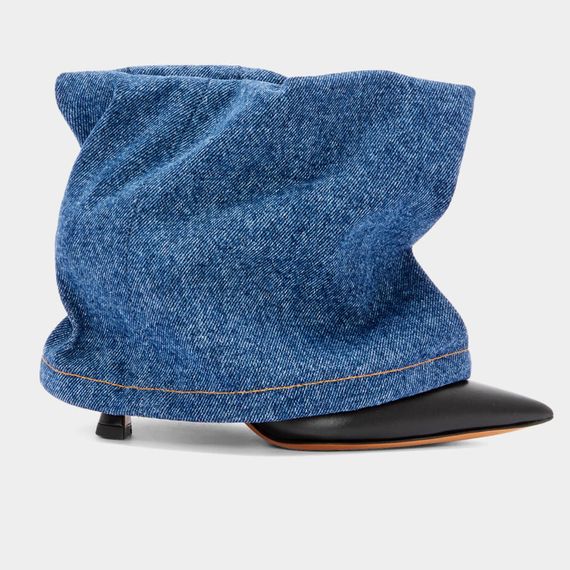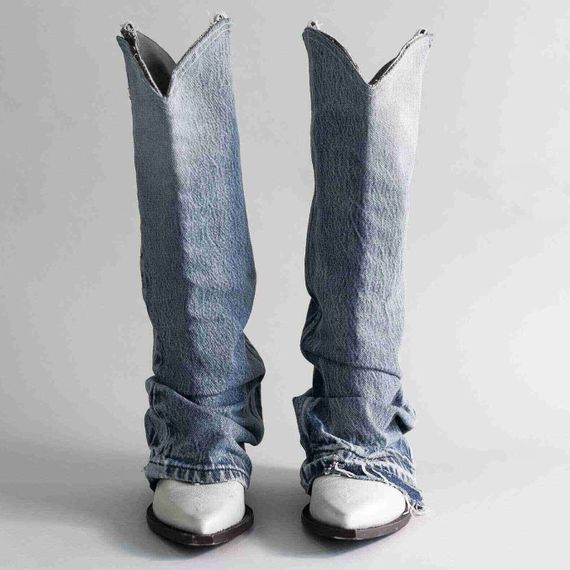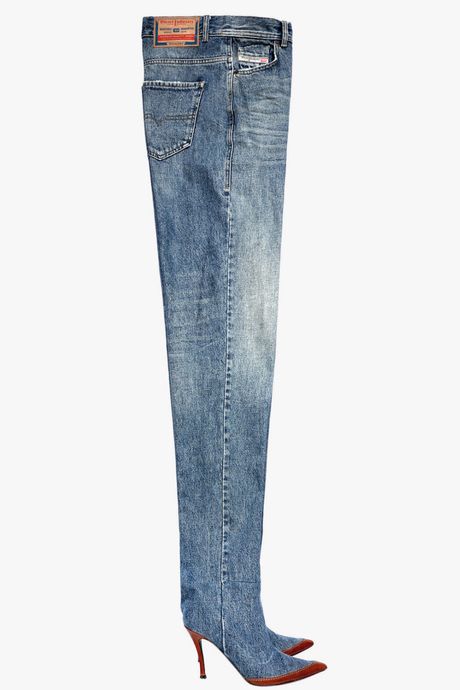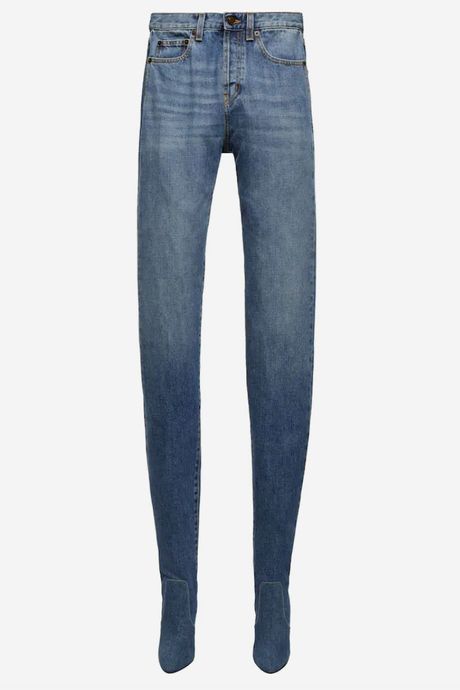 Sink or Swim
Although I'm not sure Burberry's bedazzled floaties will do much, Chanel's thigh-high rain boots and Loewe's slick jellies might help you stay dry. Botter, a brand born in the Caribbean, also brought water to the runway with its accessories this year.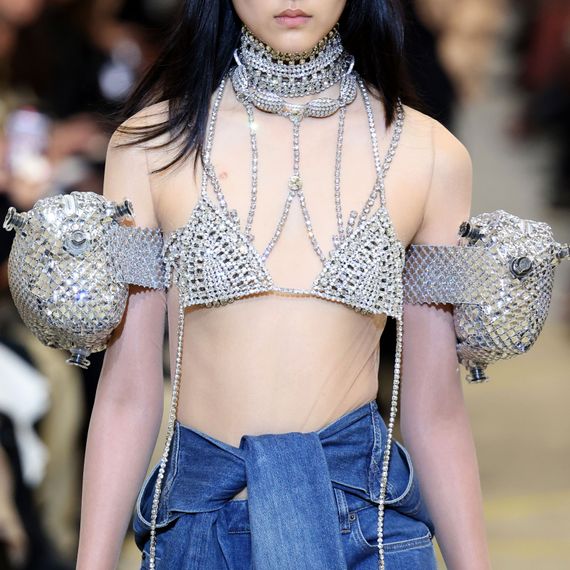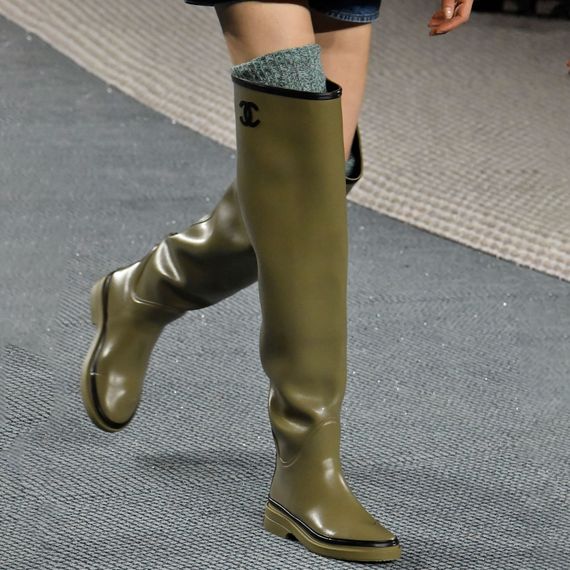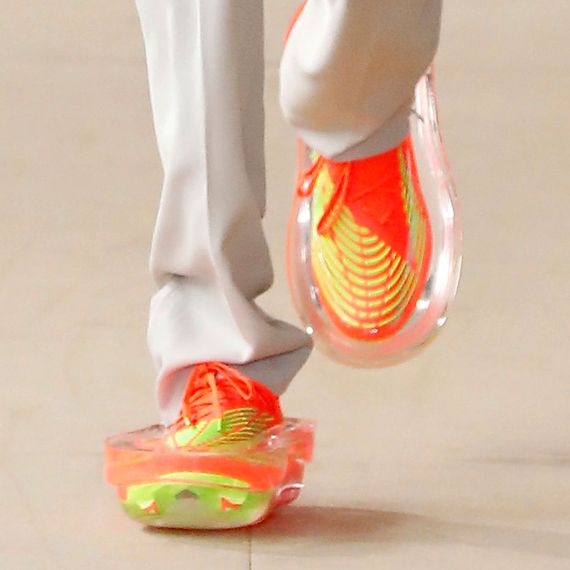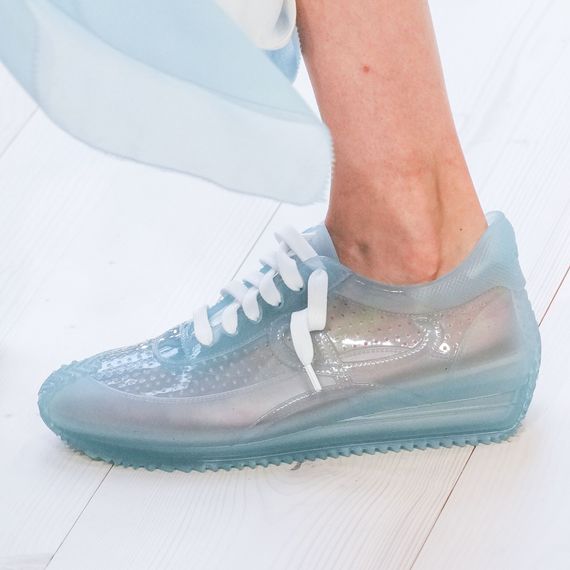 A Little Lift
No platform was too high this season. Marc Jacobs brought back the iconic Kiki boots from its fall 2016 runway, while Saint Laurent did its own designer version of Pleasers. If your ankles made it through the year unscathed, well done.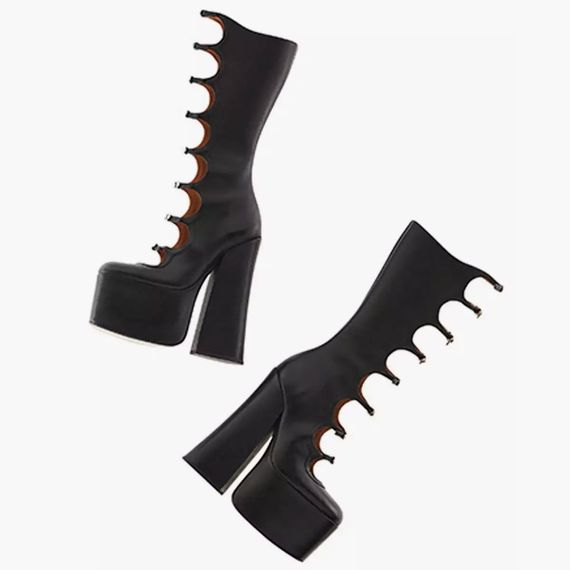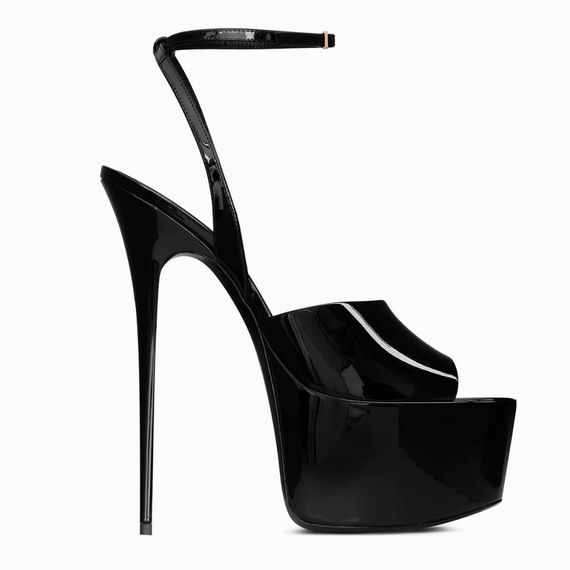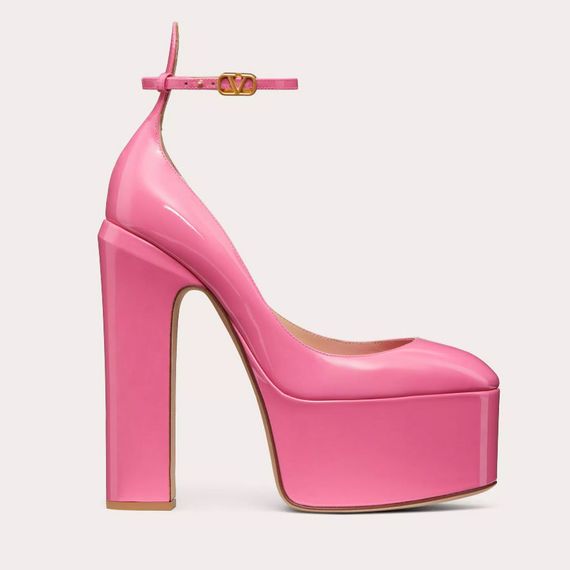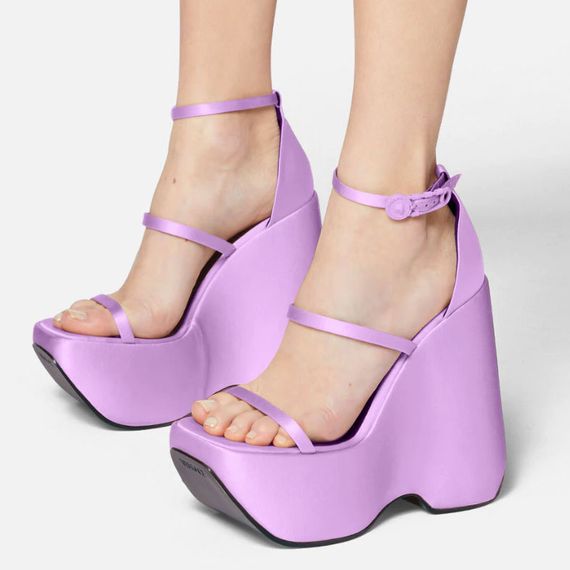 Toys Aren't Just for Kids
This year, designers tapped into their inner child. Gucci showed Gremlins in harnesses (what is it with designers putting stuffed animals in harnesses … ) and Off-White honored Virgil Abloh's childlike curiosity and spirit with Slinky heels. If Mr. Potato Head were a bag, it would be the Schiaparelli one below.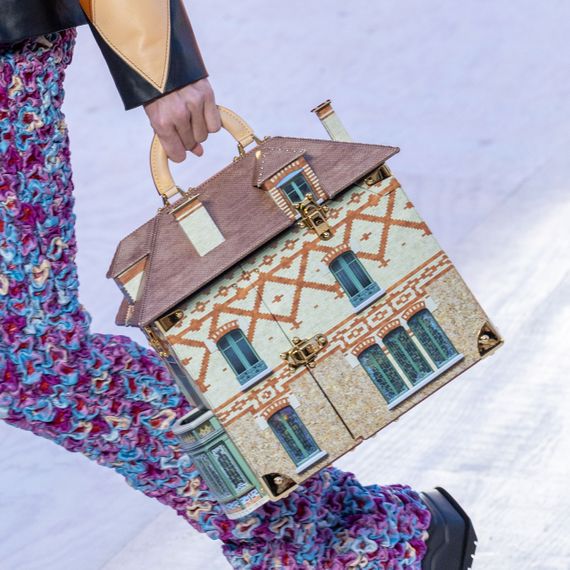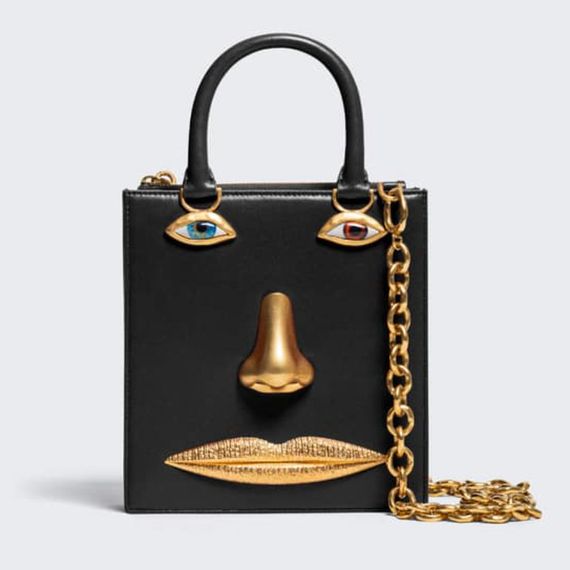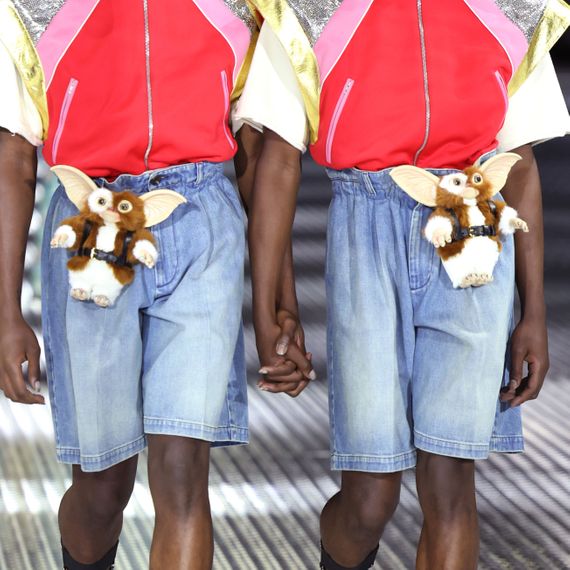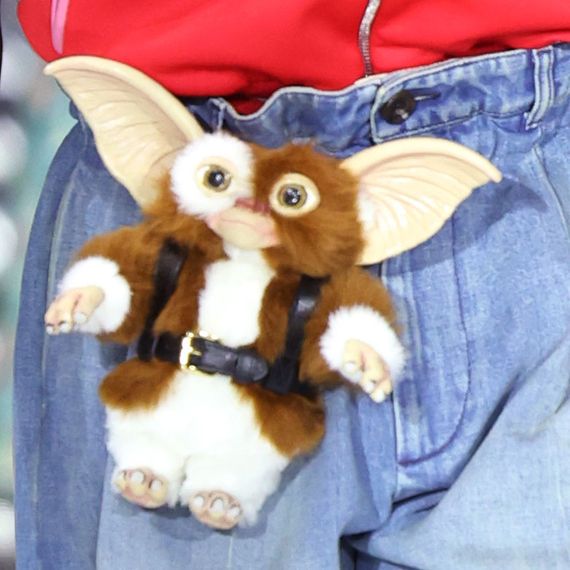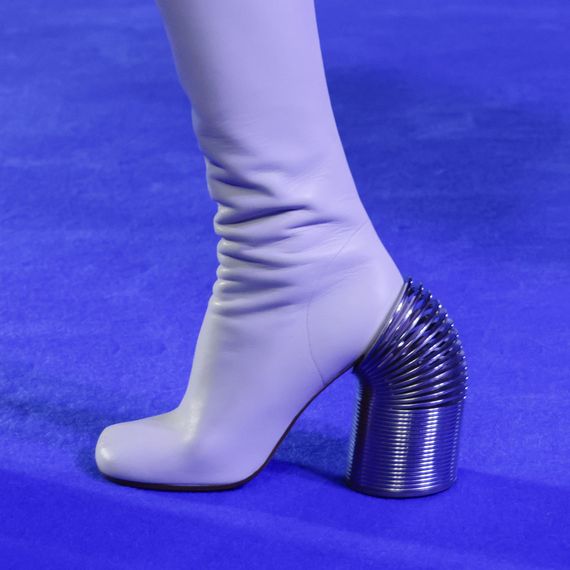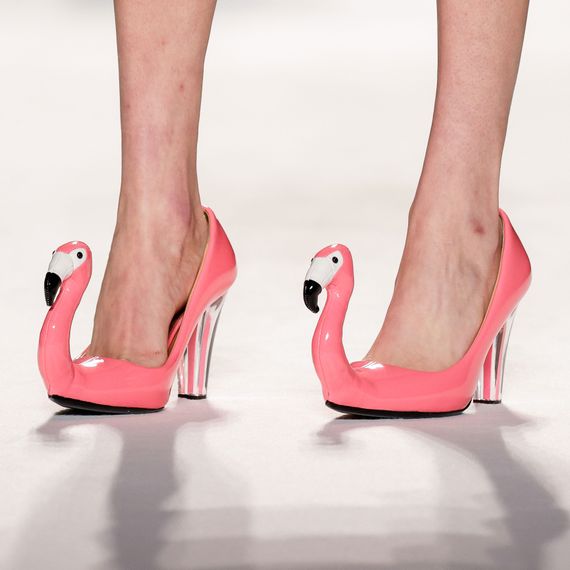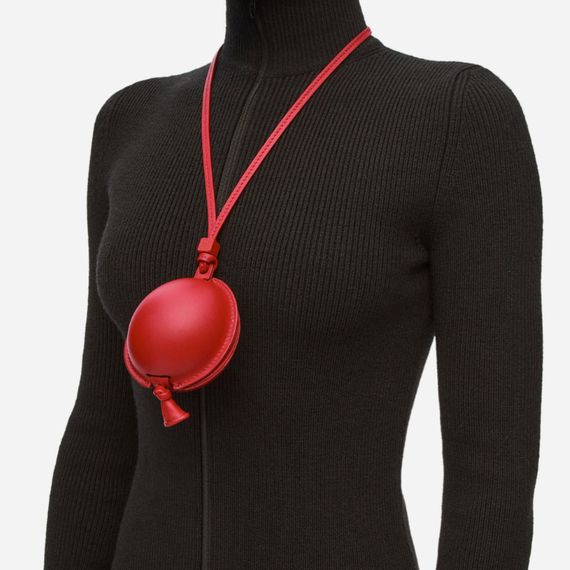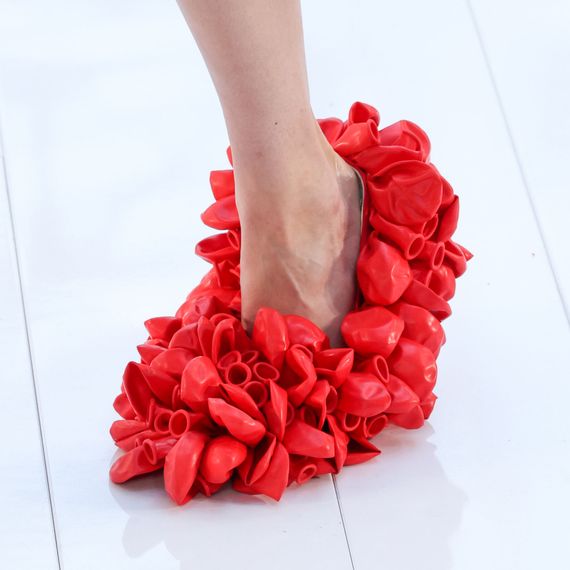 Animal Kingdom
This year, animals took over. Rats were the talk of the town, but Jonathan Anderson paid homage to the rats of the sky with a pigeon clutch, which, of course, Carrie Bradshaw was then spotted wearing on the set of And Just Like That. We've come a long way since Mr. Big's ugly bedazzled swan.