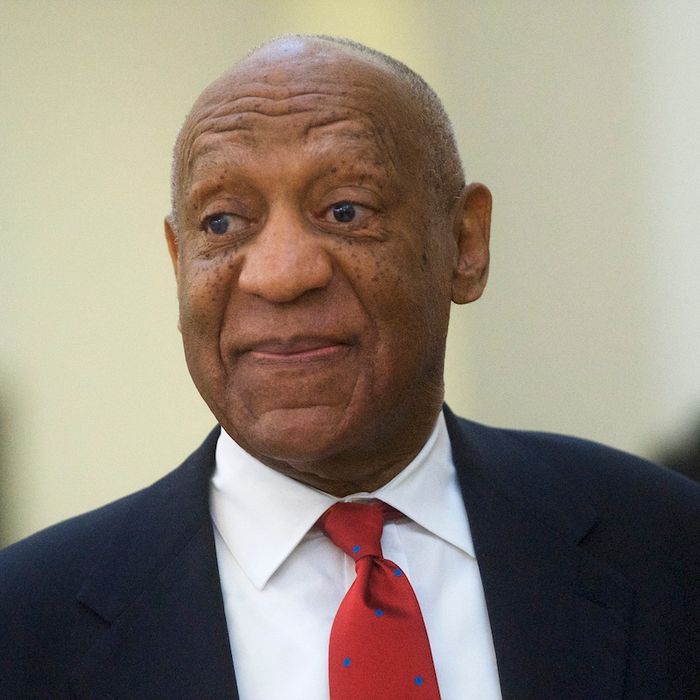 No thank you.
Photo: Mark Makela/Getty Images
As if unable to understand the word no, Bill Cosby says he is once again considering a comeback tour — never mind that his publicist already put that idea on ice last year, anticipating scathing media coverage. Cosby, of course, saw his 2018 rape conviction overturned on a legal technicality in 2021, getting out of prison not because the Pennsylvania Supreme Court decided he wasn't guilty but because it opted to prioritize a 15-year-old non-prosecution agreement. Though the comedian has since been found liable for sexually assaulting a minor and still faces another lawsuit from five women accusing him of sexual abuse, he says he wants to get back on the road in 2023.
"Yes," Cosby told WGH Talk host Scott Spears in a radio interview after Spears asked if the comedian was thinking about touring next year. "Yes, because there's so much fun to be had in this storytelling that I do." Hmmm, how did his famous "Spanish Fly" joke go again?
Cosby's rep, Andrew Wyatt, confirmed to Variety that they're "looking at spring/summer to start touring." He has also called the latest lawsuit "frivolous," though multiple juries have now agreed the abuse allegations against Cosby — echoed by dozens of women who say he drugged, molested, and/or raped them — are not. Nonetheless, the 85-year-old seems to still view himself as a victim. "When I come out of this," he told Spears, "I feel that I will be able to perform and be the Bill Cosby that my audience knows me to be." Oblivious? Offensive? A predator? I'm sure the answer varies somewhat, depending on whom you ask. Spears, for example, described Cosby as "iconic," "legendary," and also "one of the most prolific people in the history of this country and possibly, quite possibly, the world," so there's one fan accounted for.