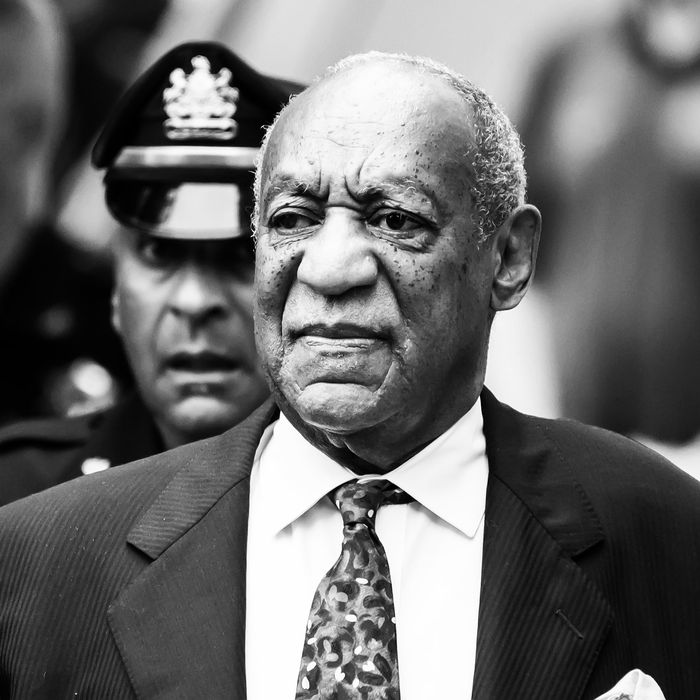 Photo: Gilbert Carrasquillo/Getty Images
Bill Cosby is once again facing accusations of sexual assault and battery. On Monday, five women filed a lawsuit in a New York State court accusing Cosby of assault, battery, infliction of emotional distress, and false imprisonment. The suit also accuses NBCUniversal Media, Kaufman Astoria Studios, and the Carsey-Werner Company, which together ran The Cosby Show from 1984 to 1992, of negligence and complicity in enabling Cosby's behavior, according to Axios.
Actresses Lili Bernard and Eden Tirl, who appeared on The Cosby Show, plus Jewel Gittens, Jennifer Thompson, and Cindra Ladd allege that Cosby either raped them or forced them into sexual acts between 1969 and 1990, per CNN. Bernard, Tirl, Ladd, and Thompson previously spoke about their interactions with Cosby, who has been accused of assaulting more than 50 women, often after drugging them.
Monday's lawsuit claims Cosby used "his power, fame, and prestige, including the power, fame, and prestige given to him by defendants NBCUniversal Media, LLC; Kaufman Astoria Studios, Inc.; and the Carsey-Werner Company, LLC, to misuse his enormous power in such a nefarious, horrific way," ABC reports.
The allegations are similar to others Cosby has faced over the years. Between 2014 and 2016, more than 50 women accused the actor of drugging and assaulting them. Cosby was convicted of the sexual assault of Andrea Constand in 2018 and sentenced to three to ten years in prison, but he was released in 2021 when the Supreme Court of Pennsylvania overturned his conviction on a legal technicality, saying his due-process rights had been violated.
The suit was filed under New York's Adult Survivors Act, which took effect on Thanksgiving and gives adult survivors of sexual assault a one-year window to sue their abusers even if the statute of limitations on their claims has expired.
The new suit alleges that Cosby drugged and raped Bernard in August 1990 after he planned a meeting under the false pretense that he wanted to help with her career. The suit also alleges that in 1989, Tirl turned down invitations to Cosby's dressing room when she appeared on The Cosby Show as a police officer, but she was told to go by a show employee; when she arrived, Cosby inappropriately touched her without her consent. The suit alleges that Cosby told Tirl he "owned" NBC.
Gittens claims that Cosby invited her to his Manhattan home in 1989 or 1990 to talk about working on The Cosby Show but that he instead drugged and sexually assaulted her. Thompson alleges Cosby made her inappropriately touch him without her consent at his Manhattan home in 1988 when she was 18. Ladd alleges Cosby drugged her and raped her in 1969.
According to Variety, Cosby's spokesman, Andrew Wyatt, called the lawsuit "frivolous" and said the women were part of a "parade of accusers" who came forward between 2014 and 2016.
"This isn't about justice for victims of alleged sexual assault. It's ALL ABOUT MONEY," Wyatt said, per Variety. "We believe that the courts, as well as the court of public opinion, will follow the rules of law and relieve Mr. Cosby of these alleged accusations. Mr. Cosby continues to vehemently deny all allegations waged against him and looks forward to defending himself in court."
Earlier this year, a Los Angeles jury found Cosby liable in a civil case brought by Judy Huth, a woman who said he had sexually assaulted her when she was a teenager in the 1970s.