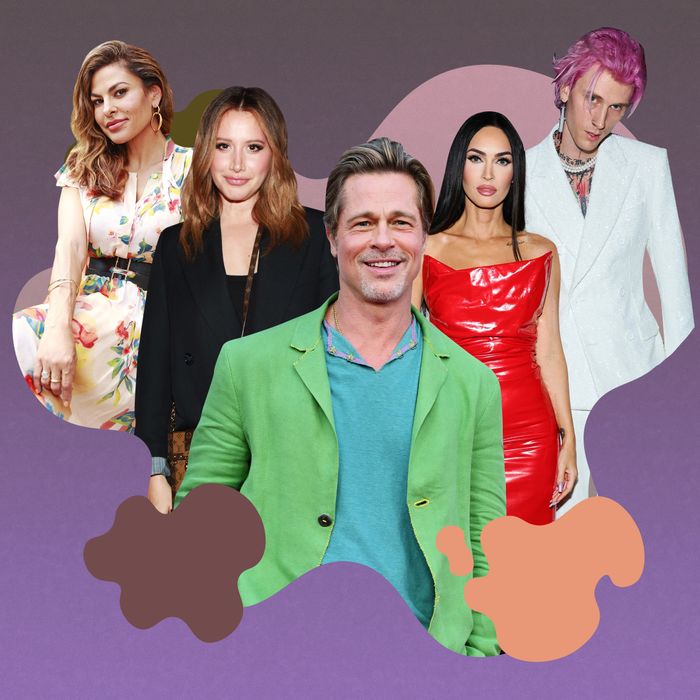 Photo-Illustration: by The Cut; Photos: Getty Images
Everyone from Hailey Bieber to LaLa Anthony to Gwen Stefani launched beauty brands this year — but did you even notice? In this currently very crowded celebrity market, it's hard to make headlines for slapping your name on a face cream. Perhaps that's why the below famous people have put on their thinking caps to develop and launch the most random products on earth.
Yes, these innovators have decided to lend their star power to items like antimicrobial sponges and pet vitamins. While celebs have certainly promoted similarly strange products before this year, today's entrepreneurs stand out by their willingness to deeply associate themselves with items that no one needs. This is bold, paradigm-shifting work, and we salute these stars in their pursuit of success outside of Sephora.
Brad Pitt's $2,000 cashmere shirts
Have you heard of the brand God's True Cashmere? Technically, it soft launched in 2020, but co-founder Brad Pitt made a big push to publicize it this year with features in Vogue and on Goop. Pitt launched the brand with the "holistic healer" Sat Hari Khalsa, after they both independently had visions of Pitt needing more "softness" in his life. The products themselves are cashmere shirts that cost between $1,900 and $2,300. Per Goop, "each shirt has hand-cut gemstone snaps — 7 down the front, representing the chakras, and 11 total, which is the number of mastery in numerology." They come in colorways including Cinnamon Tiger Eye (red-and-yellow plaid) and Transcendence Sunstone (black).
Pitt currently has a lot going on in his personal life, so the fact that he was able to come up with and promote this level of absolute nonsense is impressive. Five stars.
Machine Gun Kelly and Megan Fox's sexual nail polish
Did you know Machine Gun Kelly has a nail-polish brand? It's called UN/DN LQR, and its tagline is "Now Go Create Epic Shit." This year, MGK epically created a collaboration with his fiancée, Megan Fox, which launched last week.
According to Fox, the polishes have "strong sexual energy," which is something no one has ever said previously about nail polish. You can buy all six for $90, with shades including Past Life (blue), Twin Flame (red), and Third Eye (purple). Fox told Allure the blue and green shades were designed to look like her favorite crystals. "They guard against psychic attacks — you receive these constantly being famous — and they work well to restore confidence."
Congratulations to the happy couple for launching a brand meant only for themselves. Five stars.
Eva Mendes's antimicrobial sponges
Lately, Eva Mendes has been making headlines for loudly hinting that she got married to her longtime partner and the father of her children, Ryan Gosling. Why is she doing this? Maybe she wants everyone to know she is married, or maybe she is trying to drum up interest in her new venture: antimicrobial sponges. This year, Mendes became a co-owner of Skura Style, a company that makes "smart" sponges with patterns that fade when it's time to switch them out ($15 for a pack of 4).
Mendes has been promoting the line nonstop on Instagram with increasingly odd videos where she picks up a bunch of sponges and then kind of drops them. "I'm such a weirdo who likes squishing a sponge," she told The Hollywood Reporter in September while discussing the partnership. Okay! Five stars.
Naomi Watts's menopause-themed wellness brand
Technically, you could call Naomi Watts's new venture a beauty brand. But she gets points for targeting a unique customer base: menopausal women. Watts launched Stripes this year, which is a line of "wellness" products including an $85 facial serum called "The Power Move" and a $50 "ectoine hydrating and revitalizing gel" for the vulva called "Vag of Honor."
"Menopause hit me like a big, gnarly Mack truck!" Watts writes in promotional material for the brand. I'm glad she found a way to monetize it. Five stars.
Jonathan Van Ness and Antoni Porowski's pet supplements
In September, Queer Eye co-hosts Jonathan Van Ness and Antoni Porowski suggested in multiple Twitter and Instagram posts that they were dating. Unfortunately, people figured out literally within seconds that this was just a ruse to sell something. And that something was dog food.
The day after their fake dating announcement, Porowski and JVN revealed they co-founded a brand called Yummers Pets (yep), which sells "functional mix-ins" and protein supplements for dogs and cats at $29.99 a bag. From their blindingly cynical marketing efforts to the confusing nature of the products themselves (Is it food? Vitamins? Both?), these two have cemented their place on this list and may even win next year, too. Five stars.
Kourtney Kardashian's matcha gummies
Supplements … for people? Now I've heard everything. Kourtney Kardashian made history this year by launching a product in a category her more entrepreneurial sisters have yet to touch. Clothing, makeup, skin care, alcohol, and home décor were all out, so Kardashian landed on … gummy vitamins. Bucking tradition, Kardashian declined to produce a basic multivitamin or anything else useful to the general population and instead created $30 matcha gummies (benefits unproven) as well as supplements intended for "focus" and "digestion." The brand is called Lemme, as in "lemme live," which is a not-iconic thing that Kardashian says occasionally.
The part-time lifestyle blogger does deserve points for the marketing, which involved a photoshoot in which she jumped into (out of? Hovered over?) a big green pile of matcha. Five stars.
Ashley Tisdale's Being Frenshe
This is sort of a beauty brand, but it's so much more than that. It's Frenshe. Tisdale has posted confused ramblings about wellness and other topics to her lifestyle blog, Frenshe, for the last couple of years. ("Why Moving My Sofa Was Like a Therapy Session," is one recent, representative post.) But this year, the former High School Musical star launched a product line to go with it, using the same curious name, Being Frenshe. According to the site, the key word is pronounced "fren•shē" and seems to be a play on Tisdale's husband's last name, which is simply "French."
The products themselves are Bath & Body Works–style lotions and washes in scents including Solar Fleur and Cashmere Vanilla. There are candles, body mists, and bath bombs, and everything appears to be $14.99 and available for purchase at Target. Why does this exist? What does it have to do with Tisdale's lifestyle blog? Who is buying it? (Me, whoops.) Frenshe stars.