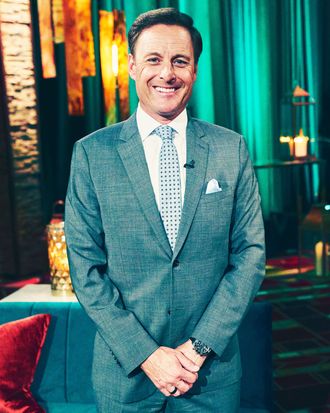 Photo: Craig Sjodin/ABC via Getty Images
Heads up, Bachelor Nation. Chris Harrison is joining the legion of men who are sorry for saying terrible things. He is, at the request of no one, releasing a podcast, and he dropped a trailer for it on Monday.
"I'm a little nervous," Harrison, the former host of The Bachelor and its spinoffs, says in the trailer. This is the first we've heard from Harrison since he said in February 2021 that he would be "stepping back for a period of time" after he received intense backlash for defending Rachael Kirkconnell, who won The Bachelor's 25th season, after photos of her at an antebellum-themed party surfaced.
As viewers expressed anger over the photos, many looked to Harrison, the 19-year host of the show, for a show of solidarity and leadership. Instead, in an interview with Rachel Lindsay, the first Black Bachelorette, Harrison stuck up for Kirkconnell.
During the interview, Lindsay said to Harrison about Kirkconnell: "She's representing the Old South. If I went to that party, what would I represent at that party?" Harrison responded, "I don't disagree with you. You're 100 percent right in 2021. That was not the case in 2018."
When Lindsay pressed him on the matter, emphasizing that Kirkconnell attended the party in 2018, not exactly a time when people didn't know about the slavery, Harrison only dug a deeper hole for himself. "I'm not defending Rachael — I just know 50 million people who did that in 2018," he said. "That was a type of party that a lot of people went to." He also said that he was "not the woke police."
Harrison later issued a lengthy apology on Instagram, saying he realized he had caused "harm by wrongly speaking in a manner that perpetuates racism" and he was "so deeply sorry." ABC later said he would not be returning to host the series.
In the podcast trailer, Harrison says, "I have not spoken publicly for two years about this and I have a lot of thoughts. I think about this every day. Truly, every day of my life I think about this and what I want to say and how important it is that I speak to everyone for the first time."
Even though Harrison doesn't say the words "The Bachelor" in the trailer, it seems clear he'll be addressing the incident. It remains to be seen whether a podcast titled The Most Dramatic Podcast Ever" will live up to its name, but we can hope.