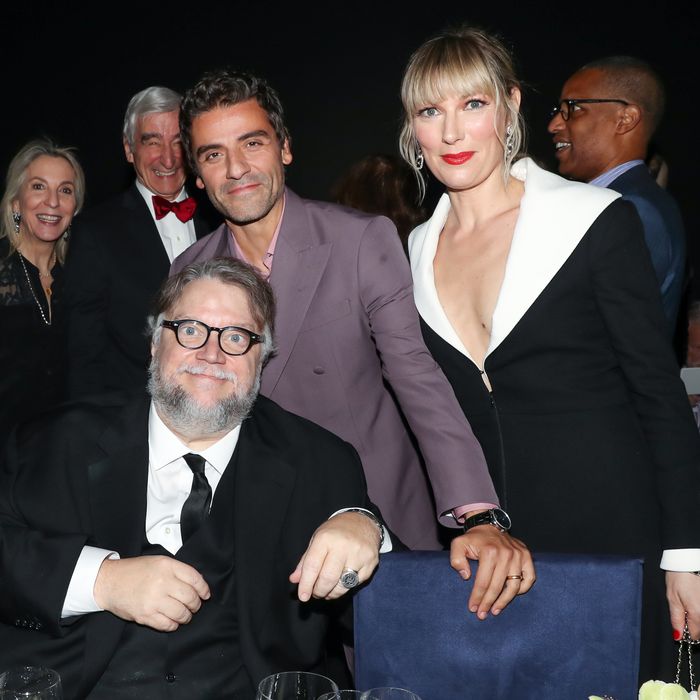 Photo: Neil Rasmus/BFA.com
On Thursday night, Jessica Chastain, Oscar Isaac, and Jeremy O. Harris and their high cheekbones paid a visit to the Museum of Modern Art. The occasion? An annual film benefit, sponsored by Chanel, this year celebrating the Academy Award–winning director Guillermo del Toro and his work ahead of his eponymous exhibition opening at the museum on December 11.
It's rare to shed a tear at a brand-sponsored event, but it was sometime in between a plate of burrata and a preview clip of del Toro's new film, Pinocchio, that I found myself welling up for no apparent reason. It might have been the fact that earlier that night, on the red carpet, del Toro talked to me about his childhood — about how he was quiet and enjoyed anime and liked to button his shirt up to the very top. "I think inside I'm still that boy," del Toro said. "It's the initial thing of being broken as a kid that propels the entirety of our work."
After Chastain and Isaac walked the carpet (Isaac left his phone behind with a publicist for the museum, who swore she didn't peek at his notifications — better than I!), we made our way to our seats. Inside, there were white peonies! Handkerchiefs embroidered with the Chanel logo! Waiters with chiseled cheekbones serving each patron their dish in synchrony! Guests were dressed mostly in black, except for Harris, who arrived in a fabulous bright-red wig.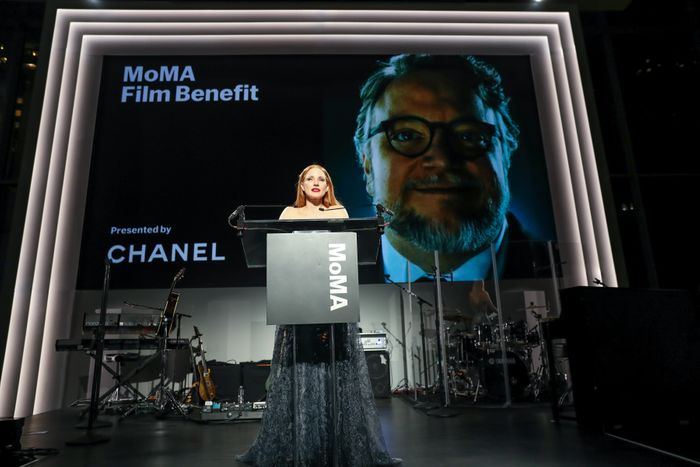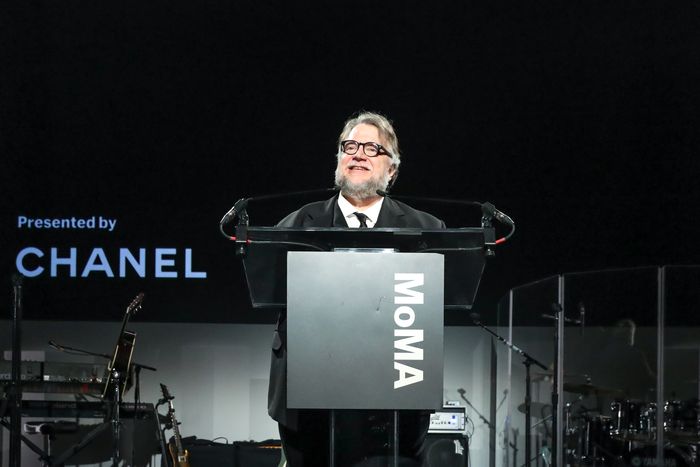 Richard Jenkins took the stage and spoke of his relationship with del Toro, noting how the two didn't meet until Jenkins was 69 years old and received an email from del Toro asking him to be in The Shape of Water. Cate Blanchett, on set in rural Australia, sent in a video message telling the director that working with him felt like having someone see both the inside of her head and her heart. Our queen, Tilda Swinton, also submitted a video and blew del Toro a virtual kiss.
Del Toro opened his speech by saying "I'm happy with Chanel — my events are usually sponsored by Big and Tall." Then he got serious: "The only way that you can be loved is if you are loved for who you are," del Toro said, his voice cracking a bit as he held back tears. "You are not afraid to wear your imperfections as a badge of honor. This is why I love monsters." I dabbed my own tears with the Chanel linen napkin that had greeted me at my assigned seat. If I'm going to cry, I hope it's always in Chanel.