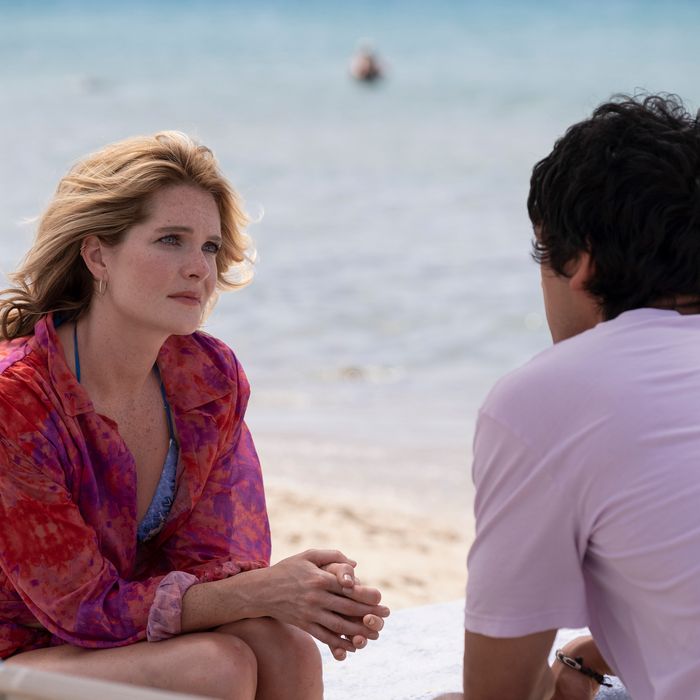 Photo: Francesca D'Angelo/HBO
The White Lotus's second season went out with several bangs this weekend — spoilers ahead — most of them fired by Tanya (R.I.P.) and her Betsey Johnson heels. Among the many mysteries left unsolved by the season finale, one major question mark is still looming over the Ionian Sea: What on earth happened on that cursed couples trip? Did Harper and Cameron do more than just kiss? And to get back at them, did their spouses, Daphne and Ethan, have sex in a Sicilian cave?
I'm not the only one wondering. All the actors involved in this philandering foursome have been asked for specifics and provided frankly infuriating answers. Will Sharpe, who plays Ethan, called the scene between him and Daphne "open to interpretation" but deemed it "a moment of connection" and "a moment of intimacy." Okay …? Meghann Fahy, who plays Daphne, boldly declared that "it was something." She elaborated, "I think Daphne just saw this broken man and wanted to do something to make him feel more empowered in her own strange way." She concluded that whatever went down on that island was "definitely something sexual for sure."
Meanwhile, Aubrey Plaza and Theo James have been slightly more forthcoming about the encounter between their characters. In the show, Harper (Plaza) claims to her husband that they'd just kissed. James, who plays Cameron, told our colleagues at Vulture that whatever happened was "more than she let on by half." Plaza seems to agree: In a post-finale appearance on Late Night With Seth Meyers, she clarified that Harper and Cameron "did some stuff, and I hated every minute of it." Also, "there was no penetration." When Meyers theorized that they grabbed each other's butts (?), Plaza retorted, "I think I grabbed a little more than that." Still, she ultimately deflected, pivoting to ask, "What does my husband do? That's the real question." It sure is!