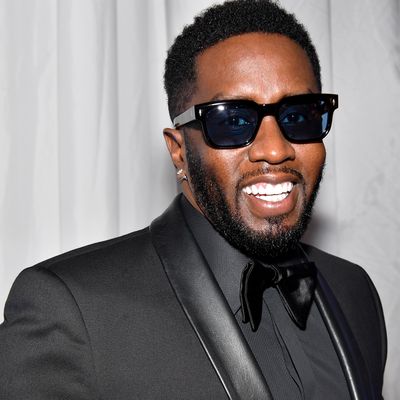 Photo: Paras Griffin/Getty Images
As Diddy's latest family announcement sinks in with fans, he has a message to those who doubt his relationship with Yung Miami. (On Saturday, after he announced the birth of a baby girl on Twitter, people immediately questioned what was going on — especially given his open relationship with the 28-year-old rapper, who was not the mother.)
"I'm so blessed to welcome my baby girl Love Sean Combs to the world," he tweeted in part. "Quincy, Justin, Christian, Chance, D'Lila, Jessie and myself all love you so much," Diddy wrote in his announcement, giving a shoutout to his six older kids. "God is the Greatest!" Love Sean Combs appears to be named after Diddy, who legally changed his name to Sean Love Combs in 2021, per E! News.
Diddy hasn't released any further details on the arrival of his new "baby girl." And the secrecy, coupled with his public declarations of singledom and an open relationship with rapper and podcast host Yung Miami, born Caresha Brownlee, has fans wondering what the hell is going on. After all, it was just last week that Diddy and Yung Miami were spotted getting close at Art Basel. (Yung Miami told XXL earlier this year that they were "single, but we're dating.")
TMZ reported that the baby was born in October and later identified her mother as Dana Tran, a 28-year-old cybersecurity expert, though this has yet to be confirmed. The rapper and business mogul doesn't appear to be in any rush to give details about his family's new addition. Yung Miami, however, acknowledged the announcement on Twitter. After a fan tagged her, suggesting she should be her own guest on the next episode of her podcast, Caresha Please, "because we need answers," the rapper retweeted the message, adding eye emoji.
On Monday, Yung Miami teased that her next Caresha Please guest would be "a male rapper" (the episode is expected to drop next week) and set the record straight on her relationship with Diddy. "I'M NOBODY SIDE BITCH LETS JUST MAKE THIS CLEAR ON THIS GOOD MONDAY!" she tweeted. "I don't come second to no bitch!"
Diddy echoed her statements in his own tweets on Tuesday, declaring, "@yungmiami305 is not my side chick. Never has been, never will be. She's very important and special to me, and I don't play about my Shawty Wop. I don't discuss things on the internet and I will not start today." He continued, writing that if anyone does "something to hurt mine," he would "come to your house and we're gonna talk about it like human beings." Case closed!
This post has been updated.