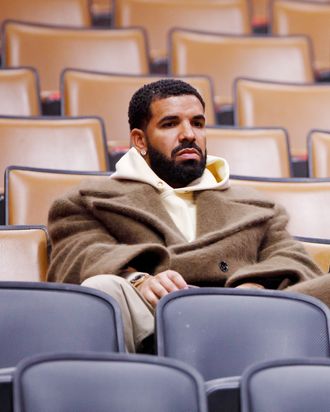 Photo: Cole Burston/Getty Images
Drake is either the world's most hopeless or helpless romantic. The self-proclaimed "certified lover boy" has apparently thought of proposing marriage not once, not twice, but 42 separate times. At least, that's what he's claiming with his new jewelry piece.
Created with jeweler Alex Moss, Drake's "Previous Engagements" chain boasts a total of 42 diamonds, each meant to represent a time the rapper considered popping the question. Moss debuted the impressive diamond necklace on his Instagram this week, describing it as "42 engagement rings, 351.38 carats in diamonds." Per the voice-over in the video, each stone was chosen "to only suit perfection" and "for all the times he thought about it, but never did." But what does that mean exactly?
Drake's dating history may be plentiful, but 42 potential engagements feels like a lot, even for him. Then again, SZA recently described Drake as having "a Regina George quality to him where it's just kind of like, 'Have you or anyone you know been personally victimized?'" Anything is possible.
While we're here, I have a few more questions: Are all 42 potential engagements with different women? Or are half of these diamonds for Rihanna? What constitutes "thinking about" an engagement for Drake? Is there any girl Drake has seriously dated that he hasn't thought of proposing to? Or is this all just a ruse? It's no secret that Drake loves his diamonds. Three years ago, he purchased a $400,000 diamond-encrusted iPhone case, and earlier this year, he bought a $1,898,000 diamond necklace from Homer, the luxury company founded by Frank Ocean. Maybe the "Previous Engagements" labeling is just a way for him to justify purchasing a 42-diamond necklace. Even Drake has a budget, right?