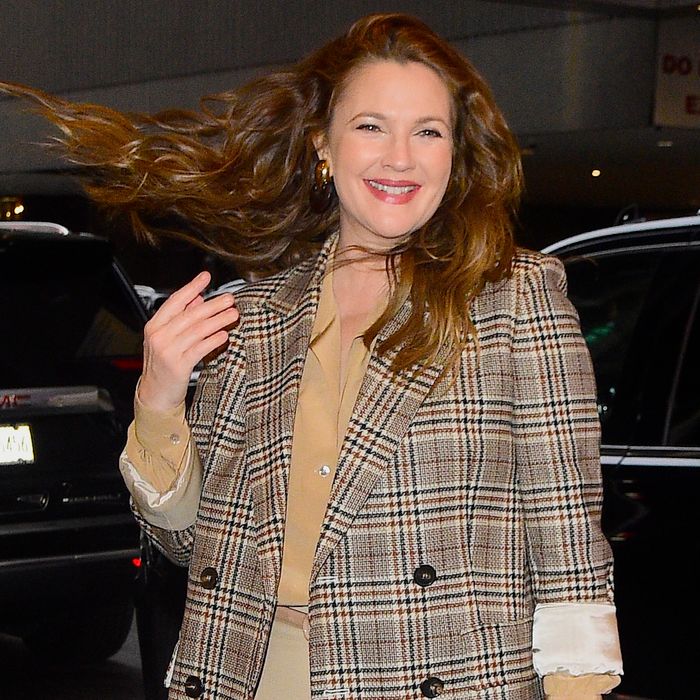 Photo: Raymond Hall/GC Images
If there's one thing I've learned this year, it's that Drew Barrymore may be the most optimistic celebrity. The host of the relentlessly silly and upbeat Drew Barrymore Show can often be seen frolicking in the rain or crying at the beauty of newly uncovered windows. There's basically nothing she can't put a positive spin on, even bad dates.
Just a few months after proudly revealing that she hadn't had an "intimate relationship" since her 2016 split from Will Kopelman — no, she's not sad about it — Barrymore has announced that she's going back into the dating world. "I hibernate like a bear in my dating life. I will turn off the app," she explained in a new interview with Entertainment Tonight. "You have on and off seasons. I feel like I'm having an on season." Her dating season is going well so far: She has apparently gone on multiple dates with one man who has her feeling "hopeful." This is a rare occurrence, as the actor says she's always turned off by men's "behavior" on first dates. "Usually, it's one and done because I see their behavior and I'm like, This is nonnegotiable. This is not a match."
But despite having gone on many disappointing first dates, Barrymore doesn't think of them as horror stories but as "funny" and "awesome." I'll let her explain. "It makes for a great essay or girlfriend fodder over cocktails or whatever you're into," she said before returning to her trademark optimism. "Always stay hopeful. Never become cynical and jaded really about anything, but especially dating."
That may sound easy to say when you're Drew Barrymore, but for what it's worth, she has spoken about being demoralized by the cruel world of dating apps before. A year ago, she mentioned that she didn't get any matches on dating apps. "No one has connected with me," she told her Drew Barrymore Show audience. "It makes me feel like such a loser." I guess if she can continue dating after that, there must be hope for the rest of us.