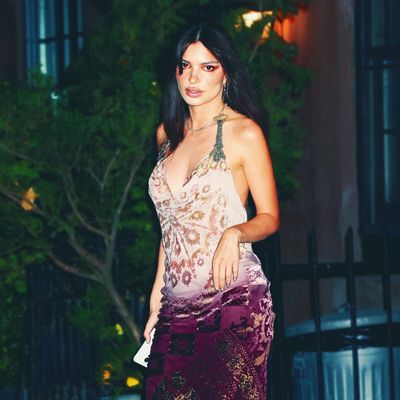 Emily Ratajkowski is a bit of a risk-taker when it comes to dating. Since her split from her estranged husband, Sebastian Bear-McClard, she's been linked to Brad Pitt and Pete Davidson — two men known for having particularly, uh, eventful romantic pasts — and now she's taking what might be her biggest risk yet: joining a dating app.
"I just downloaded an app, you guys. And set up a profile," Ratajkowski revealed during a recent episode of her High Low podcast. The model and author didn't specify which lucky dating app she had decided to join, but she did give some context clues about which one it might be. "I feel like the app is a little white. It's very white and feels like a very particular type of man and, honestly, a very particular type of woman," she said. And of those white men, she noticed a common profile quirk. "Why do so many white men have photos of them running?" she wondered, adding, "What do they think they're signaling with that?" (As a veteran of the NYC app dating scene, it sounds to me like she's on Bumble, Raya, or some other fancy celebrity dating app that us normies don't know about.)
Naturally, Ratajkowski has already gotten a few matches and messages from prospective suitors. "I have gotten a few direct requests from women, which is exciting," she said, though she added that she's also received some "crazy" messages. "I've already made some mistakes," she admitted. "There's people that I've matched with, I'm like, 'Whoops. Like, this is an unsafe space.'" Emrata, she's just like us!
As for what this means for her budding romance with Davidson, that remains unclear. The two had a public hangout court-side at a Knicks game over Thanksgiving weekend, and Entertainment Tonight reported that the two were casually dating. "Emily is doing well and getting more adjusted to her life as a single mom since her divorce," a source told ET. "She is dating and having fun with it." And as a single woman, it sounds like Emrata is hoping to expand her dating pool beyond celebrities. "I need normal guys," she said on High Low. "We want, like, a surgeon. We want a lawyer. An academic. I'm on this app just to meet these people."
Godspeed.