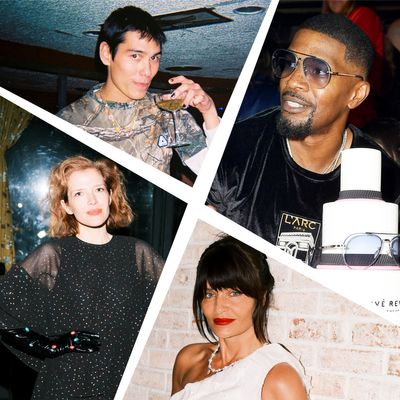 Photo-Illustration: by The Cut; Photos: Max Burkeman, BFA
There's a blizzard rolling in and a preholiday slump has blanketed me. This time of year is polarizing. You're either taking part in glitz or in seclusion; there is no in between. I'm either wearing head-to-toe sequins and a feather boa or I am in my pajamas, at home, with a fake fireplace crackling on my TV screen. Lately, I've been the latter more often than the former. But enough about me! Let's admire some people who actually left their homes this week and looked incredible doing it.
Most Familiar Face: Evan Mock
Nothing tickles my fancy quite like seeing Evan Mock out and about the town! He's become a party fixture on the scene, and it really sparks joy for me to see him having fun. This week, Mock checked out a preview of Ella Funt, a new restaurant opening in 2023, with a dinner and after-party pop-up at Pearl Diner.
Most Scrumptious: Batsheva Hay
The gloves Hay wore to a BATSHEVA party look so delicious, like little, yummy jelly beans waiting in a line to be eaten. In fact, they could very well be tiny pieces of candy serving as a snack for later. Fun and functional!
Most Ethereal: Helena Christensen
I always avoid an all-white look during winter, but I've realized that's simply because I am not Helena Christensen. She looks angelic and otherworldly at the BATSHEVA party in ways I could only hope to aspire to!
Most Spiritually In Tune: Isabella Lalonde
I'm desperate for someone to read my tarot cards IRL (no offense to the TikTok tarot girlies!) like Isabella Lalonde is at the Ella Funt event. Bonus points because I really love Lalonde's makeup and hair accessories. 10/10.
Most Iconic: Lynn Yaeger
I'd kill to be on the other end of a Lynn Yaeger story. What could she be telling her captivated audience? Whatever it is, I'm sure it's iconic just like her look.
Most Chaotic: Jamie Foxx
Jamie Foxx celebrated his birthday in Paris — first with a dinner at César Paris, followed by a night out at L'Arc Paris. The energy this image emanates is chaotic, to say the least, a Renaissance portrait of sorts. Asking for a friend, though: Where can I get a velour L'Arc shirt like his?
Most Aspirational: Sehmon Burnam
This look, seen at a WORTHLESS studio celebration and fundraiser, is exactly how I'm trying to dress in 2023. This is giving cool-as-cucumber, unbothered, "I'll get there when I get there" energy.