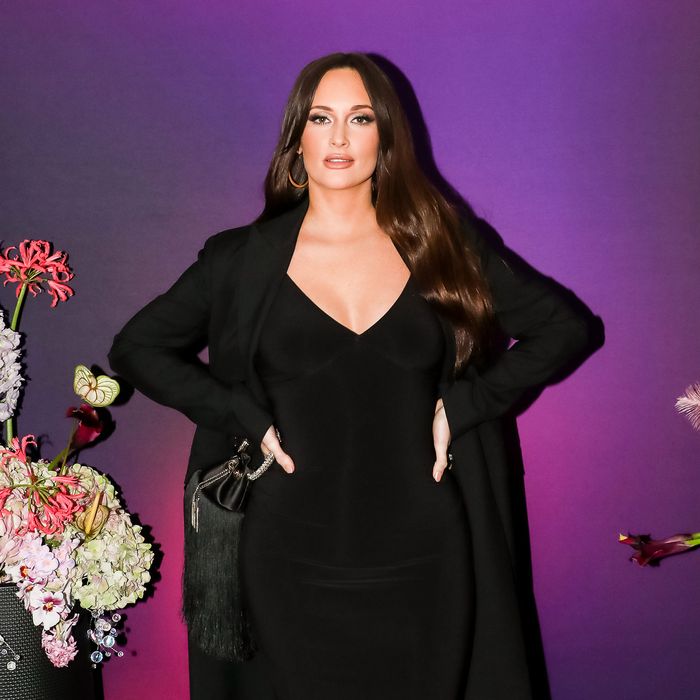 Photo: Sydney Jackson/BFA.com
Kacey Musgraves has just started watching The White Lotus, so she's asking me what low-lift television show she should get into next. Below Deck has everything you need from good reality T.V., I tell the singer. "I freaking love Bling Empire, and I don't know why," Musgraves says. Ah, she gets me. "Have you ever seen that show?" she asks. I haven't, but I recommend Shahs of Sunset to her. An oldie, but a goodie.
"Hold on," she says suddenly. "My dog is running toward my snacks by my bed!" Musgraves makes it to the food first, telling Pepper, a blue heeler and "snack-snatcher" she rescued from the pound, to go sit in her place. I tell her my cat has the same name and Musgraves is giddy to hear it. Ahead of her final concert of the year, put on by Saks and American Express Platinum in celebration of the Shop Saks with Platinum benefit, she's chatting on the phone with me like an old friend from college might; I nearly forget a six-time Grammy award-winner is at the other end of the line.
Musgraves has had a busy year, to say the least. She's been on a glittery, rainbow-tinted, cowboy-adjacent, confetti-filled tour for the breakup-album-bonanza that is Star-Crossed; was named one of the women of the year by Time magazine; added two more Grammy nominations to her belt, bringing her total so far to 11; and reminded us all what true yeehaw chic looks like when she called Ted Cruz out during a show in Texas with her tresses teased to the hairspray Gods. Through it all, she still found time to personally victimize us with her heartbreaking rendition of Can't Help Falling in Love. Ouchie. On the eve of wrapping up her tour, Musgraves chatted with the Cut about her sense of style, vulnerability, and meeting Cher.
You have such a specific tone in the way you dress. At your concert, all of your fans just know the vibe of what to wear. How would you describe your sense of style, and do you have any specific style icons you look up to?
It's always really fun for me, and a nice surprise, to get up on stage and look out and see what everyone else has chosen to wear. Cher is always a great style icon for me as well as Dolly Parton. I guess I would describe my style as having one foot in the past and one foot in the future. I think whenever you have both feet in the past, it can come off as costumey. And with both feet in the future, sometimes it can look like you're trying too hard. I just want a mixture of both, and I think that's what my music is about too. It's a blend of traditionalism and futurism coming together and hopefully making something new.
Your audience regards you as a generally authentic and honest person. What does it feel like to be so open, and even vulnerable, with such a large amount of people?
It's not always easy. I've definitely felt fear or trepidation around releasing music that's extremely personal to me. With Star-Crossed, in the weeks leading up to releasing it, I felt a pit in my stomach. I would wake up in the middle of the night with it and just be like holy shit. I can't believe I'm about to put this out there. But I always feel like brutal honesty and bravery is rewarded. It ultimately just connects you to the human race even more. Going through divorce, hitting rock bottom in whatever sense that is emotionally, and then being able to write about it just made me feel that much more connected to the human experience. Then to have the return gratification of so many people coming up to me saying, this is my story too. You're not alone. It's really fulfilling.
How do you decide when something feels big enough to write about? 
Weirdly for me, it's the smallest things. I feel like the most poignant ideas are in the smallest of happenings, or the smallest of emotions and the little bitty nuances of being a human, alive and experiencing consciousness. I just always try to keep my eyes open for the things that are there. I feel like inspiration is available all the time, everywhere, to all people. You just have to kind of tune in to see. No one deserves it more. Sometimes it'll just hit me, it'll be a fragment from an argument that I had, or a sign I saw, or a random thought that pops up while I'm doing laundry.
In your line of work, you're bumping into fellow celebrities all the time. Do you say hi when you see someone you're a fan of? 
I'm not saying I'm not awkward, but sometimes I'll just send a little DM. Social media is annoying for a lot of reasons, but it can also be a great connector. Sometimes, I just take a second to say, Hey, I'm a big fan. If you ever want to write, I'd be totally down. But I can be shy too. It's funny because of what I do for a living, most people probably wouldn't think that I'm shy, but actually I can be quite shy in certain situations.
So, say you met Cher in real life…
I actually met Cher on my birthday in Vegas a few years ago. It was so wild. Me, my sister, some of my team, and my mom were randomly in Vegas, and she was playing a show on my birthday, and it was so fucking awesome. We were able to arrange a hello backstage. She's such an icon, and I'm really not starstruck by many people. I've been really lucky to meet so many of my heroes, and they're just like everybody else, but that was really cool.