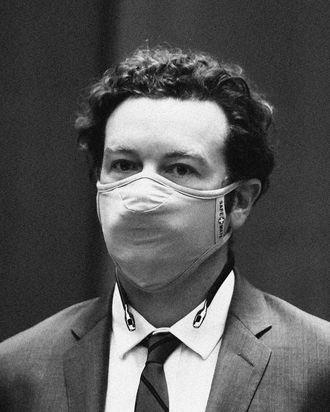 Photo: Lucy Nicholson/Getty Images
Over the past few weeks, That '70s Show actor Danny Masterson has been on trial for charges that he raped three women in the early aughts. Masterson's accusers allege the actor sexually assaulted them at his Hollywood Hills home after plying them with alcohol. Many of them either are or were Scientologists and have further alleged that the church suppressed them from reporting Masterson, a lifelong member, to the LAPD.
While the LAPD launched an investigation into Masterson in 2017, the actor furiously denied the women's allegations, releasing a lengthy statement through his representative disparaging the accusers and suggesting they had only come forward because they'd been in contact with Leah Remini, who was then working on a television series speaking out against the Church of Scientology. Two more victims also came forward with rape allegations that year, prompting Masterson's agency to drop him and Netflix to fire him from The Ranch. Three of the accusers who testified in the L.A. trial filed a lawsuit against the actor and the Church of Scientology in 2019, alleging that they were stalked after their police reports. Masterson's defense team unsuccessfully tried to block testimony about the church from the trial, arguing it would bias the jury; a judge ruled that the women could testify to their feelings that the church had suppressed them. For his part, Masterson pleaded not guilty to the three counts of forcible rape. If convicted, he faces up to 45 years to life in prison.
On Wednesday, a Los Angeles County Superior Court judge declared a mistrial after jurors deadlocked, the Los Angeles Times reports. A retrial date is set for March 2023. Below, everything to know about the trial.
An accuser identified as Jane Doe No. 1 said she felt like she was "going to die" when Masterson raped her.
Masterson's first accuser (who, despite being named in trial briefs, testified as Jane Doe No. 1) told jurors Masterson anally raped her during their first sexual encounter in 2002. She recalled confiding in a Church of Scientology ethics officer afterwards, who she said forced her "to make peace" with what happened and made her complete "ethics programs," where she says she was taught she was responsible for the alleged crime: "My understanding, my entire life, was that you can never be a victim … No matter what condition you find yourself in life, no matter how horrible, you are responsible. You created that."
Jane Doe No. 1 also testified that Masterson raped her at his house in 2003, allegedly giving her something to drink before throwing her into the Jacuzzi, where she said she felt nauseous and experienced trouble seeing. Per her account, Masterson ignored her protests and carried her to his upstairs bathroom, where she says he put his finger down her throat to make her vomit before dragging her into the shower and soaping her breasts without her consent. Jane Doe No. 1 said she punched Masterson, who took her to his bed. There, she said, she passed out and woke up to the actor penetrating her. After a struggle, she said the actor pulled a gun from his nightstand drawer and ordered her to "shut the fuck up" as he held it up.
Jane Doe said she reported the incident to her Scientology ethics officer, understanding that reporting a Scientologist in good standing, like Masterson, would make her a "suppressive person" and "guilty of a high crime." "My life would be over," she told jurors, explaining that she feared expulsion. "My parents would have to disconnect from me. My daughter couldn't go to school … I wouldn't have anywhere to work or live. I wouldn't have anywhere to go." She said she later wrote to the church's international justice chief and asked for permission to report Masterson, but was deterred. She reported the rape anyway in 2004, at which point she said she received a call from the chief telling her, "You have no idea how fucked you are." The LAPD did not pursue charges at the time, a decision Jane Doe No. 1 said left her feeling "scared." She signed an NDA and accepted a $400,000 settlement from Masterson, citing pressure from the actor and the church.
During cross-examination, Masterson's legal team attempted to poke holes at apparent discrepancies between Jane Doe's 2004 police report and her current testimony; in response, Jane Doe No. 1 said she didn't remember some of her initial interviews. Pressed about the settlement amount, she told the defense she "did not name a dollar amount" before settling, and described her decision to sue Masterson and the church in 2019 as a way to "sue for peace," adding, "It's the only way for them to stop" their alleged harassment. Jane Doe No. 1 also told jurors she fears retaliation from the church against her and her three children for testifying at Masterson's trial.
Christina B., Masterson's former girlfriend, told the court Masterson was both physically and emotionally abusive, recalling a night she allegedly woke up to him raping her.
Christina B. testified that she screamed at Masterson to "get off me" when she woke up to him raping her in 2001. She told jurors she met the actor in 1996, when she was an 18-year-old model who had just moved to L.A. "I believed he was very charming and I fell for him," she said, adding that she moved in with Masterson within two weeks of their first date and that he soon convinced her to convert to Scientology. She said she was told those closest to her were "suppressive people" and "disconnected" from them, socializing with fellow Scientologists instead.
A year into her relationship with Masterson, Christina B. claimed he became "sexually aggressive" and physically and emotionally abusive, explaining it was "normal" to wake up to him having sex with her and alleging that the actor once dragged her across the floor by her hair when she refused to have sex with him. Telling jurors Masterson had "rules" about touching his hair and face, she described purposefully pulling on his hair the night of the alleged rape in 2001 to get him to stop, and said Masterson hit her in the face in response. "I felt shocked … I started screaming," Christina B. recalled, adding that the actor then got off the bed, "spit on me and called me white trash."
Speaking about the "terror campaign" the Church of Scientology allegedly subjected her to after coming forward with her accusations, Variety reports Christina B. appeared panicked on the stand, at one point saying, "I can't breathe." She testified that she went to the church — which she called a "criminal organization" in her testimony — after the alleged 2001 rape, but that a church official told her it wasn't possible to rape one's girlfriend and that it was her job to give Masterson "sex whenever he wanted." She also alleged her ethics officer told her "no crime was committed" and that, like Jane Doe No. 1, she was put into an "ethics program." She eventually reported Masterson to the LAPD in 2016, and says she has been treated as a "suppressive person" since, with the church allegedly stalking her, threatening her, and attempting to run her off the road: "What my husband and my babies have been through the last six years, I would not have survived it in [2001]," she told jurors.
Masterson's defense team again tried to point out inconsistencies between Christina B.'s police interviews and the testimony she relayed at her preliminary hearing last year, to which Christina responded she had "never been interviewed by a detective before" and was "terrified," adding that she had always answered "questions honestly." Meanwhile, a spokeswoman from the Church of Scientology told Variety Christina B.'s allegations are "categorically untrue."
Jane Doe No. 2 testified that she was "pleading" for Masterson not to rape her.
A woman identified in court as Jane Doe No. 2  testified that Masterson violently raped her despite her pleas for him to stop, adding that she felt like a "rag doll" afterward. The woman said Masterson invited her to his house in 2003; describing a similar scenario as Jane Doe No. 1, she explained the actor gave her a glass of wine and commanded her "like a drill sergeant" to go into the Jacuzzi, where she felt "heavy" and "numb" as Masterson began kissing her. "I did not want any of what was happening," she said, explaining that she repeatedly told Masterson, "We cannot have sex, Danny." Masterson allegedly ordered her to get into the shower and penetrated her without her consent before demanding she go to the bedroom, where she said she was "pleading" for him not to have sex with her. Jane Doe No. 2 said Masterson agreed but later changed course, flipping her over and "pounding me from behind" so forcefully that she said she had to fight the urge to vomit onto his bed. "He was raping me," she told jurors, describing that the "physical pain" made her feel like she wasn't in charge of her faculties. "I was shocked and I was like, Oh my God, what are you doing? I told you not to do that."
Jane Doe No. 2 — a Scientologist at the time of the alleged rape — said Masterson was "more important" than her in the church, prompting her to "recontextualize" what had happened because she feared the consequences of reporting it to the church, which she said had discouraged her from reporting a previous rape by an ex-boyfriend. "I was gaslighting myself," she said, comparing Masterson to a "predator" and stating that she understood it was a rape when she finally left the church. "As an adult woman, you have plenty of time to see these distinctions between someone having affinity for you and someone targeting you as a piece of meat." Though Jane Doe No. 2 reported the incident to the LAPD 13 years later, she said there was something "shady" about the way the investigation stalled. She also said she has faced harassment and intimidation since filing her police report and had experienced panic and anxiety attacks as a result.
Tricia V. said Masterson raped her without a condom and told her "diseases are in the mind."
Per Variety, a fourth accuser, identified as Tricia V. — a non-Scientologist whom Masterson's defense team tried and failed to exclude from testifying — told the court she fell asleep on Masterson's floor in 1996 and woke up to him raping her. Called by the prosecution to establish a pattern of Masterson's misconduct, Tricia told jurors she had worked on a film with Masterson at the time and went to his house for a wrap party; because she smoked marijuana and had a few drinks, she and other guests decided to stay at Masterson's home. Tricia testified that Masterson brought her to his bedroom, where she said she eventually woke up to him penetrating her, at which point she became disoriented and lost consciousness before waking up naked in Masterson's bed. "He was just smiling at me," she told jurors. "That was sort of confusing to me … as if we were on a date or something sweet." Tricia also alleged Masterson attempted to rape her a second time a month later, describing how he came to her house and offered her a flask to drink before the two went into Tricia's bedroom, where she said she began feeling intoxicated and recalled Masterson trying to take her pants off. She said she told him she didn't want to have sex and that he laughed and "continued" on. "I was telling him to stop, but I was also telling him that he didn't have a condom on … I remember him saying diseases are in the mind."
Following the accusers' testimonies, Masterson told the judge he had decided not to testify. His defense team made a motion to dismiss the case, which the judge denied. Jury deliberations are currently underway.
The judge declared a mistrial.
Judge Charlaine Olmedo declared a mistrial on Wednesday after the jury foreman said that there was nothing the court could do to get jurors to reach a unanimous decision.
Variety reports that jurors said in a note to the judge, "We are not even close to coming to a unanimous decision on any count and are convinced this will not change."
The judge set a retrial date for March 27.
This post has been updated.