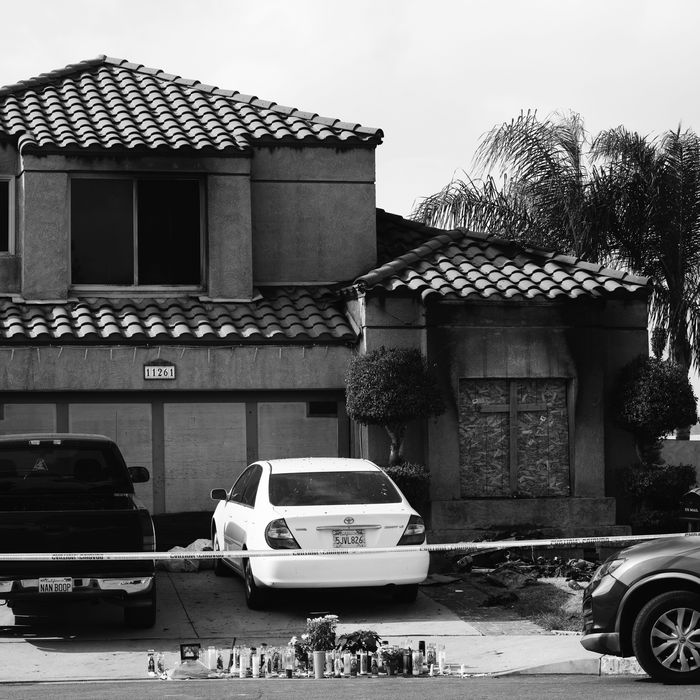 Photo: Dania Maxwell/Los Angeles Times via Getty Images
In November, Austin Lee Edwards, a deputy with the Washington County, Virginia, sheriff's office, and a former state trooper, was killed in a shootout with deputies in Riverside, California. According to a statement from the city, Edwards, 28, who'd recently worked for the Virginia State Police, is believed to have driven across the country to the home of a teenage girl he'd met online and catfished. Officials claim he murdered the girl's mother and grandparents before driving off with her on Friday, November 25. The cause and manner of death is still under investigation. The 15-year-old was unharmed, according to authorities.
Here's what we know about the incident.
The girl was seen getting into a car and appeared distressed
On Friday, November 25, officers were dispatched to check on the welfare of a girl who appeared distressed while getting into a red car with a man. As officers were responding, 911 dispatchers began receiving calls about a fire in the neighborhood, the City of Riverside said in a statement.
Firefighters found the bodies of Mark and Sharie Winek and their daughter, Brooke Winek. A preliminary investigation determined that the girl who was seen getting into the car also lived at the home.
"Mark, Sharie, and Brooke were loving people who didn't deserve this tragedy," the family of the victims said in a public statement, thanking "everyone for their love, support, prayers, and patience during this horrific time." The family has a GoFundMe page to help support the girl and her sister.
Edwards catfished the girl, according to authorities
Edwards had met the teenager online and catfished her, according to the City of Riverside's statement: "It is believed Edwards had developed an online relationship with the teen and obtained her personal information."
The Los Angeles Times reports that Edwards pretended to be a 17-year-old boy. It is not yet known how long he was in contact with the girl online or what platforms they communicated on.
At a press conference on Wednesday, November 30, the girl's aunt, Michelle Blandin, cautioned parents about catfishing, according to CNN. "Parents, please know your child's online activity, ask questions about what they're doing and whom they are talking to," she said. "Anybody can say they're someone else, and you could be in this situation."
Police say Edwards traveled across the country to find the girl
Riverside police believe that Edwards traveled to Riverside from Virginia. Authorities are still investigating the cause of the fire, though it appeared to be intentionally lit, according to CNN. Per CBS, authorities believe that Edwards acted alone.
Hours after the bodies were found, Edwards was seen driving in San Bernardino County with the girl in the car. He was killed in a shootout with San Bernardino County sheriff's deputies and SWAT officers. He was pronounced dead at the scene.
TMZ reports that Edwards bought a house in Saltville, Virginia, 11 days before the murders. Neighbors told TMZ that Edwards blacked out the windows of the home with car tint and it was nearly impossible to see through them.
Edwards had recently been hired by the Washington County Sheriff's Office
CBS reports that according to a Virginia State Police Department spokesperson, Edwards was hired and entered the academy in July 2021. After graduating in January, he was assigned to Henrico County in the Richmond Division of Virginia. He resigned on October 28, 2022.
The Washington County Sheriff's Office said that Edwards had been hired on November 16 and recently started his orientation there. He was about to be assigned to the patrol division, NBC reports.
According to the Los Angeles Times, Edwards was detained in 2016 for psychiatric evaluation after threatening to harm himself and his father. A spokesperson for the Virginia State Police told the Times that Edwards never disclosed the incident to his former employer.
This post has been updated.