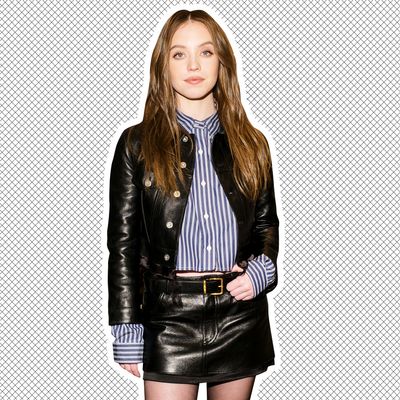 Photo-Illustration: by The Cut; Photo: Mike Vitelli/BFA.com
Sydney Sweeney had just gotten back from Rome when she met me at the Miu Miu store on Fifth Avenue. The occasion? An event in her honor. "Oh my God, my name is on the wall!" Sweeney said, wearing a leather miniskirt, a cropped button-down, and knee-high boots from the Italian label. The actress, who has shot to fame in the past few years, in part due to her roles as older sister Cassie in Euphoria and ever-eye-rolling Olivia in The White Lotus, seemed genuinely surprised that her name was on the wall of the store.
Her name actually happened to be on multiple walls tonight. She'd been asked by the fashion house to select pieces from their ready-to-wear collection for a showcase. (Fun fact: Miu Miu was the first fashion show Sweeney ever went to.) Her selections included several black, crushed-velvet dresses, one with a satin trim and another with a built-in corset; a bedazzled, silk Cher-esque two-piece set; the same chunky boots she wore to the event; and a plethora of other statement pieces. "There's no rules, and there's no box to live in," Sweeney said of her fashion sense. "It's really fun." Guests floated through the three floors of blue-carpeted space during the event, browsing the pieces Sweeney had selected, taking photos with her and even purchasing items to take home. About halfway through the night, someone handed her their tiny dog, named Bootch, who quickly became the new star of the show.
The actress sat down with the Cut to chat about style, fixing cars, and who she really is at her core.
Are you influenced at all by Cassie's style?
Cassie, in general, is like me — a jeans and T-shirt girl. I was more influenced by Cassie's makeup. Just seeing what Euphoria makeup artist Donni Davy did with all of the girls. I think I took that energy into fashion by experimenting, wanting to try different things.
Beyond fashion, I know one of your hobbies is fixing up cars. Tell me about how you got started doing that and why you did? 
My dream was to always have a Bronco, that was my dream first car, but I could not afford that. So when we went into the lockdown, I kind of was like, "I need a hobby. I need something to do." Then, it carried into season two of Euphoria, so every day I wasn't filming, I'd go to the garage and work on my Bronco. It was amazing. I grew up in a family of mechanics. I'd send videos to my uncle and my cousins, and it was just a really nice thing to talk to them about. And I've done a little bit of work on my Mustang. It's a 1964, baby-blue Mustang. I need to do some more work, but she was beautiful. I don't want to touch her aesthetic. And then I have another car, but it's going to be my little surprise of what's next.
Can you tell me what it feels like when you're driving one of those cars?
The vibe is carefree. Fun. I usually bring my dog, Tank.
Where did you get the name Tank from?
I wanted her to grow up to be a big Tank. I love big dogs, but she grew up to be a medium-size Tank. She's a manageable Tank. She's just a mutt of anything and everything. I adopted her.
How do you feel like your life has changed since you've shot into the limelight?
It definitely has drastically changed. But I think that the core Syd has always been there, which is really nice. And I hope that I can keep that. But the people I'm around, I get to meet such incredibly talented people all over the world, the things that I have access to, the fashion. It's crazy. I have the greatest makeup artists and hairstylists, and I'm learning so much about how to do my hair and my makeup, which is something that I'd never even know without this kind of world.
You said the core Syd is still the same. Can you describe what core Syd is like to me?
Core Syd is a tomboy. She loves to be outside, to play sports. Loyalty is number one. I've always been a very loyal person. I've always wanted to make everyone laugh, and just try to enjoy every single day. I just want to be happy.