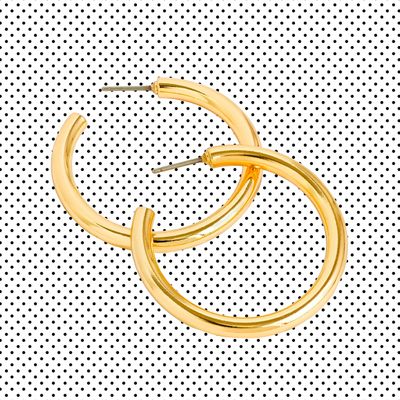 Photo-Illustration: The Cut
If you can believe it, Florence Pugh once broke the internet for reasons entirely unrelated to Harry Styles, Olivia Wilde, or Don't Worry Darling. The viral moment in question occurred last February and came courtesy of a fashion campaign with J.Crew, where she sported a blonde shag and oversize, wire-frame aviator eyeglasses alongside a mix of pastel separates — and looked all around very crush-worthy. There was one particular outtake from the shoot that caught my eye when J.Crew's head of women's and kids' design Olympia Gayot posted it on her personal Instagram:
I squinted when I first saw it. Wait. Florence was wearing the hoops? The understated, unassuming hoops I've owned for years and wear constantly? The hoops I've recommended on group chats, gifted to both sisters, and packed on every vacation? Yes. Those hoops.
Surprising or not, they're from J.Crew, and they're my gold-hoop holy grail: lightweight, perfectly sized, and durable (mine have never tarnished, and like I've said, I've had them for years and wear them all the time). Also, they look expensive IRL, but they're $29.50. (Or 50 percent cheaper, if you're using one of J.Crew's frequent discount codes. As of writing this, the current code is SHOPTIME.)
Gayot shared with me over email that they "really let [Florence] pick from the collection and style herself," leading me to believe that Florence beelined straight for the hoops as soon as she saw them.
Gayot confirmed that the earrings are a core piece in the brand's permanent collection. She described the hoops as "hardworking," which struck me as a particularly apt characterization. In an ideal world, the true classic staples in your wardrobe — whether a white cotton button-down, a black wool blazer, or a midsize gold hoop — work really hard on your outfit's behalf every time you wear them, sometimes contributing even more than their fair share (e.g., something as small as an earring makes the entire look come together).
Calling gold-hoop earrings a wardrobe classic is by no means an original pronouncement, but finding ones that are worthy of the claim can sometimes be difficult. There are hundreds of millions of styles to choose from, and instead of making the task of finding great ones easier, the options are so overwhelming that it's often a challenge. I've tried and rejected pairs that were too small, too big, too thin, too thick, too heavy, too brassy, too shiny, too dull — you get the idea. It's madness! There's so much that can go wrong with a hoop. That's why I'm telling you about the hoops. And just like Florence, I suggest you make a beeline.
For more from the Cut Shop team, follow us on Instagram and Twitter, where we share our best new finds, favorite styling tricks, and more.