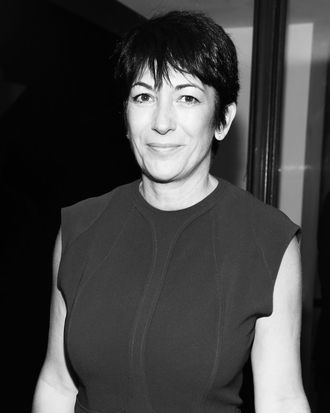 Photo: Sylvain Gaboury/Patrick McMullan via Getty Images
A listing for the house at 301 Summer Street in Manchester-by-the-Sea, Massachusetts, has all the info you expect to know when you're in the market for a multimillion-dollar beach house: It's for sale for $6.95 million, and it has five bedrooms, 6.5 bathrooms, oceanfront views, and its own name — the Phippen Smith House.
The listing conveniently fails to mention that it is also the home that convicted sex trafficker and disgraced socialite Ghislaine Maxwell once lived in. It is owned by her estranged husband, Scott Borgerson's, company, Tidewood LLC.
Even though Borgerson told The Wall Street Journal when the house first went up for sale back in February (for $7.295 million) that Maxwell had no ownership in Tidewood, Yahoo News now reports that proceeds from the sale of the house are expected to help pay for Maxwell's legal fees. So in addition to getting to live in rooms once occupied by Jeffrey Epstein's madam, the lucky buyer of this house is effectively paying her legal fees, too.
In August, Maxwell's legal team sued her and her brother, Kevin Maxwell, and Borgerson for reportedly failing to pay almost $900,000 in fees related to her defense. Yahoo News reports that Borgerson agreed to cover Maxwell's legal fees with the proceeds of the sale if the money couldn't be collected from Maxwell or Kevin. Maxwell's attorneys allege that Borgerson attempted to shelter her assets from her creditors and was responsible for delayed payments, the New York Times reported in August. Borgerson denied the claims.
Maxwell conspired with Epstein to sexually abuse and exploit underage girls and was arrested in 2020. She was convicted on five counts of sex trafficking and sentenced to 20 years in prison last December.