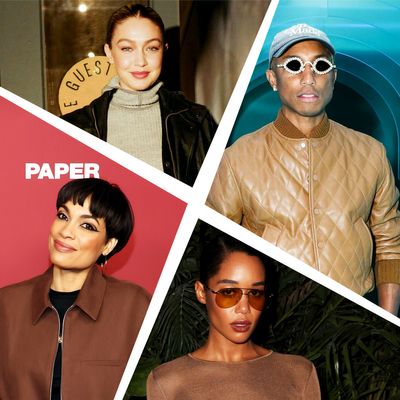 Photo-Illustration: by The Cut; Photos: BFA, Getty Images
It may be a balmy 40 degrees here in NYC, but mentally we're in Miami, where it's about 80 degrees and Art Basel has officially kicked off. The artsy crowd has gathered for parties, exhibitions, cocktails paired with canapés, and yachts. This week, Pharrell parties with Tiffany & Co., Saint Laurent fêtes Madonna, and Fendi opens a Fendi Casa store, all in Miami. Here are some of our favorite looks.
Tiniest Sunglasses: Pharrell
Pharrell paired Tiffany accessories with some impressively tiny sunglasses on Thursday in Miami. Pharrell joined Hailey Bieber, J. Balvin, and more in the Miami Design District to kick off Art Basel and celebrate the Tiffany & Co. Miami pop-up.
Most Sparkly: Taylour Paige
Taylor Paige wore a party look fit for Prada Extends, the brand's third installment of the music project. Electronic musician and frequent collaborator Richie Hawtin curated the sounds for the night in Faena Forum.
Best Pose: Zoë Kravitz
The brand ambassador and campaign star showed us how to really pose at the Saint Laurent party hosted by Anthony Vaccarello and Madonna to celebrate the "Sex by Madonna" exhibit.
Runner-up: Laura Harrier
At the same event, more inspiration for your Instagram photos: Laura Harrier dons an all-brown look.
Best Denim: Ama Elsesser
Ama Elsesser paired skater-inspired denim with a bright-red lip to the launch of skate brand Andrew's latest film endeavor, Rascal, on Wednesday at the historic Scottish Rite Temple in Downtown Miami.
Best Use of All Black: Tati Gabrielle
More tiny sunglasses! This time on Tati Gabrielle, who paired her Matrix-inspired glasses with an all-black ensemble to a Balmain-hosted cocktail event with artist Alexandre Arrechea at Villa Balmain.
Best Suited: Hannah Traore
If you're wondering what to wear while enjoying cocktails under an installation by fiber artist Katrina Sánchez, you can't go wrong with monochromatic suiting. Gallery founder Hannah Traore joined the Cultivist in Miami for a party presented by Jimmy Choo and Harper's Bazaar.
Best Use of Sequins: Jacquelyn Jablonski
Model Jacquelyn Jablonski has us fully convinced lime green could be a suitable holiday color. She paired her bright-green look with sequins at the opening of the Fendi Casa flagship store in Miami. Of course, the whole Fendi team was in attendance, including creative director Silvia Venturini Fendi.
Most Aspirational: Symphani Soto, Lee Litumbe, and Kia Marie
We too would like to be posing on a yacht in Miami. Until that's a reality, this pic of Symphani Soto, Lee Litumbe, and Kia Marie posing at the L'AGENCE X Route yacht party will have to suffice.
If You Aren't at Basel
Warmest Fit: Gigi Hadid
Gigi Hadid made an entrance and an exit wearing her knitwear brand Guest in Residence on Tuesday, where she hosted a party in partnership with Popupflorist to celebrate the opening of Feel Shop. In addition to cozy fits and drinks, guests were able to leave with custom bouquets.
Runner-up: Rosario Dawson
If you are not in Miami, here's some more cold-weather inspo courtesy of Rosario Dawson at the premiere of the Cann x Jane Holiday Campaign on Wednesday, where she later joined Lake Bell on a panel.
Best Pop of Color: Annabelle Dexter-Jones, Molly Ringwald, and Jenna Lyons
Co-host Annabelle Dexter-Jones posed with Molly Ringwald and Jenna Lyons at the launch event for What Goes Around Comes Around and Christie's digital-auction partnership, proving that a pop of color is really all you need to brighten up your look.
Best Performances: Mark Ronson, Slick Rick, and Justin Theroux
Is a party really a party without a fun performance? Not according to Justin Theroux, whose Wednesday night party at Pebble Bar featured not one but two performances — one from Mark Ronson and another from Slick Rick.