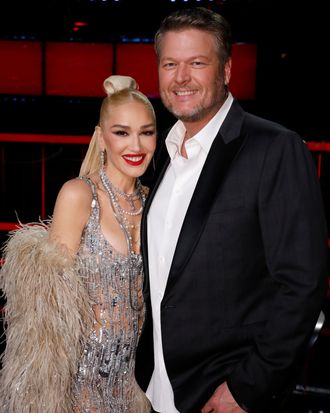 Photo: Trae Patton/NBC via Getty Images
Gwen Stefani and Blake Shelton's relationship has inspired countless tabloid covers: In Touch, Us Weekly, People, OK! Magazine — they've graced them all. In fact, The Voice's power couple has been on so many magazine covers that they have a room literally covered in them.
"When we built our house last year in Oklahoma, [in] one of the bathrooms going out to the pool is every single tabloid cover made into wallpaper," Stefani revealed in a recent interview with WSJ. Magazine when asked if she had Shelton's People magazine Sexiest Man Alive cover framed. "You go in there, and you're like, 'Oh, my God.' It's pretty funny." "Funny" is certainly one way of describing plastering a bathroom with tabloid covers of yourself and your partner, but to each their own! (To be fair, she didn't specify whether the tabloid covers were exclusively of her and her husband.)
Unfortunately, the singer and makeup mogul did not go into detail about her tabloid wallpaper, which leaves me with so many unanswered questions. Were only officially sanctioned covers used — like Shelton's Sexiest Man Alive People cover? Or does the bathroom wallpaper include covers about Stefani and Shelton's many rumored pregnancies? Are there enough tabloid covers so that none of them repeat? Do guests actually enjoy using the bathroom while Shelton and Stefani stare at them from every angle?
There's only one way to find out: We need to see this bathroom. Your move, Architectural Digest!