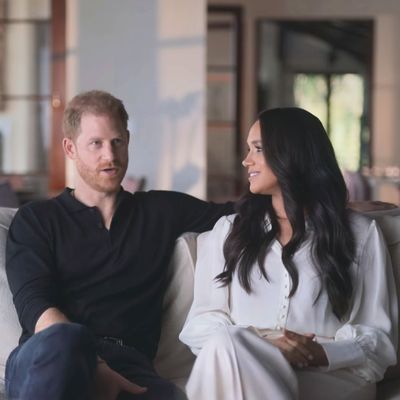 Harry and Meghan, as seen in
Harry & Meghan
.
Photo: Netflix
When Prince Harry and Meghan Markle announced their surprise decision to leave royal life in pursuit of "space to focus on the next chapter," you didn't have to squint to see the culprit. "The media is a powerful force, and my hope is that one day, our collective support for each other can be more powerful, because this is so much bigger than just us," Harry explained in January 2020. After "months of talks" and "years of challenges," he felt there was "no other option." The couple would give up their royal titles, their taxpayer-funded salaries, and their standing in the world's most famous family in exchange for a "more peaceful life" tending to their humanitarian work. That's not exactly how things panned out.
From their new home in California, Meghan and Harry have launched a charitable network and inked staggering media deals. Meghan has a podcast on Spotify. Harry has a tell-all memoir on the way. They have both given interviews — to Oprah, to this magazine — and this month, their $100 million Netflix contract finally bore fruit. Harry & Meghan, the two-part docuseries, represents another attempt to tell their side of things in their own words. In this up-close-and-personal look into their existence, the media emerges as a key villain, and given the couple's treatment in the U.K. tabloids, you can see why. Still, there is something exasperating in complaining about an intrusive press to your personal film crew after having sold your story to the world's largest streaming service. Over six episodes, the Sussexes have rehashed the sum total of their life together and many of the articles written about it. In their effort to defend themselves, they stumble into a fundamental royal paradox: The crown needs the media to remain relevant. But the more you put yourself out there, the harder it is to come out looking good.
It's not that their side of the story isn't sympathetic. Coverage of Meghan has often veered into subtle or explicit racism. Her life inside an isolating institution sounds legitimately hard, and the series deserves credit for taking an intimate look at the loneliness of a woman navigating pregnancy, mental-health struggles, and new motherhood in that environment. Harry, meanwhile, did not choose fame. He was born into it, and it has, he says, destroyed some of the most important relationships in his life. Harry's hyperexposure to the press began when he was an infant, public interest ratcheted up by widespread obsession with his mother, the late Princess Diana. The doc portrays her as a relentlessly hounded figure. Photographers camped outside her home, hid in the bushes on her vacations, chased her to the end, then tried to sell photos of the crash that killed her to the tabloids. Of his childhood, Harry says, "The majority of my memories are of being swarmed by paparazzi."
From the first episode, director Liz Garbus works hard to foreshadow the Sussexes' experience in Diana, framing her largely as a victim of the tabloids. Her reality was more complicated — a symbiotic relationship with the outlets that cemented her superstar status. Even in her earliest days of notoriety, Diana was known to have orchestrated her own leaks. She sometimes called the paparazzi on herself. She, too, tried to get her own account out there. She collaborated with tabloid journalist Andrew Morton on a biography, then with the BBC's Martin Bashir in an interview for the docuseries Panorama. (William and Harry have since condemned the "deceitful" means by which Bashir secured her participation.) That's not to say she enjoyed being a tabloid target, necessarily, nor does it make the papers' obsession with her less gross. It does, however, tell us something about how the royal family relates to the press. When you are a royal, as Harry explains in episode four of Harry & Meghan, "you've been led to believe that the only way your charities can succeed and your reputation can be grown or improved is if you're on the front page of those newspapers. But the media choose who gets on the front page." The palace and the press rely on one another, use each other, and ultimately, one needs the other in order to survive.
As the docuseries explains, each royal household operates its own communications office to liaise with and feed royal reporters — sometimes distracting from gossip disseminated by members of staff, sometimes spinning, and on rare occasions, issuing official statements commenting directly on stories implicating the crown. These offices comprise the royal mouthpiece, and as Harry tells it, "There's leaking, but there's also planting stories." The docuseries explains the palace-press relationship as a marriage of convenience: Taxpayers support the royal family, and in return, they expect a certain level of access. But the royals have their motives too. The British royal family wants to retain its popularity and public support, and doing so means giving people a glimpse behind the curtain. At the same time, the monarchy wants to maintain the mystique that props up its existence. This, as Harry & Meghan points out, is a family whose ancestors were supposedly anointed into leadership by God. They can't be just like any other family or their justification would fall apart.
This tension leaves the royals walking a thin line: Get attention but only the right kind and not too much. Balancing that equation would be difficult even without the involvement of the insatiable British tabloid press. In their effort to find sellable stories, these outlets often go too far. Tabloid journalists once hacked William and Harry's cell phones. Kensington Palace has accused paps of using toddlers as bait to lure baby Prince George into the frame on the playground. Then there is Harry's relationship with Meghan.
When the news of their courtship exploded, Harry says his family waved away his pleas for intervention for his girlfriend who was, at the time, an ocean away in Canada — her house staked out by photographers, purportedly unable even to walk around in her backyard because, she says, the tabloids paid her neighbors to set up surveillance cameras. Certain members of Harry's family saw the harassment as a "rite of passage," he said, that royal wives and girlfriends always endure. But even if the royals couldn't see it, it's clear that Meghan's position as the first woman of color marrying into the monarchy made her situation different. Certain papers chose racism, antagonism, and harassment, and they did so on a routine basis. As Meghan reiterates in the docuseries, her treatment in the tabloids, and the royal family's alleged lack of concern for her mental health, led her to consider suicide and fueled 2020's step back.
For these outlets, Meghan could do no right — even smiling cordially at the first pack of photographers she encountered on her street played poorly. Meghan recounted the call she received from Harry when the photos were published. He warned her not to acknowledge reporters: "The U.K. media are saying you love it."
Inevitably, when you release a six-hour, behind-the-scenes look at your life, it's hard to argue that you wish the media would leave you alone. In Harry & Meghan, the couple willingly offers up their camera rolls, home videos, and iMessage histories for an estimated 223 million Netflix subscribers to parse. They are calling in friends and family as character witnesses, rolling candid footage of parties with their small circle, and reading aloud a surprise text from the famously private Beyoncé. They are relitigating the finer points of their lawsuit against the Daily Mail as if they hadn't already taken that victory lap in court — apparently operating on the assumption that their viewers need convincing.
What they have not left behind is the old royal impulse to tightly control the narrative. Even before the docuseries came out, Meghan tried to distance the couple from its contents, telling Variety, "We're trusting our story to someone else, and that means it will go through their lens." In response to criticism over the decision to once again seek the spotlight, their representative issued a statement following the release of Volume I of the series. "The Duke and Duchess have never cited privacy as the reason for stepping back," it read. "This distorted narrative was intended to trap the couple into silence. In fact, their statement announcing their decision to step back mentions nothing of privacy and reiterates their desire to continue their roles and public duties. Any suggestion otherwise speaks to a key point of this series."
Another, more pragmatic component is surely relevant here: Without the backing of royal accounts, Harry and Meghan depend on their celebrity for paychecks. Their celebrity, in turn, depends on their connections to the British crown. As Vanity Fair's Katie Nicholl recently explained in an interview, "The fact is that the Sussexes left the royal family to become financially independent. If they're going to get into bed with the likes of Netflix, Spotify, and major publishers and get these big-dollars deals," those companies "are going to want their pound of flesh." The most valuable commodity these two have to sell, and the one people really want to buy, is their inside story. So they keep telling it, over and over, without acknowledging the contradiction.
With so much misinformation swirling online, it's understandable that Meghan and Harry want to speak up and stop the cycle. They're certainly not the first royals to attempt to set the record straight. Sometimes, this works in a royal's favor (Diana's approval ratings reportedly rose to 92 percent after the Panorama interview), but more often, it does not. King Charles once participated in a lengthy documentary-biography, seemingly thinking that giving people an honest look at his situation would inspire sympathy. He then wound up admitting to committing adultery. Prince Andrew apparently thought he could quash allegations of child sex abuse with a BBC sit-down — a spectacle that predictably blew up in his face.
Ultimately, Meghan and Harry are more sympathetic characters than Charles, and certainly more than Andrew, with far less to apologize for. But that only makes their vindicating explanations for every slight more exhausting. They say so much without saying anything new. This is possibly why one of the royal family's mottos commands, "Never complain, never explain." Things often don't go their way when they do.