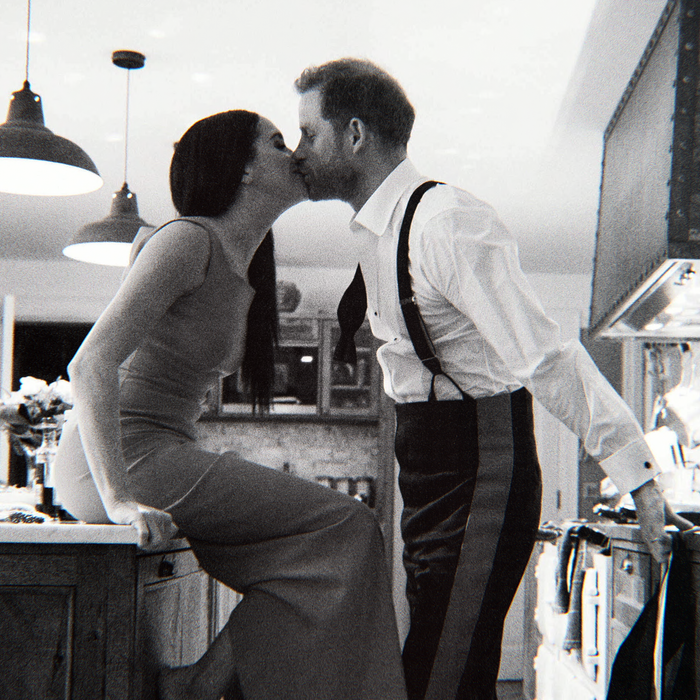 "Volume II" of Harry & Meghan, the highly anticipated Netflix docuseries, dropped on Thursday morning. Directed by Liz Garbus, the series is the first project from the couple's Netflix deal, which is rumored to be worth millions. The first three episodes, which dropped last week, were reportedly Netflix's most-watched documentary debut ever. While on the whole, the series isn't chock-full of new information, it provides additional details and context that give a fuller picture of the couple's relationship, their rift from the rest of the royal family, and the factors that ultimately led them to step back from their roles as senior royals and move to Montecito, California. The second half also includes some pointed remarks from Prince Harry about his brother, Prince William, and his father, King Charles.
Here, what we've learned so far.
Harry first saw Meghan on Instagram.
We've heard the story before: Harry and Meghan met on a blind date set up by a friend at Soho House in London. In the docuseries, Harry expands on this, revealing that he first saw Meghan while scrolling through Instagram, where a friend posted a photo with her — with the Snapchat dog filter on her face. "Who is that?" he recalls musing. The mutual friend told Meghan about "Prince Haz," but Meghan says she didn't know who that was.
When they first met for drinks, Harry was late. Meghan wasn't impressed, but once he arrived, they hit it off. The first three episodes include new photos and videos of the first months of Meghan and Harry's relationship, including a snap from their first date and some photos from their trip to Botswana. (Harry apparently invited Meghan to Botswana on a camping trip after only two in-person dates.)
Before their engagement was leaked to the press and announced to the world, they had a party with some close friends and family to celebrate. According to their friends, everyone dressed in animal onesies, and Meghan and Harry wore matching penguin outfits because "penguins mate for life."
Harry believes the royal family viewed the media's harassment of Meghan as a "rite of passage."
The couple shares that they were advised not to say anything in response to all kinds of accusations and stories in the tabloids, including racist coverage of Meghan's upbringing and life. Meghan says there was an assumption that things would get better if they didn't acknowledge the coverage. There was also a belief, Harry said, that the harassment Meghan was facing in the press was a "rite of passage" that all royal family members endured.
"The direction of the palace was, 'Don't say anything,'" Harry says. "But what people need to understand is, as far as a lot of the family were concerned, everything that she was being put through, they'd been put through as well. So it was almost like a rite of passage. Some of the members of the family were like, 'But my wife had to go through that, so why should your girlfriend be treated any differently? Why should you get special treatment? Why should she be protected?' And I said that the difference here is the race element," Harry said.
We hear from Meghan's mother for the first time.
For the first time since Meghan and Harry's relationship became public, we hear directly from Meghan's mother, Doria Ragland. She talks about the moment Meghan told her she was dating Harry — on a phone call, where her daughter also said, "And you can't tell anybody."
Ragland talks about being "stalked by the paparazzi" and feeling "unsafe a lot." She recalls being told by someone who wanted to get a story from her that she could get a lot of money, saying she responded: "This is my child."
We also hear from Ashleigh Hale, the daughter of Meghan's half-sister, for the first time. Hale was raised by her grandparents and has a close relationship with Meghan, who she describes as something of a sister and a maternal figure. Notably, we see a photo of Meghan with Hale in a wedding dress and later learn that Meghan was advised by the palace not to invite Hale to her wedding to Harry because it would be complicated to explain why Meghan's half-sister wasn't invited but her daughter was.
Meghan says before she went to the U.K., "most people didn't treat me like a 'Black woman.'"
Ragland said that after news of Meghan and Harry's relationship first broke, she told her daughter that the negative coverage was because of her race, but Meghan didn't want to hear that. "I said to her — I remember this very clearly — that this is about race," Ragland says in the docuseries. "You may not want to hear it, but this is what's coming down the pike."
"At that time, I wasn't thinking about how race played a part in all this," says Meghan, adding that she never had "that talk" about race with her mother. "It's very different to be a minority but not be treated as a minority right off the bat," Meghan says. "I'd say now, people are very aware of my race because they made it such an issue when I went to the U.K., but before that, most people didn't treat me like a 'Black woman.' So that talk didn't have to happen for me."
Meghan also recalls people assuming her mother, who is Black, was her nanny growing up and recounts the first time she heard her mother called the N-word. Ragland says that, in hindsight, she would go back and have a more explicit talk about race with Meghan.
Meghan opens up about her relationship with her father.
Meghan said she believes the U.K. media wanted Ragland's side of the family to stir up trouble, but while her mother was "quiet and classy," her father's side of the family turned out to be more complicated. She was surprised to see stories in the tabloids quoting her half-sister, who Meghan says she hadn't seen in over a decade and didn't have a relationship with growing up. After her parents divorced, Meghan spent weekends with her father and weekdays with her mother. Her half-siblings were much older and not living with her father by then.
"I don't know your middle name. I don't know your birthday," Meghan says of her half-sister. "You're telling these people that you raised me?"
The docuseries includes footage of Meghan with her father when she was growing up and she describes herself as being a "daddy's girl." She says she was surprised when she found out that he had sold stories and photos to tabloids and recalls learning that her father would not be attending her wedding from a tabloid.
In the docuseries, Harry says that he blames himself for the demise of Meghan's relationship with her father. "She had a father before this and now she doesn't have a father, and I shouldered that because if Meg wasn't with me then her dad would still be her dad," Harry says.
Ragland says she was surprised that Thomas Markle was involved with the tabloids and paparazzi for money. "I was absolutely stunned that Tom would become part of this circus," she says in the third episode.
Meghan implies her first meeting with Will and Kate was awkward.
Meghan recalls being surprised to learn just how formal life in the U.K. was — and especially within the royal family — even in private. She says she was a hugger, which many Brits are not, and implies her first meeting with Prince William and Kate Middleton was a little awkward, noting that she was dressed in ripped jeans and without shoes on.
"I guess I started to understand very quickly that the formality on the outside carried through on the inside," she says. "That there is a forward-facing way of being. And then you close the door, 'Oh, great. Okay, we can relax now.' But that formality carries over on both sides, and that was surprising to me."
Meghan says that when Harry asked if she knew how to curtsy before she first met the queen, she assumed he was joking. She says she didn't receive any formal training when she first started dating Harry and learned British etiquette and traditions from Google.
While filming Suits, Meghan told Toronto police about paparazzi.
Once the relationship was made public while Meghan was on set for her role in Suits, Meghan said she talked to the Toronto police about being harassed by the paparazzi. "I would say to the police, 'If any other woman in Toronto said to you, "I have six grown men who are sleeping in their cars around my house and following me everywhere that I go, and I feel scared," wouldn't you say that was stalking?'" she recalled. Yet she says they told her there was nothing they could do "because of who you are dating."
Harry addressed the Nazi costume.
Harry made headlines in 2005 when he was photographed wearing a Nazi uniform. In the docuseries, he called the decision to wear the costume one of the biggest mistakes of his life.
"I felt so ashamed afterward," he said. "All I wanted to do was make it right. I sat down and spoke to the chief rabbi in London, which had a profound effect on me. I went to Berlin and spoke to a Holocaust survivor. I could have just ignored it and made the same mistakes over again in my life. But I learned from that."
Prince Harry says the stress of the lawsuit against the Daily Mail caused Markle's miscarriage.
In the fifth episode of the docuseries, Meghan and Harry discussed the miscarriage she suffered in July 2020. Harry says that he believes that Markle suffered the miscarriage as a result of stress caused by the lawsuit she was pursuing against Associated Newspapers, the owner of the Daily Mail and The Mail on Sunday, for infringing on her privacy by publishing a letter she wrote to her father in 2018.
"I believe my wife suffered a miscarriage because of what the Mail did," he says. "I watched the whole thing." He goes on to say: "Now, do we absolutely know that the miscarriage was created, caused by that? Course we don't, but bearing in mind the stress that that caused, the lack of sleep and the timing of the pregnancy, how many weeks in she was, I can say, from what I saw, that miscarriage was created by what they were trying to do to her."
Markle's lawyer for the lawsuit says that she knew the lawsuit was taking a toll on Markle, who had not been sleeping. Markle later wrote an op-ed about her experience for the New York Times.
Markle says the queen advised her to write a letter to her father.
Markle said that after her father began speaking negatively about her and the royal family in the press, she approached the queen and asked for advice about what to do. She says she was urged by the queen and later Prince Charles to write her father a letter. Markle said that she went to great lengths to have the letter delivered discreetly, but it was leaked by British tabloids and later became the basis of her lawsuit against Associated Newspapers.
Markle says that the lawsuit was the "catalyst probably for all of the unraveling."
Beyoncé texted Markle after the Oprah interview.
The morning after Meghan and Harry's interview with Oprah aired, the docuseries shows Meghan receiving a text from Beyoncé. "I still can't believe she knows who I am," Markle says to Harry. Then Markle reads the text: "She said she wants me to feel safe and protected. She admires my bravery and vulnerability and thinks I was selected to break generational curses that need to be healed."
Notably, the couple mentions that Prince William texted Harry, but they do not share what he said.
Harry recalls moments of tension with William.
Harry describes meeting with his father, brother, and grandmother at Sandringham in January 2020. The meeting was, essentially, to decide what role, if any, he and Markle would play in the royal family, he says. He goes on to say that Prince William screamed and shouted at him.
"It was terrifying to have my brother scream and shout at me and my father say things that just simply weren't true and my grandmother quietly sit there and sort of take it all in," he said.
Harry also says that after reports of his brother bullying him and Markle out of the royal family began to spread, Kensington Palace put out a joint statement with his name and his brother's name quashing the bullying story. He says he did not see the statement before it was released and did not sign off on it.
"I was told about a joint statement that had been put out in mine and my brother's name squashing the story about him bullying us out of the family," Harry says. "I couldn't believe it. No one had asked me."
He goes on to say that he called Markle and told her about the statement.
"She burst into floods of tears," Harry says. "Because within four hours they were happy to lie to protect my brother, and yet for three years they were never willing to tell the truth to protect us."
Harry says it was his decision to step back from the royal family, not Markle's.
In the moments following the couple's decision to step back from their roles as senior royals, tabloids began running stories accusing Markle of taking Harry away from his family and life in Britain. Harry says that she did not do this. "In fact, it was my decision," he says. "She never asked to leave. I was the one that had to see it for myself. But it's misogyny at its best."
Tyler Perry is Lilibet's godfather.
Tyler Perry says in the docuseries that he initially reached out to Markle through a letter shortly before she married Harry telling her he was praying for her.
"I sent her a note," he said. "Just praying for her. Just to be able to move through it and hold on and let her know that everything in her life had prepared her for this moment, or so I thought."
Markle says she later reached out to Perry after arriving in Canada. Perry said he could hear fear in her voice. "She was afraid of them destroying her or going crazy or them making her think she was crazy," he said. "I saw my mother being abused for years, I knew the symptoms, I knew what it was like. This woman was abused and so was he." Perry allowed the couple to stay at his Beverly Hills home. The couple later asked Perry to be the godfather to their daughter, Lilibet.
This post has been updated.