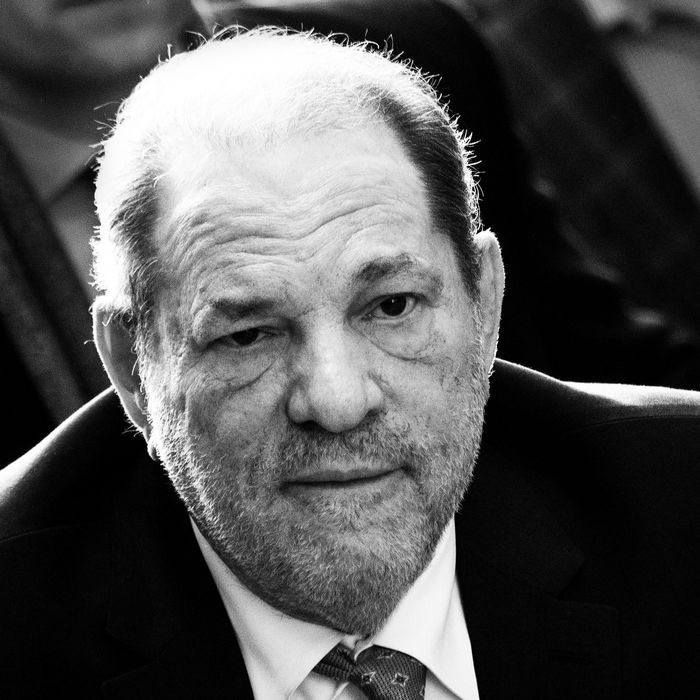 Harvey Weinstein is back in court in Los Angeles.
Photo: JOHANNES EISELE/AFP via Getty Images
Harvey Weinstein is on trial again for sex crimes, this time in Los Angeles. Though the substance of this case closely resembles the New York proceedings that earned him his rape conviction in 2020, this time around, the court heard from even more of his alleged victims as prosecutors attempted to prove his guilt on seven counts of sexual abuse, including forcible rape and sexual assault. (Originally, he faced 11 counts, but the judge dropped four after prosecutors announced that their fifth Jane Doe would not appear in court.) In opening arguments, they highlighted a now-familiar pattern: Weinstein would target young women in his industry, setting appointments to discuss their careers. When the women showed up, they usually found themselves shuttled to a private space — Weinstein's hotel room, for example — where he would drop any professional pretense and force himself on them.
"They feared that he could crush their careers if they reported what he had done to them," deputy district attorney Paul Thompson said of the witnesses, per the New York Times.
The defense similarly revived its old tactics, arguing that any sex Weinstein had with the alleged victims was consensual, if also occasionally transactional, in keeping with Hollywood norms. "Look at my client," Mark Werksman told the jury, according to Variety. "He's not Brad Pitt or George Clooney. Do you think these beautiful women had sex with him because he's hot? No, it's because he's powerful." Those women, he emphasized, were actors. In the courtroom, they would "play the part of the damsel in distress with this beast," he added, calling the forthcoming witnesses liars. "Their hypocrisy will be on full display."
Much of their testimony mirrored the stories already shared by at least 100 women since 2017. The jury returned with a verdict on December 19, finding Weinstein guilty on three counts related to one woman's allegations. He faces up to 24 years in prison.
Below, the biggest moments from the witness stand.
A model said she "wanted to die" after Weinstein forced her to perform oral sex.
In 2013, Jane Doe No. 1 — a model and actor then living in Rome — says she briefly met Weinstein at a Los Angeles film festival and was surprised when he showed up outside her hotel room later that evening, demanding she let him in. Over three days of sometimes tearful testimony, she told the court that after she complied, Weinstein quickly became predatory. But she was confused: English was her second language, and she said she assumed Weinstein "misunderstood" her when he pivoted the conversation toward massage. "His face changed. His eyes changed. His behavior changed," she said, per Deadline. And having been in "bad situations where men beat me," she said, she was afraid. She estimated that Weinstein had about 150 pounds on her. "He was expecting that I'm doing what he's saying and he was … moving me through the bedroom like I'm an object." She said he maneuvered her over to the bed, where — allegedly holding her by the hair — he forced her to perform oral sex on him. She didn't scream or try to get away, but "was kind of hysterical through tears," she said, according to The Guardian. "I kept saying, 'No, no, no.'"
When Weinstein couldn't get an erection, Jane Doe No. 1 recalled that he walked her into the bathroom and placed her in front of the sink. "He put his fingers inside me … my private part," she testified. "He hold me and he try to get inside of me with his penis, but I was moving." She said she was crying and still pleading with him to stop. "I remember how he was looking in the mirror and he was telling me to look at him," she continued. "'C'mon, little girl. Tell me you like it. You like it.'" When he finally finished, she said, he "was acting like nothing happened," save for a warning to her not to tell anyone what happened. "My understanding was that he's somebody powerful, so it's better I not talk," the witness explained, acknowledging that she had only given vague outlines of the incident to a couple people and only confessed to her priest.
"I wanted to die," she said of the alleged attack. "It was disgusting. It was humiliating." Jane Doe No. 1 said she subsequently developed a drinking problem: "I was destroying myself. I was feeling very guilty. Most of all because I opened that door."
In its cross-examination, Weinstein's defense worked to poke holes in the woman's story. Attorney Alan Jackson questioned how his client found the witness's room in the first place, and why she didn't bring "this terrible breach of protocol" to the attention of hotel management. Jackson also cast doubt on her decision to remain in the room for the rest of her stay in L.A.: "You stayed in the very room that you claim you were attacked and victimized by a sexual predator?" Jackson also pressed the witness on the lack of physical evidence to support her claims. "Any photos?" he asked, per The Guardian. "Any video?" Jane Doe No. 1 said no to both and countered, "Do you think somebody after rape makes a video?"
She did acknowledge posting photos to her Instagram account in the days after Weinstein's alleged attack: In particular, the defense pointed to a picture with Al Pacino and a selfie she had taken in the bathroom over a week later. "This is a post that you put up 11 days after you claim the incident occurred in that very spot," Jackson said of the selfie, grasping at a shaky point. The witness noted that she and her PR team share photos of her as part of her job, and she said she tried to carry on as normal after the alleged assault. She said she underwent two medical exams once she returned to Rome, including STI testing.
Jane Doe No. 1 also testified to the appearance of Weinstein's genitalia, said to be disfigured from a bacterial infection: In court, she told the jury that Weinstein commanded her to "suck him and suck his balls" and that "he forced me to do what he asked." As Jackson pointed out, Weinstein's testicles would have been removed from his scrotum and resituated in his inner thighs by that point. The defense accused her of changing her story from what she'd originally told police, but she maintained that she identified the abnormalities from the get-go. "I recall that he didn't have one," she said of his scrotal situation. "It was like empty skin."
In the second week of testimony, her daughter — Maria C. — took the stand, telling the court what happened when Jane Doe No. 1 saw Weinstein again, at the same film festival in 2017. Whenever they were near Weinstein, Maria noticed a shift in her mother's demeanor. "All of a sudden, during the conversation, my mom became very nervous, and I noticed that she started looking only in one direction of the room," Maria said, according to Variety. "After a few moments, she kept saying, 'Let's go upstairs' to where the dinner is. 'Let's go, let's go.'" She said she looked over to where her mother was staring and saw a man "sitting and staring right at my mom and I without taking his gaze off." The man, Maria said, was Weinstein, and he approached them later on, at a festival dinner. "I again noticed my mom looking very, very nervous, but this time it wasn't wanting to leave. This time it was fear," she recalled. "She froze, she froze right in the moment … And just looked into blank space."
But, Maria continued, she wouldn't have all the information until that fall, when she told her mom that she had been sexually assaulted, and her mom told her that she, too, had been raped. She didn't name her rapist as Weinstein until the first Me Too articles published. Maria said she recognized him from his picture: He was the man who made her mother so uncomfortable at the festival. Maria also noted that the only reason she went to the police is because her mother promised her she would do the same.
A dancer said Weinstein pinned her down and masturbated on top of her.
A woman identified in court as Ashley M. — a "prior bad acts" witness whose experience may help support a pattern of behavior — testified that she met Weinstein while filming of Dirty Dancing: Havana Nights in 2003. She was 22 and a dancer at the time, and says Weinstein pulled her aside with an explicit proposition: Give him a naked massage and he would help her professionally. "'Look at Gwyneth Paltrow,'" Ashley recalled Weinstein saying, "'and what it did for her career.'" She said that when she tried to extract herself from the conversation, he became "aggressive" and upset, and said he would be waiting for her at the end of the day to take her back to his hotel. Acutely uncomfortable, Ashley said she told a producer and a choreographer during the dinner break, but they did nothing. When she finished eating, she saw Weinstein standing at the entrance with his assistant, Bonnie Hung. Though his demeanor remained hostile, she said, "At that point I felt better just knowing that I wasn't alone," adding that Hung assured her she wouldn't leave her alone with Weinstein.
But when they got to the hotel, and Weinstein took her to a room, "Bonnie shut the door behind us," Ashley continued. "Harvey began to get aggressive and he eventually, like, shoved me on the bed," she testified. "He was just saying a bunch of stuff and he shoved me and he ended up taking off my top and my clothes, my bra." She remembers him saying, "It's not like we're having sex, it's just naked cuddling," but she was still "hysterical" and crying. Ashley estimated that she weighed about 115 pounds at the time: When Weinstein got on top of her, she said, she couldn't move. She recalled him fondling her and masturbating until "he ejaculated on me," she said, "on my breasts and some got on my face." When she finally got dressed and left, she said she found Hung standing outside with a clipboard, waiting to take both Ashley and Weinstein back to set. She gave the outlines of the incident to her mom and fiancé but didn't formally report it. "I felt that at that time everyone was afraid of their career and stuff," she testified. "Nobody helped me at the dinner, so why would they help me now?"
Following Ashley's testimony, Hung took the witness stand and told the court she had "no recollection" of meeting the actor in Puerto Rico and did not remember going to the hotel with her and Weinstein, though she conceded it was "possible" she had. "He would tell me and everybody else to leave so he could have a private word with whoever he was meeting with," she explained, of how Weinstein conducted business trips.
An actor remembered Weinstein assuring her she would "love this" as he raped her at TIFF.
An ex-actor named Kelly Sipherd also took the stand as a "prior bad acts" witness, recalling two instances when the producer allegedly assaulted her at the Toronto International Film Festival. The first incident occurred in 1991, she said, when she was 24 and looking to break into the industry: She was introduced to Weinstein at a TIFF party, and they spent some time "bantering about art and film" before he suggested they take some drinks elsewhere to talk. "We were getting along really well," Sipherd testified, adding that she agreed to go to a nearby restaurant. "We were really sincerely having a very nice time." Then, she said, Weinstein told her he had a script for her back at the Four Seasons. "I was pretty ambitious," she told the court. "I was thinking I wanted to get a part."
Once they arrived at his room, however, he immediately detoured into the bathroom, Sipherd said. When he came out, he was naked save for an open button-down shirt and holding a hot washcloth, which he allegedly placed on her vagina after removing her skirt. "My wife loves this," she remembers him saying. "You're going to love this." He then held her down and performed oral sex on her, ignoring her pleas for him to stop. "I'm going to fuck you, and it won't take long," she said he told her as she lay there "frozen" and crying. "Just relax." Sipherd said he penetrated her for five to ten seconds before she managed to squirm out from under him. When she left, she said she told a friend about the rape but ultimately kept in contact with Weinstein — whom she said called her "often," though in the pre-caller-ID '90s, she never knew who was on the line when she picked up — because she still wanted to become an actor. She said she even accepted a ticket to New York to meet with a casting director at his invitation on the condition that she could bring a friend along. But when she asked him the first time he phoned why he had raped her, she said he replied, "That's not what happened. I really, really like you. I'd leave my wife for you."
In 2008, more than a decade after the alleged rape, Sipherd was back at the Four Seasons during TIFF and saw Weinstein walking through the lobby. She said she shouted his name out of surprise. He sent his assistant over to coordinate the meeting, and Sipherd, "angry," went up to his room to confront him. "I wanted to see him because I wanted to ask why," she told the court. When she got up there, she said, "I blurted out, 'How does it feel to be in front of the one woman who said no to you?' I was still in the moment of getting 20 years of answers." But once again, his demeanor shifted. "It went from what felt like he was listening to me to wanting to have sex with me. Demanding it. Grabbing at me," Sipherd said. He "pulled his penis out and started masturbating," she testified, adding that she felt "angry," "afraid," and "stupid." "He wanted to see my breasts while he was masturbating," and though Sipherd wanted to get out, "There was no way I could get around him. He was much larger." Weinstein didn't take long to ejaculate, she continued. "His sperm was dark orange-yellow … It didn't look normal." Leaving Weinstein's room, she didn't tell anyone what happened out of embarrassment and took her friends to TIFF parties at Weinstein's invitation. They "thought I was pretty darn cool because I knew Harvey Weinstein," Sipherd explained. "So I played that."
A massage therapist said Weinstein screamed at her to "tell me how big my cock is!"
Jane Doe No. 3, a masseuse, says Weinstein assaulted her during their first appointment together: Like many of the other witnesses so far, she says he trapped her in the bathroom of his hotel room (this time at the Montage in Beverly Hills), groping her and shouting at her while he touched himself. "He said, 'Look at me, tell me how big my cock is. Look at me. Look at me. Fucking look at me,'" Jane Doe No. 3 recalled of the alleged 2010 assault, according to Variety. She explained that, although she told Weinstein no and tried to back away from him, he kept screaming: "Look at my cock. Tell me how big my cock is." It was an about-face from the "very friendly" persona he presented at the beginning of the hour-long appointment, which Jane Doe No. 3 said he cut off after 40 minutes. While she was washing her hands in the bathroom sink, she continued, he barged into the room and started masturbating.
"I was shocked. I said, 'What are you doing? This is not appropriate,'" she said. And then he started screaming demands that she praise the size of his penis, Jane Doe No. 3 remembered; when she wouldn't, he allegedly approached in a "very assertive manner" and shoved his hand under her tank top, grabbing her breast. She yelled at him to get off of her, she explained, but she couldn't maneuver around him to get out of the bathroom. "I was trying to understand what was about to happen to me," she said. "I didn't move. I thought if I tried to struggle, it would get worse." After Weinstein ejaculated, she said he started talking about the book deal he wanted to get her. Confused, she allegedly asked him, "Why did you do this to me?" but said he didn't answer, continuing to "flash" his penis at her and demand her home address so he could send reading material. She gave it to him, she said, because she "was scared." Though she felt "humiliated," she agreed to see him again as a client — on the condition that he agreed never to do anything like he'd done in the bathroom again, she explained. On the third occasion when Jane Doe No. 3 agreed to massage him, she said she verbally warned Weinstein: "You are not allowed to touch me or lay a finger on me." But once again, he forced her into the bathroom and masturbated at her while shouting the same instructions. "He kept telling me to watch him because I wasn't looking at him," she testified. "Last time I didn't tell him what he wanted, I was sexually assaulted."
After that incident, Jane Doe No. 3 said she cut off contact with Weinstein for a year and didn't see him again until a meeting with him and her male boss at the Peninsula Hotel, Variety reports. Once again, Weinstein managed to get her alone, she said, and once again, he took off his pants and started masturbating. When she refused to take off her top and started yelling, Jane Doe No. 3 says Weinstein told her, "We're no longer friends." Though she granted that she "put [herself] in a ridiculously stupid situation," agreeing to keep seeing Weinstein, she noted that shame over her decision kept her from speaking up about his treatment earlier. "This is embarrassing," she told the court, per Variety. But ultimately, she said, "I felt there were probably a lot of women in my situation that kept going back to the person who assaulted or raped them." Jane Doe No. 3 said that, initially, she only told one person about these incidents: Her friend and client Mel Gibson, who is expected to testify at the trial. Jane Doe No. 3 said she started to "freak out" on one occasion when Gibson talked about a potential upcoming project with Weinstein, and that she told him what was going on when he asked about her reaction.
Actor Lauren Young said Weinstein masturbated in front of her in a Beverly Hills bathroom.
Actor Lauren Young, who previously testified at Weinstein's New York trial as a "prior bad acts" witness, told the L.A. court that the former producer sexually assaulted her inside a Beverly Hills bathroom in 2013. Per Variety, Young was an aspiring screenwriter and actor when she met Weinstein at the Montage Hotel to pitch him a script. She said the business meeting had been arranged by an industry acquaintance, Claudia Salinas, who had previously offered to connect her with Weinstein, and that the three had a brief conversation in the lobby of the Montage before Young was asked to come upstairs for what she assumed would be a continuation of the meeting. But instead, Young said Salinas led her into Weinstein's hotel bathroom and shut the door, leaving Young alone with him. "This was a girl I thought was my friend," Young said. "I just couldn't believe she would do that to me — another girl."
Per Young's account, Weinstein blocked her from leaving the bathroom as he masturbated in front of her, groped her breasts, and attempted to grab her vagina while she repeatedly told him no. "I was disgusted," said Young, who recalled shielding herself with her hands. She described being "really grossed out" by Weinstein, adding that she was "really frail" at the time and that Weinstein, who allegedly ejaculated into a bathroom towel and continued blocking her, appeared close to 300 pounds. "I wanted to run and didn't think I could," she said, "I couldn't fathom what was happening to me." Young, who reportedly drew Weinstein's genitalia for detectives, also testified to his abnormal genitalia, telling the court Weinstein's penis looked "like it had been chopped off and sewn back on." After the alleged assault, Young said she cried in her car and confided in two friends, one of whom, Ryan Beatty, corroborated her account in earlier court testimony. "I was so paranoid and scared," Young said, describing how she did not report the incident to the police because she was afraid they wouldn't help her. Young also testified that Barbara Schneeweiss, then an executive at the Weinstein Company who several of Weinstein's victims have said organized meetings with the disgraced magnate that ended in alleged assault, called Young into the office the day after the incident took place. Young said she went to the meeting out of "fear of retaliation," nervous that the company would call her agency and tell them to drop her. When Schneeweiss followed up over email, allegedly asking Young for headshots, Young never responded, and she said she also ignored an invitation to one of Weinstein's Oscar parties that arrived days later. She eventually reported the alleged assault through a hotline in 2018. "At that point, other people were coming out and I felt safe to do so," Young told the court, per Variety. "I wanted to prevent it from happening to anyone else."
Model Ambra Guterriez said she "didn't feel safe" in Weinstein's office.


Model Ambra Battilana Gutierrez, who participated in an NYPD sting operation against Weinstein back in 2015, also testified as a "prior bad acts" witness, telling the court that Weinstein grabbed her breasts during a casting meeting in New York. Gutierrez, who is originally from Italy, described briefly meeting Weinstein at a Radio City Music Hall party that she'd attended with her agency in 2015. She said she didn't know who Weinstein was when he introduced himself to her and told her she resembled Mila Kunis. Gutierrez then connected Weinstein with her agent, who booked a casting meeting with him the next day. At that meeting, Gutierrez recalled being left alone with Weinstein on a couch, where they reviewed her portfolio and Weinstein asked her whether her breasts were real while looking over photos of her in lingerie and bikinis — a question she said felt "weird" — before he grabbed them and asked, "You sure?"
"I was in shock," said Gutierrez, adding that she "moved back" when Weinstein asked for a kiss and tried reaching up her skirt. After informing him she didn't "do these things with people I don't know," Gutierrez said Weinstein "pushed back," pressing her for a kiss before ultimately moving away and leaving the meeting. Afterwards, Gutierrez said one of Weinstein's assistants accosted her and invited her to a Broadway production of Finding Neverland that night and she left without informing anyone what happened. "I felt like if he did that in his office when people were outside, I didn't feel safe there … I felt like I needed to go to the police," said Gutierrez, who described how her agent had initially dissuaded her from contacting the authorities before eventually accompanying her to the station. While at the precinct, Gutierrez said she received an email from Weinstein with another Finding Neverland invitation, at which point police encouraged her to call him as they coached her through the conversation. L.A. jurors listened to the recording of the conversation, in which Weinstein can be heard telling Gutierrez her breasts are "beautiful" and that he "didn't want to be aggressive" with her before offering to be a career "mentor" in the vein of "older men [teaching] younger women." Per police instruction, Guterriez wore a wire and met with Weinstein at a hotel in Tribeca. On that recording, jurors listened to Weinstein inviting Gutierrez up to his room. "We won't do that … we'll do other things," he tells her, after she expresses discomfort over a potentially sexual situation. After Gutierrez declines to give Weinstein a massage, he tells her "don't be shy" and asserts: "I'm not being pushy." When Gutierrez asks him why he touched her breasts the day before, he replies, "Don't ruin your friendship with me for five minutes" and threatens that she'll "lose big job opportunities."
"I just wanted to get out of there," testified Gutierrez, explaining that she ultimately went to Weinstein's room because she was unsure if police would require further information. Feeling unsafe, she said she went to the hotel bar but that Weinstein followed her there. She ultimately took refuge in a bathroom, where a police agent met with her and escorted her to safety. Cross-examination of Gutierrez was brief, with Weinstein's attorney Alan Jackson appearing to downplay the seriousness of the alleged groping, asking her whether "all this" was about Weinstein touching her "breast one time — for one second?" Jackson also attempted to pick apart an apparent inconsistency between a prior interview Gutierrez gave to police — when she alleged Weinstein touched her "knee" — and her testimony on the stand that Weinstein touched the "top of [my] leg." "My knee is part of my leg," Gutierrez countered, per Variety. "What's the difference?" 
Jennifer Siebel Newsom burst into tears as soon as she saw Weinstein from the witness stand.
The First Partner of California almost immediately began crying as she identified Weinstein in court, according to the Daily Beast. Jennifer Siebel Newsom, the wife of California governor Gavin Newsom, was an actor and producer when she met Weinstein at the Toronto Film Festival in 2005, she said. As he approached her, "everybody sort of, like, backed away," she remembered, "like the Red Sea was parting." She said she felt intimidated, but flattered, by his interest in her: "He wanted to know who I was, what my name was, why I was there," Siebel Newsom said. "He was charming. He treated me initially like he was really curious about me." And he asked to get together later on, for what she believed would be a professional conversation. "He was like the kingmaker. He was the top of the industry," she said. As to the meeting, "I felt like I had to," she added. "I felt like there was a genuine interest in talking about my work." When she went to the hotel bar to find him that evening, she said she brought a friend along.
When he called to discuss her "film projects" at the Peninsula Hotel, she agreed — and, on arrival, was "confused" to discover that the meeting would be taking place in Weinstein's suite. Despite her misgivings, she went up and waited for him, "because you don't say no to Harvey Weinstein," Siebel Newsom testified. "He could make or ruin your career." But he didn't want to seem to talk about her career when he showed up. "He abruptly got up and said, 'I'm going to go get more comfortable,'" she recalled. Then she heard him calling for her, she continued, and when she followed his voice down a hallway, she found him in a bathrobe touching his penis. She said he then "grabbed" her and tried to make her touch it too. "I was scared," Siebel Newsom remembered through sobs. "This was not why I came here. It was, like, a complete manipulation of why I was there, and I just remembered physically trying to back away."
She said she begged him to stop and tried to get away from him, though she estimated he outweighed her by several hundred pounds. She remembers him mentioning other actresses' names, suggesting her career might similarly benefit from sleeping with him. Eventually, he appeared to "soften," she testified, "like he was trying a different approach, because I was shaking." But he still maneuvered her into a bedroom, where she struggled against his advances. "I'm trembling. I'm like a rock. I'm frigid. This is my worst nightmare," she told the jury. "He takes his fingers and inserts them, but I still had my underwear on. I clamp my legs, but he still gets my underwear off … He inserted his fingers in my vagina." She remembered him trying to get an erection and to penetrate her, but "it's not staying in, because his penis is so weird and messed up." She said he put his tongue in her vagina and attempted to "stick his penis in me again," so she decided to try and make him ejaculate using her hand. "He was so determined, just so scary, just all about him and his pleasure, his need for satisfaction, so I just did it to make it stop," she explained. She said she made "pleasure noises" and faked an orgasm to speed the process along. "I just wanted to get the fuck out of there," she said through tears.
Weinstein called her the next day, she continued, offering to help her get a part. "I was cold," Siebel Newsom said. "I didn't want anything from him … I felt tremendous shame and, basically, was still processing this all. He had taken a piece of me." But she would continue to bump into him, at industry events and major awards shows, throughout the years.
Siebel Newsom's cross-examination took a particularly gross tack, with the defense leaning into a handful of discrediting strategies that lined up neatly with their dismissive description of the witness as a "bimbo" in opening arguments. "Do you understand the paradox of trying to stop a rapist by faking an orgasm?" Werksman asked her, per the Daily Beast. Siebel Newsom took issue with the word choice. "It was not long. This is not When Harry Met Sally," she replied. "I did not indicate my pleasure." Rather, she reiterated before getting off the stand, she simply sought a way out. "I did with my voice and with my body … I did by slamming my legs together," she said. "I tried to get out of there, I tried, I tried so hard." Ultimately, she added, "he took control and I didn't fight it any longer until I found another way."
Werksman also pressed her on her decision to disclose the alleged attack to law enforcement, accusing her of editing her story over time. "I offered to talk to detectives initially to support other women, not to be up here on the witness stand," she said, explaining that she compartmentalized her "fear" and "trauma" in order to "move forward." She had begun "slowly allowing things out," she added, "and it's been haunting me as we've been coming toward today."
"But as you pulled memories out of the box, you changed them," Werksman countered, according to the Daily Beast. Siebel Newsom retorted: "Sir, he assaulted me."
Werksman also went so far as to suggest Siebel Newsom had simply dreamed the whole thing. "Yesterday you mentioned having nightmares," he asked her, according to Insider. "Have you had a difficult time actually discerning what happened in a nightmare and what actually happened in a bedroom at the Peninsula?" Siebel Newsom said no, and at one point told the defense attorney: "What you're doing today is exactly what he did to me."
Last week, a friend of hers — actor Daphne Zuniga — testified that, during a hike, Siebel Newsom mentioned the meeting to her shortly after it happened. Zuniga asked how it went, and in her telling, Siebel Newsom replied, "Not good; I don't want to talk about it."
"I always had known her to be positive, upbeat, looks you in the eye, lovely energy," Zuniga said. Instead, Siebel Newsom "seemed upset, squirmy, agitated."
A model said Weinstein barged into her room in the middle of the night and raped her.
Another supporting witness, Norwegian model Natassia M., according to Variety, said she first saw Weinstein in a restaurant where she was dining with Naomi Campbell in 2002. He was staring at her — "sliming" her — "for a very long time," she said, and she shouted about him being a "fat fuck." She saw Weinstein again at Cannes in 2003, and said her publicist obligated her to take photos with him at a New York Film Festival fashion show. Though they had never spoken before, Natassia testified, Weinstein immediately demanded to know her hotel and room number. She didn't see him again until the BAFTAs in 2008, where her publicist once again set up a photo op at an after-party. Natassia said they had only a brief exchange at the event, and so she was especially shocked when she awoke to Weinstein banging down her hotel-room door in the middle of the night. Confused, she answered, and "he just stormed in," she recalled.
"He said, 'No one gets to be an A-lister unless it goes through me!'" she told the court. She remembers him telling her to think about all the Oscar speeches in which celebrities thanked him, which she understood as a warning that their professional success required compliance. She said she was confused by the whole situation and shocked when he forced himself on her. "He took off his pants and pushed me on the bed and climbed on top of me, and I said to him, 'I don't do the casting-couch thing,'" Natassia testified, per Variety. She said she "just played dead" while he raped her. "It didn't last that long because I had zero response," she recalled. "He got off me and finished off himself. He ejaculated into his hand … I did not fight him. I did not scream. I literally was frozen … I couldn't think." According to Natassia, Weinstein left a script for the movie Nine behind on her nightstand when he left. She did not go to the police, she said, "because if you're an actress and you're a problem, you don't work."
Once she returned to Los Angeles, Natassia said she started training for Nine because she "wanted to make the best of this situation" and thought she could avoid Weinstein. When she went in for an audition, however, there he was in the room. "I couldn't concentrate on my audition," she said. "I was thrown off." When she submitted a voice demo, she remembers Weinstein responding to her email with instructions to drop it off with his assistant at the Peninsula Hotel instead. She said she tried to hand over the CD when she got there, but his assistant ushered her up to the hotel room on Weinstein's instructions. She wasn't the only one up there, as it turned out. "He tricked me to coming into his hotel," Natassia testified. And then he and a woman — whom Natassia took for a sex worker — tried to get her to participate in a threesome. Though she was "furious," she said she decided to go along with it, sort of: She says she put on a robe and watched the other woman give Weinstein a blowjob. "I was still trying to manage the situation because I really wanted to be able to do a quality movie," she said. "He has you by the fucking throat, knowing that if you don't comply that your career is down the drain … and that's not right."
She said she didn't see Weinstein for years after that, until he pulled her aside at an industry party and told her, "I thought you were going to go to the tabloids." She said that when she assured him she would never "mess around with the most powerful guy in Hollywood," Weinstein replied, "It pays to be my friend." To prevent him from blacklisting her, Natassia said she stayed in touch with Weinstein and continued to set up meetings with him — and he continued to create uncomfortable, abusive situations, once requiring her to watch him shower and once masturbating in front of her. "He was called 'One Phone Call Away Harvey,'" she said of the dynamic, "meaning he could make you or break you. He was the most powerful person in Hollywood. He created stars."
This article has been updated.