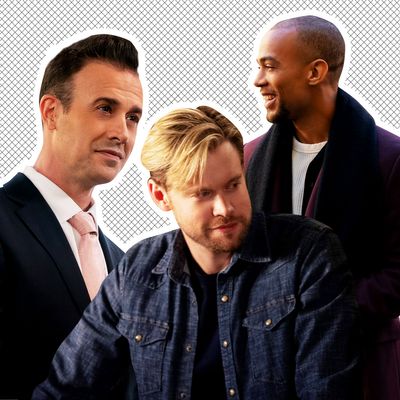 Photo-Illustration: by The Cut; Photos: Amazon, Netflix
As 2022 comes to a close, it's time to call it: The hottest holiday-movie trope is the sexy single dad — the single daddy, if you will. I first flirted with the trope of the hot single dad at Christmas thanks to Jude Law in The Holiday (one of his best, and most attractive, performances), but I didn't really come to depend on it until The Princess Switch re-introduced the hot single Christmas dad into my life with Kevin, the deceptively sexy cook who ends up falling in love with the princess who was switched with a commoner. (Nick Sagar, you are gone from our screens, but not forgotten.) He returned for the sequel and the third installment, and now I can't imagine my holiday season without at least one hot single dad on my TV screen. Thankfully, this year's crop of hot-single-dad holiday movies doesn't disappoint.
This winter, I am excited to report that three major Christmas movies are giving us very, very hot single dads. Falling for Christmas has Jake Russell (Chord Overstreet), the owner of a failing inn who starts to feel love again when he takes in a woman suffering from amnesia (Lindsay Lohan), who also happens to be the heiress to the ski resort currently putting him out of business. In Christmas With You, there's Miguel (a very finely aged Freddie Prinze Jr.) as a music teacher and wannabe songwriter who suddenly begins co-writing a Christmas song with a superstar while preparing for his daughter's quinceñera. And then there's Ethan (Kendrick Sampson) from Something from Tiffany's, a widower who accidentally loses the engagement ring he intended for his girlfriend (Shay Mitchell), only to find it on the hand of a charming stranger (Zoey Deutch). There's a little something for everyone: a blonde, blue-eyed Glee alum; a true '90s teenage heartthrob; and a Shonda Rhimes–approved leading man. Oh, and they are all widowers, so there is no threat of exes coming around to ruin the blissful glow of new love. What else could one ask for?
In the world of holiday romances, single dads really are the perfect romantic interest: They're more mature (a.k.a. not Noah Centineo), so my 30-something self doesn't have to feel guilty about thinking they're attractive; they're parents, so you know they're looking for real love and commitment; and they're enthusiastic about Christmas traditions, which will reawaken the holiday spirit in the hearts of the big-city women who traded it in for career ambitions and a closet full of fabulous coats.
And this year, the men aren't just single dads, they're single girl dads, which means they are likely safe to date and are not creeps. Sure, you might think that a man like Falling for Christmas's Jake, who takes an amnesiac woman home with him for the holidays and recruits her to work at his hotel, is super-suspicious, but he has a cute young daughter so he can't possibly be a serial killer! And, yes, it might be strange for a man like Something From Tiffany's Ethan to hunt down the accidental recipient of the engagement ring he bought for his actual girlfriend, lie to her about it, and then fall in love with her, but hey, he's not going to ruin this stranger's engagement — what if that were his daughter? Thankfully, Christmas With You's Miguel escapes any creep tendencies thanks to Prinze Jr.'s real-life dad vibes. (And for this, we '90s kids are eternally grateful.) The point is that they all have daughters and are therefore less threatening — the perfect holiday love.
Am I sad for the mothers and wives who unceremoniously lost their lives before the start of these holiday romances? Yes, I am. May they rest in peace. But if their deaths mean I get to watch a hot single dad fall in love and meet the perfect stepmother for their angelic and a-little-too-clever child, it's a sacrifice I'm willing to make.