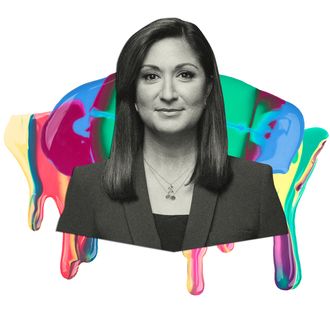 Photo-Illustration: by The Cut; Photo:Mike Morgan Photography.
Amna Nawaz has always thrived under pressure. A good thing, too, because her employer, PBS NewsHour, recently announced that, beginning January 2, she will go from chief correspondent to co-anchor of the nightly news broadcast. It's hard to imagine someone better suited to the job — she's won both a Peabody Award and an Emmy Award, holds a master's degree in comparative politics from the London School of Economics, served as foreign correspondent and Islamabad bureau chief at NBC News, and, in 2019, became the first Asian American and the first Muslim American to moderate a presidential debate.
She likens working in broadcast news to her time as a Division I college athlete. "I relish the challenge. I was a penalty-stroke taker on my field-hockey teams. In those moments, it's down to just you and your preparation and your focus. There's a parallel to live coverage and big news events with much higher stakes and a much more important mission at hand." She lives in the Virginia suburbs with her husband and their two daughters (7 and 9 years old) as well as the family dog, Eliot ("the loudest member of the household"), and fish, Polka Dot. Here's how she gets it done.
On her morning routine:
I'm up between five and six. I try to get up before the girls to get in a workout or clear out emails. Some mornings, it's a choice between getting out for a run or finishing a script. Some mornings, I was up way too late the night before, and I need those extra 30 minutes in bed, and that's just the way it is. If I do get out for a run, I listen to news podcasts to start (Up First, The Daily), then switch to music at the end. Our family does breakfast together over the newspapers. Sometimes the girls ask questions about headlines. We ask what they're looking forward to, what they're worried about that day. They're up early enough that our mornings aren't super-rushed, and it's a nice way to kick off the day with them.
I always start off with a cup of tea. I largely gave up coffee last year. I only really started drinking it after the babies were born because it was the only thing that kept me upright in the face of sheer physical exhaustion. I'm a big dinner-for-breakfast person, so if there are leftovers from the night before — soup, chicken, salmon — I'll have it.
I get ready, help the girls get ready (as resident chief ponytailer and braider), then give them big hugs, kisses, and send them out the door with a "Work hard, have fun, I love you."
On a typical workday:
My commute right now is up the stairs to my home office. Mornings are a lot of meetings and calls — with colleagues, with sources, for logistics and planning. Back-to-back-to-back Zoom calls. Then I drive to the office midday for any tapings and the live show. We're still in hybrid mode at work, like a lot of places.
A huge part of my job is learning. Depending on what I'm covering that night, I spend a lot of time reading, calling around to people smarter than me, taking in as much information as I can. I'm an overpreparer — always have been. Most of the day is a sprint toward the show. But the plan you begin with in the morning isn't always the plan you end up with at showtime. It's a part of this job I love most: News breaks late, stories change. We are constantly reevaluating, What are the most important stories we can bring to our audience today?
On (not) having a uniform:
I don't have a go-to outfit. I wear what feels right that day. But I almost always wear the same jewelry: a prayer ring from my parents, my wedding band, and a necklace with the girls' and Paul's initials on it. For in-person interviews, I always wear heels. I'm five-foot-nine barefoot and love being tall. Walking into a room at six feet is a great feeling. It makes it hard for people to ignore or dismiss you.
On the best professional advice she's received:
One of my very first bosses, Tom Bettag at ABC News Nightline, told me that my job should scare me a little bit every day and that when it didn't, it was time to find a new job. That's proved true.
On self-doubt:
It's gotten better with the years. It was more when I first started out, mainly because there weren't a lot of people like me in the industry. I wondered if I could cut it, if there was a place for someone like me, if there was a reason someone like me hadn't done this before. Turns out there were lots of reasons, few of them having to do with me.
I think a little bit of self-doubt is good, especially in journalism. Not in your abilities but to keep you humble and curious. My father raised my sisters and me surrounded by books and philosophy, and one of his favorites was Bertrand Russell, who said, "The whole problem with the world is that fools and fanatics are always so certain of themselves, and wiser people so full of doubts." That's stayed with me.
On what gets her through the hard days:
Chocolate. Gin. My husband making me laugh. A squeeze from my girls. Not necessarily in that order. I have our daughters' names tattooed on my wrists. I told them that way they're always with me wherever I am. It grounds me, recenters me, reignites me whenever I look down and see their names.
On her experience with maternity leave:
I was very bad at it. I barely separated from work, was pitching new projects, feeling the urge to go back every time news broke. I loved being with my babies and bathing them and snuggling them and singing them to sleep. I loved becoming the person they needed me to be. But I missed the person I used to be and struggled to reconcile the two. I wrote a letter to each of my girls the night before I returned to work after each of them was born. I tried to explain in those letters why and how I made the decision to return to work, how lucky I felt to have found work that gave me purpose and that I was good at, how I hoped they would one day find the same, and that, however much their mama loves her work, there was nothing and no one in the world she loved more than them.
On winding down in the evening:
Every working parent knows the mental switchover you do when you walk back into your home. You leave work and any stress or lingering to-dos from the day at the doorstep and show up for your family. I try to be present. I set my phone aside on the counter. We sit down at the dinner table together. I ask about their days. What was the best part, the worst part? How did that test go? Did you figure out that step in tap class? Who did you play with at recess? When I'm not on the road for work or out late for an event, this is our ritual.
We have dinner. I help them through baths and story time. Paul and I tuck them into bed and kiss them good night, and then we get to really look at each other and take a deep breath and say, "How was your day?" We try to sit and have a glass of wine or watch a Netflix show and just be together, whether it's for ten minutes or an hour.
I'm guilty of bringing my laptop to bed, cleaning out emails or reading for work or prepping for interviews the next day while an NBA game (his pick) or Harry & Meghan (mine) plays in the background.
On the people who help her get it done:
For the past four years, Paul has been at the center of this family. He makes our world go around. When NewsHour called and we made the decision to give this a try — to pack up and move to the D.C. area — he offered to trade his full-time job at the New York Times for two full-time jobs at home. He runs the house: packs lunches, cooks dinner, takes the girls to dance class and basketball practice, manages Girl Scout–cookie sales, schedules doctor appointments. Paul got us through the pandemic lockdowns when I was broadcasting from the basement and the girls were attending Zoom school at the kitchen table.
None of this is easy. We still rely on my wonderful parents, Shuja and Seema Nawaz, and on one of my sisters, who all live nearby. We still call in babysitters. We get help from other parents in the neighborhood. It takes a literal village. Paul's incredible family up and down the East Coast, who welcomed me into the fold years ago and have given our daughters lots and lots of cousins to grow up with. Our chosen family. The circle of friends who know us best, who love and support us and let us love and support them. I don't know how I ended up so lucky, but I have the most amazing circle of friends who are constantly checking up on each other and chatting over WhatsApp threads. Therapy helps. A lot. I can't say that enough. Therapy. Helps. I'm guilty of going too long between sessions at times (this is me holding myself accountable, in case my therapist reads this), but I know what a real, meaningful difference it makes.
This interview has been edited and condensed for length and clarity.