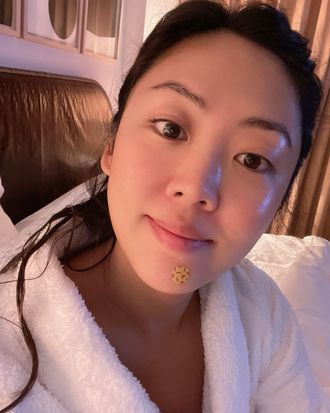 To Sarah Lee, taking care of her skin feels like second nature. When she was a child, she remembers coming home from school and her mom insisting that she wash her face first before having an after-school snack. Naturally, Lee began her career working in beauty. Her training ground was at L'Oréal, working for brands like Giorgio Armani Cosmetics and Matrix. In 2014, she co-founded Glow Recipe with her Christine Chang with the mission of making skin care fun and approachable. Glow Recipe quickly soared to viral status with the launch of their first product, the Watermelon Glow Sleeping Mask, which sold out instantly and had a wait list of 8,000 people. The fruit-forward brand is beloved for blending active ingredients that give the skin a next-level glow. "Everyone has some sort of memory with fruits," Lee says. "There's a sense of nostalgia."
As far as tending to her own skin, Lee is often combatting rosacea and an uneven skin tone, so she's always reaching for her saviors (detailed below). She recently relocated to Miami from New York, a warmer climate where she's outside a lot more. "It's so sunny and being surrounded by the water motivates me to spend more time outside taking time for daily walks and having meals at outdoor restaurants." Because of her move to Miami, her skin has gotten a bit dryer, so she's layering more hydrating products and reapplying sunscreen more than usual. She also treats herself to weekly at-home facials to reset her skin barrier and tries to get as much sleep as possible, which she believes is the key to skin health. But as a CEO and founder, late-night calls with overseas retailers and team members in Korea (a 13-hour time difference) are often on her schedule. So getting seven to eight hours of sleep just isn't always realistic. Ahead, Lee shares her go-to products, a more attainable way to get "glass skin," and how to make your routine enjoyable.
Here, Lee's routine, including other bonus beauty products she loves:
Lee starts her morning by slashing lukewarm water on her face, then going in with a gentle cleanser from her brand. The blueberry-extract gel wash deeply cleanses the skin, while offering light exfoliation thanks to the blend of lactic acid.
Lee has one major priority: hydration, so applying a moisture-rich serum is a key step in her routine. She starts with Glow Recipe's cult-favorite watermelon glow dew drops: "I am personally obsessed with niacinamide — it's a superpower ingredient that does it all," Lee says. From nourishing the skin to treating dark spots and refining pores, niacinamide is truly a multipurpose ingredient. This serum brightens Lee's skin, especially when she's dealing with rosacea flareups and leaves her with a dewy glow.
To seal in the dewiness, she applies her hyaluronic-acid moisturizer made with plum extracts to brighten and balance the skin. A bonus? The moisturizer helps grip makeup and doesn't leave any tackiness behind when it's applied over the gel cream.
To combat a breakout she swears by popping on Sweet Chef's carrot-ginger blemish-rescue patches overnight. The small patches are formulated with BHA's to decongest pores. The carrot and ginger extracts are rich in antioxidants that refine and smooth the skin.
For makeup, Lee loves products that offer skin benefits, like Charlotte Tilbury's hyaluronic-acid-infused liquid foundation. This foundation guarantees a healthy, hydrated glow.
For touch-ups, Lee goes in with the viral Kosas concealer, which doubles as an eye cream that simultaneously brightens and hydrates the skin.
For Lee, body care is just as important as skin care. She uses Skinfix's foaming oil body wash, an ideal cleanser for dry skin that soothes and nourishes the skin without stripping away natural oils.
Dove's body polish is a shower must-have for her because it's made with an AHA serum that both moisturizes and gently exfoliates, while sloughing away impurities.
On the one place she goes to be inspired
With Glow Recipe's fruit-forward skin-care lineup, you'd think Lee would jet off to a tropical destination to get inspired, but it's actually in the aisles of Sephora. "Sometimes I go into the store and just watch people shop," she explains. "I'm curious as to what their route is from the moment they walk into the entrance. Are they going straight to a specific wall? Are they talking to the beauty advisor?" These moments are like case studies and market research for the beauty founder.
On making skin care joyful
Lee remembers moving to New York from Korea and sharing her skin-care tips with her new colleagues and being met with opposing thoughts: "I still remember them saying, 'I wish I didn't have to cleanse my skin because it is so stressful. It is just extra work and one more step that I have to think about." This was in 2008 and Lee believes perspectives have shifted a lot since then. "The journey of skin care should be a joyful one, not a stressful one," Lee says. Glow Recipe coined the term "skintertainment" so consumers would view their routines as enjoyment, rather than a chore.
On how to achieve her version of "glass skin"
"Glass skin" is an OG K-beauty trend, which is essentially having a porcelain-smooth luminous complexion that is so glowing it appears to look like glass. For Lee, this isn't always the most attainable or realistic appearance of skin, so she likes to interpret it as having a healthy skin barrier with a texture that is constantly being improved. She not only feels like that's more achievable, but that it's more inclusive of all types of skin. Her advice for getting glass skin? "Cleansing thoroughly, hydrating religiously and applying SPF daily."
On the one ingredient she thinks everyone needs in their routine
Lee can't get enough of watermelon. From blending the fruit into her morning smoothie to misting her face with this watermelon face mist, she believes in all of the benefits, which is why she built the ingredient into her brand story from the very beginning: "Watermelon is a very hydrating ingredient that's so soothing on the skin," she says.