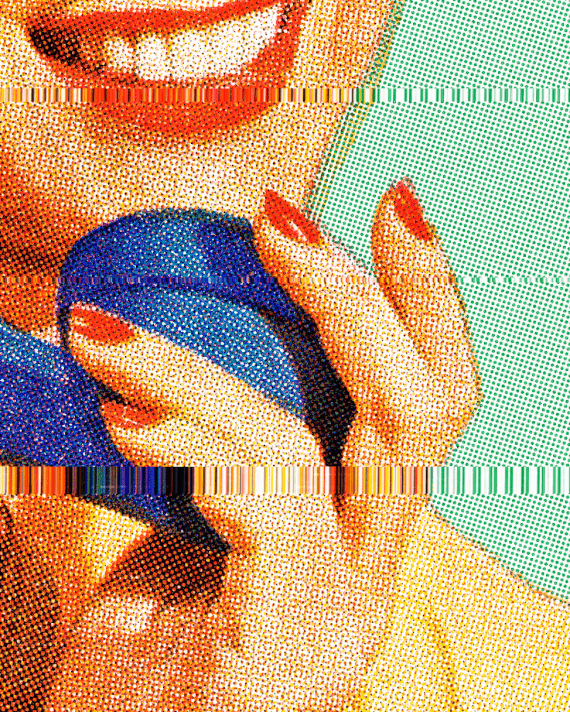 Photo-Illustration: The Cut; Photo Getty images
New York Magazine's Sex Diaries series asks anonymous city dwellers to record a week in their sex lives — with comic, tragic, often sexy, and always revealing results. The column, which began in 2007, is the basis of an upcoming docuseries on HBO.
My boyfriend held a cigarette in one hand and a Diet Coke in the other and said, "Are you fucking serious, Lys?" A few moments earlier, while lounging around a wicker table in his flowery backyard, I had flipped open my laptop and instructed him to tell me about all the women he'd slept with that week — or hooked up with, flirted with, even jerked off to. I told him to talk fast. My Sex Diaries column was due by EOD.
We were in an open relationship, insofar that I was pregnant via an anonymous sperm donor and he was a sexpot who could not be tamed. It was the only open relationship I've ever been in, and for that period of my life, it worked for me.
We banged out his diary together. I filed it. My editor had very few notes. The readers actually liked him, and all was good. It may sound strange, but I was happier producing such a vivid — and frankly, hot — diary than I was unsettled hearing about the multitudes of beautiful women my guy was going down on when I wasn't around.
All this is to say that for the last eight years, Sex Diaries has come first. I mean, my children come first. My partner, Sam, whom I've been with ever since that guy, comes first. My parents and sister come first. But beyond all that, the weekly column always takes priority.
Normally, I don't need to recruit friends or lovers for the column, but sometimes I do. The copy is due every Wednesday night — which sometimes means Thursday morning — so if I haven't found a diarist by early in the week, I have to hustle.
Most of the time, I'm already engaging with a handful of potential diarists who've emailed me at sexdiaries@nymag.com with some info about themselves, hoping I'll invite them to actually write one (which I almost always do). After that, I have to hope that they won't flake or wind up being fraudulent or scary and that they'll deliver something interesting, or at least coherent, for me to shape into a column. The diaries don't pay, so there's only so much pushing and probing I can do in good conscience. After all, no one owes me anything. In the end, about two in every five emails leads to an actual, publishable diary.
On the weeks when no one has emailed in or a diarist gets cold feet at the last minute, I stop strangers on the bus, at a local bar, or on the street — if they seem like passionate, horny, or simply authentic human beings — and ask them to sit with me for a half hour and entrust me with their stories.
"Hi. Sorry to bother you. I know this sounds ridiculous, but I write this column for New York Magazine called Sex Diaries — it's pretty popular, honestly — where I profile someone's love and sex life, or lack thereof, for a week. You can write it yourself, and I'll clean it up for you. Or you can tell me everything here or later on the phone, and I'll do the rest. We can disguise whatever you want in order for you to feel comfortable. But you have to remember that once it's out there, I can't take it offline, so you need to be okay with that … are you in?"
Occasionally, it works. Most people say that they have nothing remotely interesting going on — which, I'd argue, is still interesting! Other people are just too busy or private. Recently, a salesperson at CVS whom I approached thought I was hitting on him, and being a religious man and married, he was so offended and freaked out that he demanded I leave the store immediately. As I rushed out of there, pushing my son in his stroller, I actually started to cry.
Sometimes, I have to beg my neighbors, mom friends, or old high-school pals from my Facebook page to anonymously dish with me about their marriages, divorces, or affairs. And almost every week, I post something somewhere on social media, searching for random humans who will document their love and sex lives for me — for no good reason at all other than, perhaps, creative catharsis.
However it plays out, I try to make the experience as easy as possible for the diarists and to handle them with care. I make sure to protect their trust, and above all else, I never judge anything they tell me. When you tell me you're having an affair, I will assure you that you're not evil. When you tell me you're hurting, I will share that I've been there too. When you tell me you're weird, I will tell you that you're cool as hell. And I will mean it all. Our relationships last only a few days and are driven by very direct questions and blind faith that we won't lie to each other, then they're over.
To understand my devotion to this column is to understand how it came to be mine and the freedom it has afforded me over the last eight years. In 2015, I decided to have a baby on my own for a lifetime of reasons you'll have to buy my book to understand. I had always managed to make a decent living as a freelance writer, but at this point, there was no dependable work coming in, as I'd spent years trying to "break into Hollywood," which wasn't happening and slowly crushed me one disappointment after another. But I was pregnant, a marvelous thing, and I had faith that work would take care of itself somehow.
Out of the blue, an editor at The Cut asked me if I wanted to revive the column, which I had never heard of, explaining that it would be a weekly assignment with a steady paycheck. The work didn't sound easy, but it didn't sound hard either. Mostly, I saw the column as a gift. From New York, the media crowd, karma, or whatever. And I never stopped looking at it through that prism. Sex Diaries sustained me as I began life as a single mom. It solidified my role at The Cut, where I loved the people. And it gave me some writerly empowerment when I was feeling otherwise unwanted.
Sure, the column stresses me out sometimes. It's a grind finding diarists every single week. I've only skipped two deadlines in all these years, and both were because I had preeclampsia with my pregnancies and was too out of it from the magnesium drip to resume work right away.
In the fall of 2019, we learned that HBO wanted to turn the Sex Diaries column into a docuseries, in which we'd document a week or two in someone's sex life on film in the same spirit as we do in the column. This was fabulous news. I'd been chasing the TV scene for years, and it felt like this opportunity was another cosmic gift that I would never take for granted. But I knew that in the entertainment business, you had to fight every single day for a seat at the table. I had no reason to believe I'd be pushed out of the project, but I knew that I had to emphasize my value to the docuseries. To anybody who would listen, I said, "Let me handle the casting. You will never be able to cast this without me. No one knows how to find a Sex Diarist like I do." Did I come across as too aggressive? Who cares! It was true.
So at 44 years old, my work life became unbelievably exciting and excruciatingly hard. My second child was still a baby, still breastfeeding, when we started casting and filming. A month later, COVID hit. Around this time, I got a book deal with a tight deadline and absolutely nowhere to write or think in peace. Politically, the world was burning down. My amazing kids, never amazing sleepers, kept us awake every single night. One of my best friends, the woman who taught me to advocate for myself, died of cancer — I cried for her all night, every night for many months. The weekly column was always due. The Zoom calls for the docuseries took up hours of my day despite the fact that no one even knew when we'd come out of this pandemic let alone feel romantic, sexual, or adventurous again.
Like all working moms, I was tired. But I had to cast this series, as promised. I revisited thousands of diarists I'd worked with throughout the years and asked if they'd be open to doing a diary without any anonymity and with cameras following them. Of course, the response was often "um, yeah, no." I frantically called friends of friends who had cousins with roommates who were polyamorous, slut-positive, or simply lovestruck. I roamed the city, double-masked and desperate, sleuthing around for anybody who might be interested in talking about the sex they weren't having with the lovers they weren't seeing and the lives they weren't living. I must have slipped into a thousand random DM's per day, hunting for anybody who would indulge me. Instagram kept blocking my account, which would last only a few hours, thank God. I tracked down New Yorkers who belonged to sex clubs, posted provocative hashtags, or showed any sign that they were creative souls or open books. Our dream was for the cast to mirror an NYC subway car in terms of diversity. Eventually, with the help of the show's amazing director and producers, we found our stars. Eight New Yorkers agreed to let us film their sex lives. None of them needed any convincing. They were all born for this moment. I did nothing, and they did everything.
Every week for what feels like forever, I've buckled down to "do a Sex Diary." And because of that continuity — the ritual of it all — the column has unintentionally grounded me through the good and the bad. My tears are in those diaries. My hormones are in those diaries. A miscarriage is in those diaries. My childbirths are in those diaries. When I met Sam, my love, I was on deadline. When Biden won or our kids had COVID or we closed on our first house, I always had a diary to tend to.
My diarists have ranged from artists to engineers, sex workers, CEOs, and soccer moms, but they've all shared part of their lives with me, and through them, I've been afforded a healthy and effervescent work life that defies the drudgery of almost every other job I can imagine. To my mistresses, fuckboys, cougars, pillow princesses, and everyone in between, thank you. And to anyone curious about the column, email me, please.
Want to submit a sex diary? Email sexdiaries@nymag.com and tell us a little about yourself (and read our submission terms here).