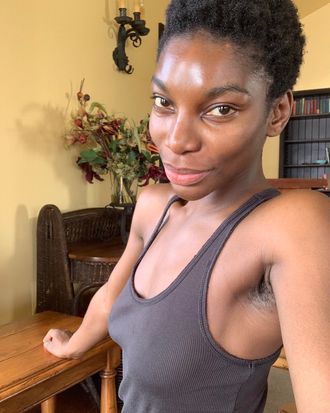 The 35-year-old British screenwriter and actress Michaela Coel recently visited New York to ring in the holiday season at a celebration with Moët where Mariah Carey performed. She has been a fan of Carey since she was a kid. (Celebrities, they're just like us.) "Seeing her onstage and remembering the amount of records she's made in her lifetime is really impressive," Coel says. The I May Destroy You creator is currently starring in Black Panther 2: Wakanda Forever, in which she plays a queer character, a role she purposely pursued to push against the anti-LGBTQ laws of her parents' country, Ghana. When discussing other characters she has played, Coel says, "I like any character that is fluid with their ideas of femininity."
To get ready for her roles, she sticks to a fitness routine of running and yoga, but she wants to start squatting more. "My booty is not really popping in these streets, so I'm going to start squatting. It doesn't run in my family. God bless my mom, her butt is flat as a pancake," she laughs.
Two of the first things I ever noticed about Coel were her high cheekbones and glowing skin. For the latter, she credits her makeup artist of seven years, Bernicia Boateng. "She understands my face really well," Coel says, adding that she normally needs a lot of sleep but hasn't had much lately, so Boateng has been hiding all of her dark circles. But we suspected her great skin is due to more than makeup, so we wanted to chat with Coel about it. Turns out she has been making her own face masks for years. "I used to order all of these ingredients from overseas because they were really cheap, and I'd make all sorts of weird concoctions," she says. But self-blended ingredients aren't the only key to her glow: Coel's routine also includes a handful of cult-favorite products.
Here, Coel's skin-care routine:
Like many celebrities, Coel is a fan of Dr. Barbara Sturm's skin-care products. "That's the collection Angela Bassett uses," Coel says. To start, she uses a scrub: Dr. Sturm's Enzyme Cleanser, an exfoliating foam wash that removes dead skin and excess oil from the skin's barrier.
Exfoliating is the one step of her routine Coel doesn't budge on. "We've got that lovely melanin skin that can get oily, so I like to try and control the oils. I need to exfoliate a lot," she says. Her most-loved product for exfoliation is the two-step Dr. Dennis Gross Alpha Beta Universal Daily Peel. The AHA and BHA pads smooth skin's texture while reducing the appearance of lines and wrinkles.
Coel has recently added ZO's Oil Control Pads to her routine, which she alternates with Dr. Dennis Gross's peel pads. The nonabrasive pads have 2 percent salicylic acid to treat acne, along with mandelic and glycolic acids said to unclog pores and remove dead skin cells.
To tone her skin, Coel uses a product from Obagi, a medical-grade skin-care line. This toner is formulated with soothing botanicals like aloe vera and borage extract.
Continuing her loyalty to Dr. Sturm, Coel finishes her routine with the brand's Darker Skin Tones Face Cream Rich, an expensive but efficacious hydration-packed anti-aging moisturizer, one of Dr. Sturm's specialties.
As for face tools, Coel has recently gotten into a radio-frequency machine she ordered on Amazon. She has been consistently using it for only a week so isn't ready to praise it quite yet, but she's enjoying it thus far. The machine adapts radio-frequency technology to make energy waves and is said to repair elastin to tighten and lift the skin.
On getting facials
Coel loves facials and occasionally gets them at Dr. Sturm's spa before an event. But she's currently loving the HydraFacial, a noninvasive, painless suction treatment that intensely nourishes the skin while doing extractions, removing impurities, and providing a deep cleanse. She's had just two but can't stop raving about them. "I just could not believe how good my skin looked," Coel says.
On DIY skin care
Mixing up ingredients to make her own face masks isn't a foreign concept to Coel. She has created her own lemon-peel masks, bentonite-clay masks, and apple-cider-vinegar masks in her kitchen. "When I was younger, I was obsessed with this website Skin Care Talk; it's where you go when you want to learn all the DIY tips and tricks to keep your face fresh," Coel says. She often mixes three different masks at once. Are these mixtures actually working for her? "I don't know, but they give me the feeling that they're doing something," she says.
On the thrill she gets from running
Running is one of Coel's preferred forms of meditation — she just loves it whether she's running on a treadmill or outside. She enjoys the endorphins, but more than anything, she finds joy in the connection that running brings her. "I love just having a moment with somebody where I'm just running by and we're smiling at each other as complete strangers, people that don't even know me and I don't know them. I enjoy receiving that kind of love on all of my journeys through the streets of Ghana, London, or New York. I usually love other runners; they tend to be very happy people," Coel says. Encouraging strangers is her thing, and she appreciates receiving the same energy back. Sometimes she gets into modes of feeling she isn't achieving enough, and something as simple as running for half an hour lifts her up.
On the favorite character she has portrayed
It's Arabella in I May Destroy You. Why? "One minute, she had long pink hair, then a purple wig, then her hair was completely shaved off. I loved the fact that her hair wasn't 'perfect,'" Coel says. "The wigs she wore were DIY, and the other DIY wigmakers would mock her for it while she was just trying to make it work. I think there's something really beautiful about presenting a character on television with a weave that isn't perfect — we portrayed reality, and I really liked that."
More on hair
Whether she's in a bobbed wig, short colored hair, or a baldie, Coel wears her hair with pride. Describing her connection to Arabella, she says, "She, like me, is beautiful both ways. We can do both." When she thinks further about Arabella's beauty and character development, Coel says her hair choices were less about the color and more about the fact that she wasn't portraying a "perfect" beauty standard: "Things were not together in her life, and that's why we go back into her childhood to see that she's always been in a process of unraveling." Coel is intentional about the messaging of her shows and characters, down to the beauty moments. For Black women, hair often reflects our identity and individuality. "Arabella's hair represented unraveling, and her shaving it off represented something else, her total rejection of pink femininity and swinging from one extreme to the other," Coel explains. "That's kind of what she does as a character. When she is assaulted, she goes into an extreme mode of man-hating any man, including her gay best friend. She loses all nuance, and I think we tried to tell a story through her hair, too."