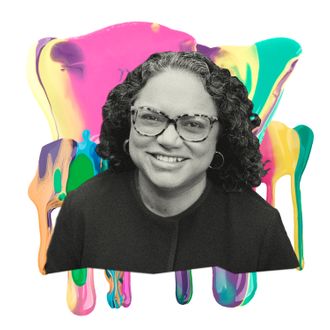 Photo-Illustration: The Cut; Photo: Les Talusan
When Mini Timmaraju became the first woman of color to lead NARAL Pro-Choice America, the oldest abortion-rights organization in the U.S., in 2021, she knew we were headed toward one of the most critical moments in the nation's history. Seven months later, Roe v. Wade was overturned. It's been a whirlwind tenure so far — every week, her hectic schedule is filled with meetings with partner organizations, travel, sessions with providers in states that have banned abortion, speaking engagements, donor calls, and, most recently, post-midterms debriefings. Timmaraju credits her husband Ken, her team at NARAL, and her support network (which includes her therapist of 15 years, whom she's known longer than her spouse) as the reasons she's able to do it all. "It's been awesome — stressful but really gratifying," she says. "I can't imagine being anywhere else." Timmaraju lives in Maryland with her husband, her twin toddler boys, and her parents. Here, how she gets it done.
On what a typical morning looks like:
The morning is sort of triage with my two boys. They are going through a bit of sleep regression — waking up between five and 6:30 every morning and coming straight into our bedroom. I've stopped setting an alarm clock for the most part. My husband and I alternate handling the kids, although, full disclosure, he does the bulk of getting them off to school. I check my phone quickly for any breaking news — in the work that we do, things are constantly happening. We get the kids breakfast and it's really important for me to spend that time with them because sometimes that's all I'm going to get in a day. I try to prep them for "maybe Mommy's not going to be home when you come back." If I'm going to be traveling, I try to talk to them through the week. They're only 3 and a half, but that is something that helps decrease their anxiety. I'm lucky if I get a cup of coffee before they head out the door. My husband takes them to preschool, and then I start my day.
On her day-to-day schedule:
I have standing meetings with senior members of my team most mornings. Today, Monday, I had a quick 15-minute check-in to go through the calendar and make sure everybody knows what the priorities are for the week and that everyone's on top of preparation. We've got a bunch of events happening on the Hill and outreach I'm doing to folks in the Senate around the New York Times piece on the Supreme Court leaks. We've asked for an investigation. This week, I'm also speaking on a panel at the Press Club and we're in the mode of a lot of election-debrief meetings. On the weekend, I'll go down to Georgia for a get-out-the-vote event for Senator Raphael Warnock and his runoff election. It's a little bit all over the place.
On managing stress:
Probably the most important relationship outside of my parents, my husband, and my kids is Jennifer, my therapist for over 15 years. She's wonderful about reminding me of strategies to keep my anxiety and stress levels low. A lot of it is journaling and meditation. I keep a little document on my laptop — I'll open it up and I'll just write how I'm feeling, and it gives me a lot of relief. My family is Hindu and I grew up with that faith tradition. I'm not going to claim that I do deep meditation every single day, but I will do what they call passage meditation or reciting a mantra.
On working out:
My exercise is chasing my small children around the house, going to the playground with them, and running around the park. Before they were born, my husband and I hired a trainer. I'm turning 50 next year. We're older parents, and I'm in menopause. We were like, "We've got to train for this like it's a marathon. We're out of shape!" I also have a treadmill and an elliptical stepper underneath my desk. I'm using it as I talk to you. When you're a mom and run an organization, it's all about hacks. Where can I sneak in ten minutes? That's how we're surviving this.
On unwinding after a long day:
I try to block off between 5:30 and eight o'clock for my kids if I'm home. Honestly, most nights I'm back online after my kids go to bed. But some nights, when everyone's in bed, my husband and I like to have a glass of wine and watch TV. Last night, we caught up on a few episodes of Abbott Elementary. We used to live in Philly, so seeing all the silly references makes us really happy.
On her path to NARAL:
I worked for Secretary Hillary Clinton's presidential campaign. Not to be overly dramatic, but her loss forced a big pause in my life because I was on a very aggressive career track. My husband and I spent a lot of time figuring out what was going to make us happy. We both really love kids and there was a window there for us, so I took a break for a little while by going into corporate America and working for Comcast NBCUniversal. We were able to breathe and adopt our children.
When President Biden got elected, I got a chance to do some work for him. I had a pretty tough conversation with my husband and the goal was "I'll do this for a little while, scratch my public-service itch, and then I'll go back to corporate America," because we had just adopted twin boys. I wanted to be part of the team that helped right the ship right after Trump. Then, I got the call from NARAL. I sat down with my husband. He looked at me and said, "You will hate yourself if you don't try to do that job. You'll go crazy if the court overturns Roe and you're working in corporate America." I'm grateful he told me to do it because he was right. It's been awesome — stressful but really gratifying.
On the people who help her get it done:
Ken and I met in 2012 when I was working for Planned Parenthood in New York. He's truly been my partner in all of this. He has his own consulting business. When we talked about having kids, we talked about finding balance depending on whose career was taking off and focused on who was going to be the primary caregiver. I could not do this job right now if my husband wasn't doing the pickup and the drop-off, going to parent-teacher conferences, taking them in for a pediatric checkup if one of them has a cough that won't go away. Madeleine Albright once was asked, "Can women have it all?" And she said, "I do think women can have it all, but not all at the same time."
Having a partner you can take turns with, you can have it all in phases. I'm also grateful to my preschool, to our part-time nanny, to the folks who contribute in other ways to our household, cleaning services and all of the things you need to run a household. My mom is a really fantastic cook. I've done a lot less cooking than normal because  my parents moved in earlier this year and her cooking is better than mine. I wish everybody could have that.
On the advice she'd give younger people starting out in their careers: 
I didn't come from a wealthy family, but I had very supportive parents who supported me financially through college and law school. I didn't have debt. That's a unique situation for a lot of people of color and immigrants — I was very lucky. I meet a lot of young activists who take on a lot of debt and I worry. Getting your finances in order and figuring that out early is really important. My father is very financially disciplined and taught me a lot — maxing out my 401(k) on my first big job, investing in a Roth IRA when I could, creating different savings tags, putting a certain amount of your earned income away. What it did was it allowed me to take jobs that weren't paying very well, and when I got a well-paid job, I was saving enough I could take other jobs afterward that helped propel my career. When I worked for Secretary Clinton's presidential campaign, I took a massive pay cut because you don't make very much money on campaigns. But then I was able to take that experience and go into corporate America, make a lot more money, and save it. If you can learn some basic strategies, even if you don't have a large income, it will pay off in dividends later in life and it will give you the freedom to take risks.
On how her ambition has evolved:
When I was younger, I was much more mission-driven. I wanted to do the best quality work I could do for the highest good. Over time, I learned that I wanted to be in the driver's seat. When I started out, the nonprofit progressive-advocacy ecosystem was incredibly white and male-dominated. As I started to move up the career ladder, I just saw fewer and fewer people like me. That made me more ambitious to take on bigger roles and to bring on more people along with me and put them in roles where they could be making decisions. We can't get liberation for our community if we don't have some control over the strategy, the policy, and the investment.
This interview has been edited and condensed for length and clarity.