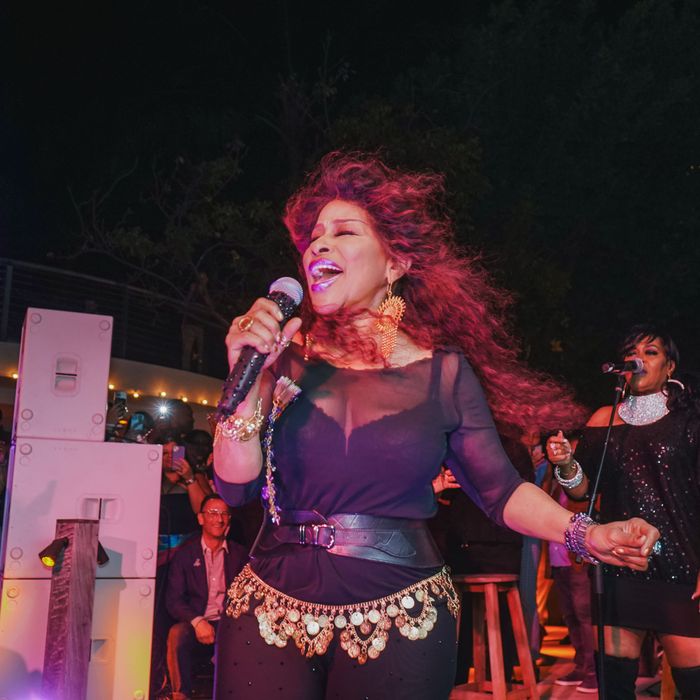 Chaka Khan performs at Kehinde Wiley's Art Basel party.
Photo: Seth Browarnik/WorldRedEye.com
If you are a serious or just very rich art person, which I definitely am not, you arrived at Art Basel by Monday, November 28, or even the night before, ready to wheel and deal and avoid the sorts of people who come only to get drunk and try to look fabulous, or who might be tempted to attend a party "hosted" by Anna Delvey, whose comeback PR tour includes painting. As an art writer friend DM'd me Saturday morning: "I'm already back in nyc! All the art people leave Friday." But maybe the whole thing got a bit more fun without any pretense that this was about connoisseurship. Miami reverted to its good-time form, and those of us left behind had a great time.
There was still plenty of lowbrow Basel vanity on display Saturday at a "House (Arrest) Party" hosted by the Locker Room, a "femme-forward" gallery, for Delvey, who, because she's on house arrest in New York but still very much scheming to graduate from con artist to ex-con famous, attended virtually. Although it had been touted as both an exhibition and a party, it wasn't really either. Four of Delvey's acrylics, her first work post-detainment, or so the story goes, were set up in the living room, and all of them were self-portraits (of course), with titles like "Prowling in Prada" and "Good Behavior." The gallery attempted to take her seriously, describing the works in a press release as "tongue-in-cheek … marrying Anna's love for high-end fashion with ironic and often humorous messages," as well as "an in-demand body of fine art."
But when Delvey Zoomed into the party, strutting onto the television screen wearing a bright orange Batsheva dress with long acrylic nails ("not bad for house arrest," someone commented), she didn't have much to say about her artistic endeavors. What is her inspiration, the journalist Ben Widdicombe asked in a Q&A? "I'm my own inspiration." She also took a moment to defend herself to the gathered blingy fangirls. "I think the whole fake-heiress thing came out of nowhere," she said. "It was something the DA created." The room clapped. Miami is all about getting away with it, or trying to. "Well, all art is a scam, so …" quipped a guest outside by the pool.
Later that night, at the artist Kehinde Wiley's closing party on the lawn at the Edition hotel, a few people, myself included, were complaining about their bloodied feet and kicking their shoes off to dance barefoot in the grass. The party was a "southern fish fry," but it was definitely one elevated fish fry, with the ocean and two glimmering pools just steps away and passed plates of not-very-messy or -greasy bites of fried okra, shrimp and grits, and sweet-potato pie.
Unlike almost every other party I went to, though, there was no huffy elbowing at the door, no line at the bar, no influencers in sight, just a boldly dressed crowd happy to get together and celebrate. "Let's take a chance, do a little dance, and remember this as just a fabulous night," said a New York–based artist sipping rosé in Gucci sunglasses. Another artist, who, at a dinner the previous night, had told me she was "too old to be chasing the fun these days" and reminisced about better parties years ago with Iggy Pop and Courtney Love (the dinner we were at featured … James Blake), was nevertheless at the fish fry chasing the fun, cooing to me, "All my friends are here," before pointing them all out. The partygoers seemed genuinely overjoyed to be there, and when the DJ, in a gauzy kimono blowing around in the wind, played "I Feel Love," well, not to be cheesy about it, but I think everyone felt it. Even a bouncy white lady at the front of the dance floor throwing her flash-on iPhone in people's faces didn't seem to get on anyone's nerves. One fashion photographer who a few nights earlier had told me, half-jokingly, "I think I met my boyfriend last night at Twist," the gay club on South Beach, came by to excitedly share he'd set up a date with said person for the following night.
Sex was in the air, maybe because the party's "surprise musical guest" — which by the time she performed was a surprise to no one — was Chaka Khan. Shortly after 8 p.m. she appeared on the roof of the bar nearby like an angel with cherry red curls before sauntering down the stairs waving a handheld fan. "I love it when you sing to me," she called to the crowd, and we did just that as she ran through her divine disco gifts to us all: "I Feel for You," "I'm Every Woman," and "Ain't Nobody."
It was nothing less than spectacular, with Kehinde belting the songs in a disco-y suit jacket in the background and Chaka swinging her hips in a circle the whole time she was onstage. Sure, she exited before that last song was even over, and maybe the sound wasn't the best. But who gives a shit? "I lost my virginity to Chaka Khan," the artist from the night before told me. "One of Kehinde's people said he did, too." Chaka must have gotten her in the mood again, because later that night I'd find her smooching a recent divorcé at Twist.
Did anything else exciting happen toward the end of the weekend? Not really. Nylon's party, at the Good Time Hotel, which is apparently owned by Pharrell Williams, felt like Coachella, in a bad way — with bros talking about "fucking chicks" and the chicks talking about "dressing like whores." There was also a very pregnant bartender, and Kim Kardashian showed up later, but I'd already headed to Soho House's beach party, which was shut down for going nearly six times the legal capacity. I know this because after I snuck inside by way of the sand, I got to talking to two really hunky firefighters who some girls at the party told me were strippers. "There are no stripper firefighters here. I promise you," they assured me.
I slinked away in embarrassment but, as I heard one buxom lady tell her friend as she departed a beachside club while "Don't Stop 'til You Get Enough" blared in the distance, "That's the rule. Don't stop. And it's never enough."