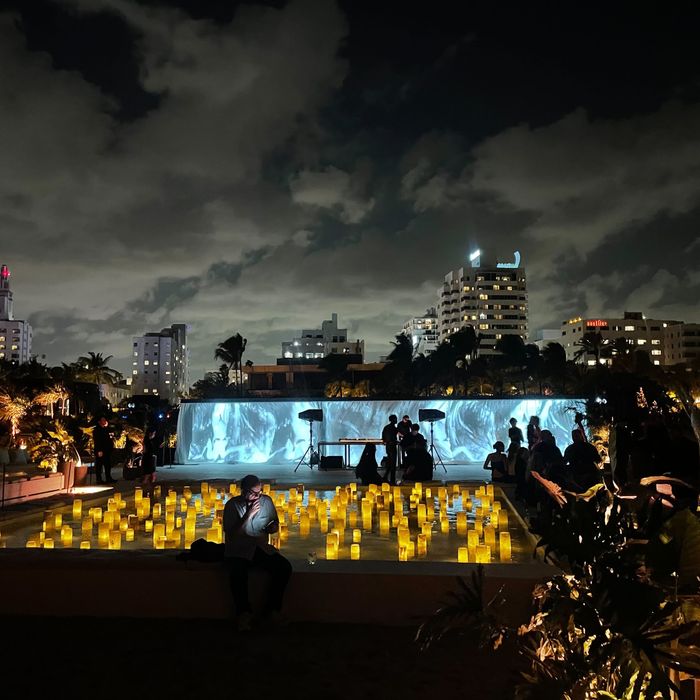 Saint Laurent's Art Basel party.
Photo: Brock Coylar
Last night, shortly before midnight, I watched Madonna, looking like a nonbinary alien in pigtails, combat boots, and an oversize tuxedo jacket over a bedazzled bustier, with a Champagne flute in her right hand, do a very strange dance. Honey Dijon, her "favorite DJ in the whole world," was spinning at an Art Basel party, and all of Madonna's stomping and ass-shaking kind of looked like an avian mating ritual you'd see on National Geographic. Her security did their best to swat away anybody taking photos of her, but how could you resist? It was wild and weird, but so is Miami.
I'd never been to Art Basel or Miami itself before, but based on what fashion- and art-world people told me about it, I expected it to be something like Fashion Week, but larger and stranger, Florida-fied perhaps, with big multimillion-dollar art deals happening somewhere in the background. And while very expensive hotels and beach clubs and endless traffic jams were unfamiliar to me, everybody here it seems I already knew from New York. When I pulled up to my hotel on the beach on Wednesday, a member of Air Mail's so-called "Downtown Set" list of New Yorkers was smoking a cigarette on the corner. Down the street, I ran into an East Villain. But the weather was warm and the margaritas were flowing, so I didn't care all that much. The city people here all seem to be nicer than usual, grateful to be in summer looks and living the fantasy of hotness, money, and leisure Miami can serve up — especially when there is an open bar and you're on the list. Here, the Uber drivers sing Jennifer Lopez to you and the bartenders fetch ashtrays whenever you light up a smoke, and at the very least, people tell you you're gorgeous before they ask to bum one. "There's no reason to be nervous in Miami," my concierge told me. "This is the only week the people from Miami are nice," countered a native.
"It's all one big commercial," a veteran of this scene told me when I arrived, which is an apt way to describe the vibe at all of the branded parties and dinners for every liquor brand from Belvedere to Don Julio and various Champagnes. One minute you're walking down the street and the next you stumble into Serena Williams, recording videos for a perfume "activation" sponsored by Lincoln. It was very windy so her assistant had her hands in Serena's hair the whole time, trying to fix it. "Someone get her a bobby pin, dammit," said an onlooker holding a glass of wine. "Are you an influencer? I handle lots of influencers," one distracted woman asked me. I'm not, as you know, but of course there are plenty of those here as well. The night before, I'd encountered Bryce Hall at the bar at the Edition Hotel, trying out an Australian accent for whatever reason. Outside, the influencer Tinx was ordering a car and trying to leave Farfetch's party at the Faena Hotel next door. Her friend Diplo was a dozen or so yards away. The Edition, because of its size and location, has in many ways become the middle of the scene with multiple parties every night; it's the sort of place where you pass Evan Mock and Kehinde Wiley in the lobby, going to different events, entirely unaware of each other. The hierarchy here is who is paying for their room, and who is not. The art collectors pay, and the brands pay for the celebrities to be here, and there is clearly just a silly amount of money being spent. A fashion photographer gossipped to me: "Lindsay Lohan's staying here … and she's paying for it herself."
A note on the doors at these parties in Miami: They are way more chaotic than those in New York, and apparently that's on purpose. At Farfetch's party, I watched clearly overwhelmed security turning away a big magazine editor and even Cuba Gooding Jr., though the party inside, when I did get in, was surprisingly thin. The clusterfuck outside was all for show. "It's a little more aggressive here," said a publicist I encountered the following night. The advice she was given by a publicist who lives here? "In New York, you want things to be seamless. In Miami, you just want a crowd." Another publicist called me before a party just to give me a heads-up on the shitshow: "You know how it is in Miami." If you can't get in? Well, then just go to the gay club Twist (friends who have been going for years complained that the superhot go-go dancers — an Art Basel tradition — were no longer in residence).
Maybe even harder to talk to than the influencers, though, are the crypto folks here. Because despite — well, like, everything — there are still crypto people here. My girlfriend even started asking people, "Are you here for crypto or Basel?" before she committed to talking to them. My most notable experience with one was at a party for Jean Paul Gaultier. He was a soft-spoken redhead named Gary, holding a laptop case and looking very out of place in the fashion-y crowd, where Lizzo's stylist was dancing and Ladyfag was sipping a drink. "What's your superpower?" he asked me out of nowhere, before adding flirtatiously, "You have really beautiful energy." He was coming from something called the Crypties — "like the Oscars for crypto" — and told me he didn't feel out of place at all, actually, because he once watched the Kardashians on TV. Anyway, as another art friend told me, it makes sense they were happening together, since crypto and the art world basically function the same way: They are asset classes traded mostly among a very few people, entirely based on hyping up prices.
But that's boring. Back to Madonna. The dance happened at a party that Yves Saint Laurent threw to celebrate the 30th anniversary of her book Sex. Incidentally, the exhibit "Sex by Madonna," featuring photos from the pop star's 1992 book Sex, photographed by Steven Meisel, is a lot of fun. If you're young like me and have never heard of the book before, it's a reminder of how much she helped create our culture by pushing boundaries — so a bunch of photos of Madonna eating ass, masturbating in front of a mirror, and hang gliding in the nude, bush out (The security around the exhibit is intense, comprised of two police cars and no less than two dozen guards in black). One artist told me it was a "cornerstone of my ideology"; another told me they've been obsessed with it since they watched VH1.
It was one of the glitziest parties thus far ("the party that will make people jealous," as one editor put it to me) in an elaborate pop-up club on the beach — climate change aside, the Miami Beach beach is still surprisingly wide — surrounded by palm trees and centered around a pool lit by floating candles. There, the crowd struggled to light up as the wind blew, though they looked fabulous nonetheless, mostly dressed in black because it's Saint Laurent, after all. (One curious thing: The New Yorkers here seem to be less stylish than in the city, all struggling to dress like they're in Miami, wearing Pucci and bright oranges; the natives, "though they have no taste," as one fashion person said to me, "look great.") It wasn't any easier to light the firecrackers on a three-tiered white birthday cake for Zoë Kravitz, who, upon seeing it, put her hands on her cheeks Home Alone–style and gave the man next to her (I couldn't quite tell if it was Channing Tatum or not) a kiss. It was really glamorous, even if one woman slicking back her hair in the bathroom told me, "It's not glamorous. It's just beachy."
"I want to be what she's on," said a Chelsea gallerist in a leopard-print tube top, watching Madonna do that dance. Shamelessness seems to be in the DNA of this place. Outside the door of my next party, for Casablanca Paris, a striking young woman in a bright-yellow corset farted, dispersing a small crowd. "Oh well. This is Miami," she said. Inside, I met two afroed women from Bed-Stuy who invited me on a "hot girl walk" — a loop around the party to see if we could find any suitors. "We need to be admired," they said. "Because nothing matters here."