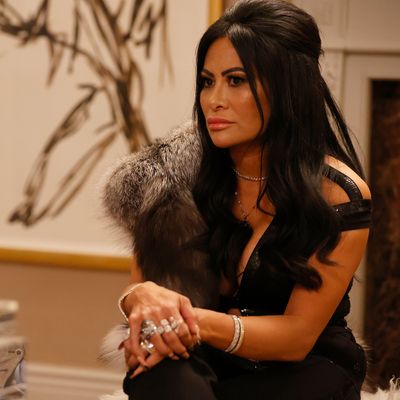 Photo: Andrew Peterson/Bravo/NBCU Photo Bank via Getty Images
After three seasons on the Real Housewives of Salt Lake City, Jen Shah appears to be cutting ties with Bravo once and for all. The reality star announced on Friday that she would not be attending the season 3 RHOSLC reunion, which was reportedly taped on December 16. Not only that, but she seems to have some issues with how her storyline — which relied heavily on her March 2021 arrest and her subsequent legal troubles. She is currently awaiting sentencing after pleading guilty to criminal fraud charges related to her involvement in a telemarketing scheme, and appears to be asking a judge to ignore her on-screen performance in the show.
In her statement announcing her decision not to attend the reunion, Shah claimed that she wasn't originally asked to attend the reunion — a snub that left her "disappointed" because she would have "no venue to confront inaccuracies" — but received a surprise invite just a few weeks ago. According to the reality star, her lawyers advised her not to address any questions about her legal proceedings, which she claimed was not in line with Bravo's thinking. "I was clear with Bravo that out of respect of the courts and a standing judicial order, I would not be in a position to discuss anything related to my legal case or sentencing," she wrote on Instagram. "Bravo found this unsatisfactory and said they expected me to discuss this 'storyline.'" Shah added that she decided against attending the reunion "under legal advice," adding, "I need to focus on the most important thing in my life-my family."
As to what "inaccuracies" might Shah have been hoping to correct, that remains unclear. In recent legal documents, her attorneys made clear that the reality show should not be viewed as an accurate portrayal of her thoughts on the case. As fans know, Shah professed her innocence throughout the season, which certainly contradicted the guilty plea she entered in July. Now, as reported by CNN, her attorney filed documents asking the judge not to hold the show against her, sating, "Just as Jen Shah has never been a 'housewife,' little else is real about her persona and caricature as portrayed by the editors of RHOSLC."
Shah's attorneys went on to describe the show as "semi-scripted" and "heavily edited," per People. The documents claim that the editing showed Shaw as "intransigent, defiant, and often even unrepentant, about her actions here," which attorneys insist was not the case. "The effigy of Jen Shah portrayed in the RHOSLC has no bearing on who she is, whatsoever, and should not enter this Court's calculus in fashioning an appropriate sentence for the real Jen Shah," they added.
Per her plea deal, Shah faces up to 14 years in prison, and must make restitution of more than $9.5 million, part of which will apparently be funded by the seizure of her counterfeit bag collection. Her legal team is asking for a 3-year sentence — far below the 6-year prison sentence recommended by the Probation Department. Prosecutors will submit their own recommendation next week, and her sentencing is scheduled for January 6.