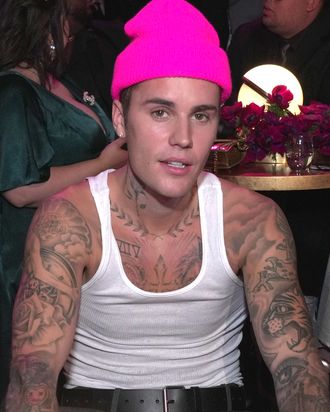 Photo: Kevin Mazur/Getty Images for The Recording Academy
Today in random celebrity feuds, it's Justin Bieber versus H&M. Well, maybe calling it a "feud" is a bit much, but whatever is happening between the singer and the clothing brand, it's definitely not friendly. On Monday, Bieber called out H&M on his Instagram, accusing the brand of selling merchandise that he didn't approve of. 24 hours later, H&M announced that it had removed the merch from its website and stores, and the brand has since clarified its right to sell the it in the first place.
"I didn't approve any of the merch collection that they put up at H&M," Bieber wrote on his Instagram Stories after the collection launched online. "All without my permission and approval," he added. "SMH I wouldn't buy it if I were you." In a follow-up post, he called the line "trash" and encouraged his fans to save their money, saying, "I didn't approve it, don't buy it." It's unclear if Bieber's approval was actually required to sell the merch. H&M initially responded with a statement obtained by the Cut, saying, "As with all other licensed products and partnerships, H&M followed proper approval procedures." The merch has since been removed from H&M stores and website.
According to @jbiebertraacker's post on Instagram, the merch included a white sweatshirt featuring a collage of Bieber photos, a matching tote bag (the only item that appears to be available for purchase on the U.S. H&M website), and "World Tour" merch. (Bieber was forced to cancel his Justice World Tour earlier this year for health reasons.) It also apparently included a cell-phone case and a sweatshirt with the "Ghost" lyric "I miss you more than life." Prior to posting on his stories, Bieber commented on @jbiebertraacker's photo, writing, "When everyone finds out I didn't approve any of this merch smh."
After removing the merch from stores, H&M released a new statement, obtained by the Cut:
"With regards to recent claims H&M has produced and sold Justin Bieber merchandise without the artist's permission, H&M would like to clarify the following:




Justin's license holder has confirmed that H&M has the right contracts in place and followed all proper approval procedures for each selected design.




Nevertheless, out of respect for Justin, we removed the products from our site and stores, and we're working to find the best way to make use of them.




We have been Justin Bieber's merchandise partner since 2016, and we are very proud of the work we have done so far."
This post has been updated.