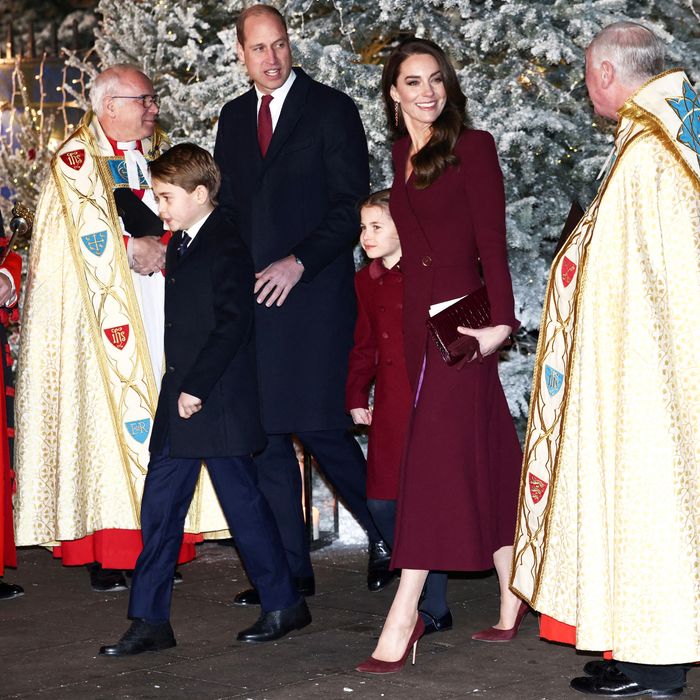 Very festive! Very cheerful! I bet you aren't even thinking about
Harry & Meghan
anymore.
Photo: HENRY NICHOLLS/POOL/AFP via Getty Images
Yesterday, as you must by now be aware, even if you don't have a Netflix account and don't care about the British royal family at all, two of its members released the second half of a lengthy documentary about their love story and all the tribulations it has wrought. For all their hand-wringing over Harry & Meghan's release, the Windsors didn't have that much to worry about in my opinion — no new material here, lads — and anyway they say they won't be watching it. (Sure!) Some of them have been busy working on a TV special of their own, actually, which gave them something else to do on the day of the big drop. Last night, Prince William and Princess Catherine, fresh off their big visit to Beantown, popped over to Westminster Abbey to film "Royal Carols: Together at Christmas." It's their second-annual caroling concert, this time featuring Craig David. Did Harry & Meghan have Craig David? I don't think so! (They had Tyler Perry and Serena Williams and a surprise text appearance from Beyoncé instead.)
What did this festive gathering entail? Dress coats in shades of maroon, plus bishops in their holiday finery. Prince George and Princess Charlotte (but not Louis, who is only 4 and who seems not to appreciate having to sit through this sort of thing), along with King Charles and Queen Consort Camilla. Princess Eugenie and Beatrice were there, with husbands, and various other members of the royal family, along with Kate's parents and sister. She also invited a child who gave her flowers a few months back, who I'm sure was as chuffed to honor "the values Her Majesty demonstrated throughout her life, including duty, empathy, faith, service, kindness, compassion, and support for others" — this year's theme, in addition to Christmas — as everyone else in attendance.
All these guests and more — "charity staff, community volunteers, frontline workers, military personnel," per People — enjoyed musical performances by the Spice Girls' Mel C, opera singer Alfie Boe, and of course Craig David. Prince William (of Pegging?) gave a reading, as did Downton Abbey's Hugh Bonneville and Kristin Scott Thomas. Last year, Kate herself sang a duet with Scotland's Tom Walker — will she treat fans to the piano serenade this time around? You will have to tune in to the Christmas Eve broadcast to find out.
With so much excitement in store, I bet you aren't even thinking about Harry & Meghan anymore. The royals certainly aren't! "William and Kate's aides have briefed them on the show, but don't expect the couple to sit down in their cottage with a bowl of popcorn to tune in themselves," one unnamed source told "Page Six," the palace PR machine ticking right along. And, well, it's very long, so I don't think they need to. We rounded up the big takeaways here, if they get curious.