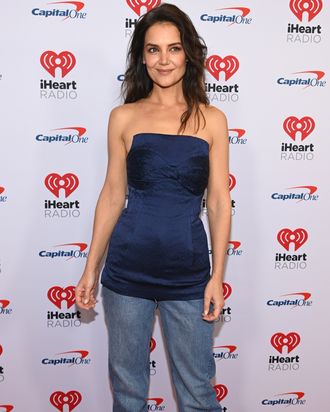 Photo: Dave Kotinsky/Getty Images for iHeartRadio
Is there such a thing as too much nostalgia? Thanks to Katie Holmes, we may find out. In what I can only assume was a nod to her early-2000s Dawson's Creek fame, the actor stepped out over the weekend wearing perhaps the most Y2K throwback outfit I have seen this year: a minidress over jeans. And here I was thinking that extra low-rise jeans would be the worst early-2000s trend to resurface in 2022.
Attending the 2022 iHeartRadio Jingle Ball in New York City, Holmes paired a strapless, navy-blue mini dress with loose-fitting jeans and, according to Vogue, black New Balance sneakers. A little Y2K fashion with a comfortable mom twist. To be fair to Holmes, the minidress is actually a very long tube top — the TOVE Ida Top, to be specific — but it's definitely reminiscent of the minidress-over-jeans trend that was so popular back when she was still playing Joey Potter on the WB. (That's pre-2006 CW to you Gen-Zers.)
Naturally, Twitter is having quite the reaction to Holmes's throwback look, with most millennials begging her to stop bringing back the style Disney Channel stars made famous.
Curiously enough, Holmes's face never comes up when you search original photos of this dress-over-jeans trend. The actor's fashion sense has always been pretty on point and classic, for the most part. Sure, she's worn some pretty surprising pieces, like that cashmere bra, but her fashion is generally pretty inoffensive and always has been. Maybe this outfit is her way of confronting the throwback millennial trend head on, showing us how awful it really is before we go too far down the nostalgia road of no return. Or maybe she's a time traveler, and it was 2002 Katie Holmes who appeared at the 2022 Jingle Ball in some great cosmic mix-up. Or she's unironically embracing the Y2K fashion resurgence, in which case, good luck to us all.
This article has been updated.