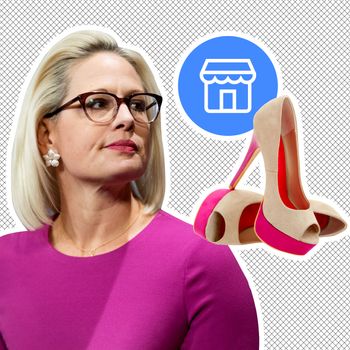 Photo-Illustration: by The Cut; Photos: Getty Images, Facebook
The only thing more offensive than Arizona senator Kyrsten Sinema's bewilderingly centrist voting choices is her penchant for deafening patterns, colorful wigs, wacky hats, and statement rings. However, it appears not everyone is as disturbed by Sinema's ModCloth-inspired wardrobe as I am, because actually, she may have resold a lot of it on Facebook Marketplace.
Slate writer Christina Cauterucci made a bold claim this week: She suspects that she bought a pair of Badgley Mischka heels from Sinema on Facebook Marketplace. Dubious, sure, but Cauterucci presented a very compelling case that Sinema is indeed the woman on the other end of this suspiciously on-brand resale account. For one thing, it bears her name and two photos of her, one at the end of a race and another in a government building surrounded by staffers. The user posts from Washington, D.C., where Sinema lives as senator, and Phoenix, Arizona, where she has an office.
There is an abundance of athletic gear, which jives with Sinema's noted enthusiasm for all things triathlon, and a lot of it bears the skull-adorned logo of her preferred workout-clothing brand, Betty Designs. There's a second-hand water bottle (??), which the seller claims was only "used once (at the 2022 Boston Marathon!)" — a race Sinema did run. And then there is the overall Sinema-ness of the items (knee-high heeled boots, floral-patterned strappy pumps) and the background against which they're shot, which is filled with the kind of Etsy-sourced décor she would absolutely have in her home.
If this thoroughly convincing account is to be believed, Sinema has spent a significant percentage of her term negotiating deals on triathlon paraphernalia. Now that she is leaving the Democratic Party to become an independent, maybe she'll have even more time to sell her wares to customers wishing to add a little sass to their closets?