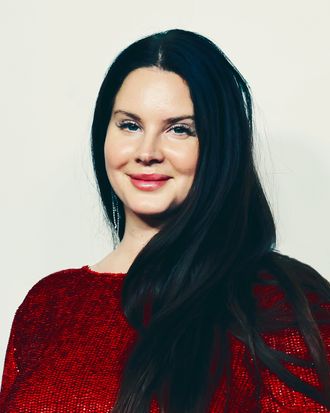 Photo: Kevin Winter/Getty Images
Lana Del Rey apparently only made a single billboard to promote her new album. Can you guess where it is? Naturally, it's in ex-boyfriend Sean "Sticks" Larkin's hometown. On December 7, she announced the new album and released its lead single. You know what else December 7 was? Larkin's birthday. Petty-queen behavior, if you ask me.
Del Rey shared a photo on her semi-private Instagram account of herself with the billboard for her upcoming album, Did You Know That There's a Tunnel Under Ocean Blvd, in the background. She captioned the photo: "There's only one and it's in Tulsa." In the comments, she wrote, "It's personal."
Del Rey and Larkin, an influencer cop, dated publicly for about six months between 2019 and 2020. When they broke up in 2020, Larkin told the New York Times that he and Del Rey were "just friends" who still "talk and whatnot."
Even though Del Rey and musician Jack Donoghue hard launched their relationship over the summer with photos taken outside a Chicago jail, fans are still hoping that her new album will be one of the first revenge albums of the New Year.
Earlier this year, Alessandro Michele, the former creative director of Gucci, talked to Del Rey in a W interview about how she uses color to describe her music, something she has done in the past: "Are there words or colors you're using to describe your new music?"
Her response? "For this new music, there's none of that at all. It's more just like: I'm angry."