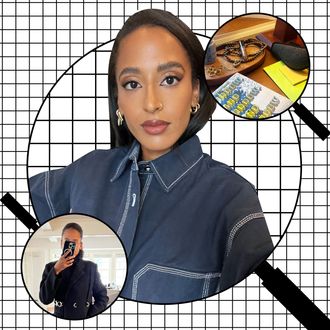 Photo-Illustration: by The Cut; Photos: Madison Utendahl
Madison Utendahl wears many hats, all very stylishly. The founder and CCO of Utendahl Creative, a branding and design agency, has an eye for design, storytelling, and fashion. "Good style is rooted in personal tastes and originality," she explains over Zoom. For her, it's less about being trendy and more about "staying true to who you are and really honing in on what makes you eccentric as an individual." On the flip side, she considers bad taste "an inability to read the room."
"I find that people who don't have great taste have a tendency to almost have tunnel vision and aren't really taking or learning from the style that exists around them, especially in New York."
That's why she takes shopping seriously and prefers to shop in person. It's a major plus, if it's one of her favorite concept stores like Outline or Tom Greyhound. Influenced by her mother's discerning tastes and style, Utendahl is always looking for quality, and craftsmanship but also seeing how things move on the body, something you usually can't find online. When it comes to her style influences, her mother is just one many. "I also get my style inspiration from frankly the women of New York," she says. "You can go out to a restaurant and see how your neighbor is dressing and be inspired by that."
Where did you get the inanimate object that brings you the most joy?
My smoky quartz was given to me by my former boss, Piera Gelardi, the former executive creative director and co-founder of Refinery29. When I started working for her I'd come from a really toxic unhealthy work environment that wasn't really leaning in the way of female empowerment. When I got the Refinery29, I was really struggling with my confidence as an employee and my comfort in speaking up. She gave me this quartz as a tool, a reminder of showing up as myself or if I'm feeling overwhelmed. I hold it and really feel confident and self-assured and it grounds me. She believes in me so much and has changed my life. I'm a better human and boss because of her but that quartz was a gift she gave me that she found when she was on a beach in Greece and returned to the States.
I keep it with me at all times in my bag.
Where did you get what's on your nightstand?
I have a minimal pretty minimal nightstand from West Elm. However, my nightstand is full. I refuse to be on my phone at night and I'm a really voracious reader. On it you'll find, my journal, chapstick, my eye mask, and hair bonnet. Then a million pens and a million post-its. Next to it, it's just stacks of books that I'm either in process reading or just finished.
My nighttime routine is pretty much just journaling and reading. I used to have sleeping issues and I just stopped using my phone at 9 p.m., I sleep really well and I don't have problems going to sleep anymore.
Where did you get the item you wear the most?
My nose ring is from Maria Tash. I've had my nose pierced since I was 18, and I'm 31. It is now 100 percent a part of my identity. I don't even remember what I really looked like before. I had to take it out recently for an MRI and I was like, "Oh, wow." I felt super naked without it. I'm a big believer in investing in your facial jewelry since it's permanently on your face. When I was 18, I wanted to experiment without permanence at that time in my life. I dyed my hair I got my nose pierced. The nose ring was really the gateway into exploring extensions of myself.
Where did you get your signature scent?
From Malin + Goetz. It's the Leather roll on. It's technically a men's scent. It's really potent and really unique. It is true to the leather undertone, the smokiness, and the santal energy is very much in there. I have started experimenting with D.S. & Durga, they have a rose scent that's the polar opposite of the leather scent. I've been thinking lately, do we need to have one signature scent? Scent is so powerful. I think we underestimate it's value and how we connect with people with it.
Where do you get your favorite gifts to give?
Beam, it's one of the most thoughtfully curated design stores. They have such a wonderful sense of taste and have brands that are really known and beloved like Boy Smells, alongside local Brooklyn candles, ornaments, and trinkets. What I like to do when I go there is to not have a specific item I'm looking for but just really be open-minded and see what I find that is suiting for the person I'm gifting. They had metallic gold, green, and silver dishwashing accessories and my mom is a really eclectic world person I thought how cool would it be if she had these cool gold ornaments in her sink? It's such a specific gift that's hard to find that no one's going to think to buy it for themselves. I think that's actually probably the sentiment of that store, beautifully designed random objects that you would probably never buy for yourself but are so grateful to be gifted and receive.
Where did you get the item that gets complimented the most?
My Prada coat from 10 Corso Como, a concept store in Milan. They tried to bring it to the US a couple of years ago in South Street Seaport, which is where I was living at the time. They had a liquidation sale essentially because it couldn't keep it up and I got a Prada coat in season at the time, fresh off the runway that was marketed for $6,000 retail. I got it for 900 bucks. I thought I was gonna cry.
For more from the Cut Shop team, follow us on Instagram and Twitter, where we share our best new finds, favorite styling tricks, and more.