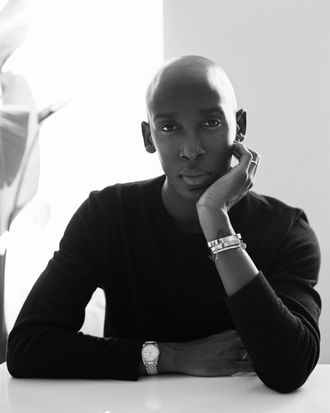 Matthew Harris grew up in Montego Bay, Jamaica, and remembers one important family rule he was told as a child: "Make sure you always have good jewelry — because if something goes wrong, you sell it." Harris took that to heart and wore a tennis bracelet on his wrist and a diamond cross on his neck for as long as he could remember — having gold jewelry was a tradition of the Harris family. Spoiler alert: He did grow up to sell jewelry, creating his own fine-jewelry brand, Mateo.
But when Harris started making jewelry in 2009, it was out of a need. "When I looked for men's jewelry, it was only ugly skull-looking pieces, which I refused to wear," Harris says. So he headed to the jewelry district in New York City and taught himself how to put pieces together. He lived in New York until 2019, but it "stressed him out." Now, Harris lives in Lisbon, Portugal, where he's been for two years. "I feel at ease when I'm here," Harris says. And as a designer, a life of ease makes a difference. Becoming a designer wasn't always in the cards for him though. "I didn't go to a fancy fashion school. It's been innate talent and a drop of luck," he says. Within a year, someone from Rihanna's team pulled a piece for her to wear, a 14-karat gold collar necklace. People started asking him for a full collection, a women's one. So he thought, Why not? By 2015, he created an entire women's collection using one unique piece: a gold bar. Today, Mateo features 14-karat gold necklaces, rings adorned with diamonds, and unique pearlescent pieces. Below, Harris talks Mateo, investment jewelry, and drawing inspiration from everywhere.
What was the inspiration behind your first piece? 
I moved to Bed-Stuy in 2009, and when we were moving, a screw fell out the wall, and I was like, Why isn't a screw a necklace or a bracelet? I went to Home Depot and bought a shit ton of screws and nails. I picked up a toolbox, too, and came home and told myself I was going to transform it into jewelry. That's how the entire idea came to life.
Now that you've expanded into more elevated pieces and women's as well, where else do you draw inspiration from? 
I used to love New York, but New York stresses me the hell out. It does, however, inspire me a lot. I was just there last week, and I saw a girl pump onto the train very nonchalantly looking badass. I pictured what pieces would look good on her. That's how I get inspired. I don't need to be in a particular atmosphere. I always walk with a little notebook and I'm scribbling down notes. My home, Jamaica, shows up in my work a lot, in my own personal way. I think when people think of Jamaica they expect to see bamboo earrings or reggae-colored jewelry, but my cultural influence is a lot more subtle. A lot of my pieces are yellow gold, and we use a lot of malachite, a bold green gemstone — both colors are a part of the Jamaican flag. There's also a lot of black onyx in my work, which represents the people and strength of the nation.
What makes a great piece of jewelry and adds that elevated character to it?
For me, what makes a great necklace, bracelet, or any piece of jewelry is wearability. If you're spending money on jewelry, you need to be able to wear it all the time and get your money's worth. A great piece has to always be timeless, so if I make something and you can't wear it often, it's not in our collection. We have some pieces that are a bit extravagant, but at the end of the day, there is a simplicity about them that allows you to wear them all the time.
What is one piece of jewelry everyone should start with?
Something with an initial — it's modern and personal.
You also design really chic bags. How does your inspiration differ when designing bags as opposed to jewelry? 
I'm not a typical handbag designer. I'm not launching a new bag every season, so if I'm going to make a handbag, it has to either be timeless or have some innovative shape about it. This is why we haven't even launched a new bag recently. I'm not trying to add another bag on the market.