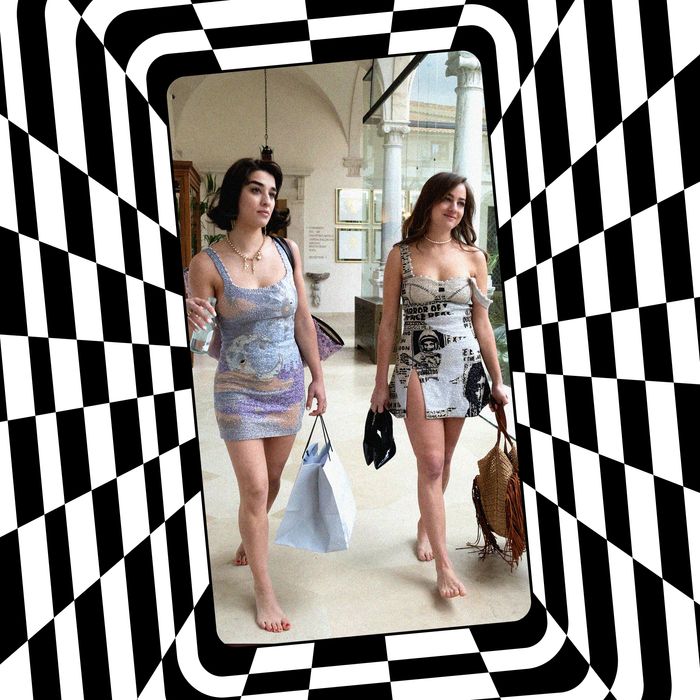 Photo-Illustration: by The Cut; Photo: HBO
Every so often, a duo comes along that makes you smirk, shake your head, and say, "Those are my girls!" The moment we met Mia and Lucia in season two of The White Lotus, I fell in love. Though Jennifer Coolidge's Tanya is a gorgeous tragicomedy and Meghann Fahy's Daphne is a delicious treat, I remained a staunch supporter of Mia and Lucia until the end. Like I said, those are my girls! (If you do not want spoilers for The White Lotus season two, arrivederci!)
Technically speaking, Lucia (Simona Tabasco) is a sex worker and Mia (Beatrice Grannò) is an aspiring singer. Both are locals of Taormina, Sicily, where this season's luxury resort is located. However, at their core, they are agents of whimsical chaos. Grannò, in an interview with Vulture, described the pair as "two fairies," equal parts "messy" and "magical." They schemed and scammed their way through the White Lotus guest list, charming anyone who crossed their paths and leaving catastrophe and condom wrappers in their wake. As Shania Twain once said, let's go, girls.
Unlike other characters whose motives were murky (e.g., what even happened between Cameron and Harper?), Mia and Lucia's goals were straightforward: Lucia wanted money, and Mia wanted to sing her little songs. If only everything were so simple! Mia's aspirations, in particular, were so small-scale they were almost quaint. She wasn't seeking fast fame or even a record deal. All she wanted was to be the hotel pianist, and she did it the old-fashioned way: flaunting her talent and fucking two people. Grannò also told Vulture that when she asked whether her character was being manipulative when seducing hotel manager Valentina (Sabrina Impacciatore), showrunner Mike White said, "Technically, yes, but she's being genuinely nice. It's an equal exchange of interests." Symbiosis at its finest.
Lucia's story line was particularly satisfying, ultimately getting €50,000 from the Di Grasso men, each of whom were terrible in their own special way. It was clear she had the upper hand in her relationship with Adam DiMarco's Albie, who is the pseudo-nice-guy trope embodied. Was she, like Mia, technically being manipulative? Absolutely. She even questioned whether this made her a bad person. (Though you can see the beginnings of her planned hustle from episode one, Mia assured her it did not.) If anything, it exposed the cracks in Albie's faux feminism, revealing that he has a false moral superiority over his father or grandfather when it comes to his relationships with women. Lucia can sniff out a shitty man, and White Lotus is nothing if not a showcase of all the ways men can be shitty.
Now, I must address the real elephant in the room: I, too, am named Mia. Fortunately, this Mia did not disappoint. She was both overly sincere and horny, ambitious for a relatively attainable goal. Contrary to what my parents might say, I am actually named after this character.
Speaking of names, Mia and Lucia's names rhyme, which I love. I'm sure there are fan theories analyzing how this correlates to the number of birds you see in the opening sequence, or whatever. However, I simply enjoy it for the aesthetic, and I think Mia and Lucia would appreciate that. If I ever saw them in real life, I would run up to them and squeal about how it's so good to see them even though it would be our first time meeting. Then I would ask them to sign my yearbook. (I'm 32.)
This season's finale left me with many questions, but the most pressing one is this: What are Mia and Lucia going to do with their €50,000? I'm sure they will start by purchasing more little outfits, which costume designer Alex Bovaird aptly categorized as "Eurotrash." Regardless of how gaudy or over-the-top their clothes may be in any other context, they will always be overshadowed by whatever the fuck is going on with Portia.
I hope Lucia lets Mia spend a portion of that money recording a full album of covers. It should obviously include her version of "That's Amore" and her Marilyn Monroe–esque crooning of "Happy Birthday." I would also like to hear a seductive and breathy rendition of "On Top of Spaghetti," as well as Mia's take on the show's iconic theme song. To quote Reese Witherspoon, women's stories matter. So, if season three of The White Lotus doesn't feature at least one (1) montage of Mia and Lucia, I will be pressing charges.