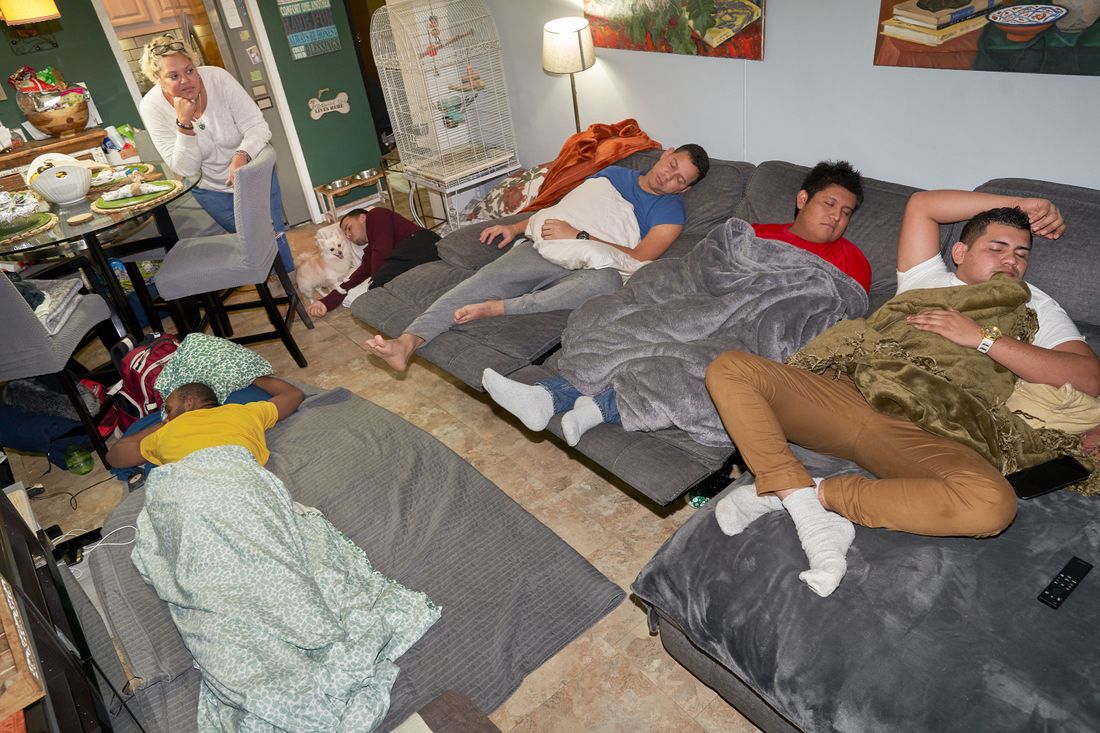 Camille Napoleon and her "boys" in her Lower East Side apartment on November 28, 2022.
Photo: Brenda Ann Kenneally
When Camille Napoleon meets asylum seekers at Port Authority, she first carefully removes the barcode wristband the State of Texas slaps on new arrivals. "That makes them feel like cattle," she says. She arrives as early as 5 a.m. to welcome some of the estimated 20,000 men, women, and children who have stepped into an unfamiliar city without a job, a place to stay, or family connections. She and the other volunteers at the station scream "¡Bienvenidos!" and hand over clothes, toiletries, plates of hot food, and toys for children that Napoleon packs at the community center in the Baruch Houses, the Lower East Side public-housing development where she is president of the tenant association. The 50-year-old community organizer learned to speak Spanish from her Puerto Rican parents; knowing that migrants struggle with the language barrier, she exchanges phone numbers with them and tells them to contact her anytime. She holds close her late father's advice: "You're not living if you're not aiding others."
Some asylum seekers have called her in the early morning to say they were afraid of staying the night in city shelters. Others got lost waiting for late-night transfers and sent Napoleon a location pin or pictures of their surroundings. So in late August, she made an extraordinary decision: She would foster asylum seekers at her apartment. Her daughters, ages 20 and 23, didn't blink at the suggestion. "That could be us tomorrow," one of them told her. Since then, Napoleon has housed 11 Venezuelans and one Colombian migrant, all between the ages of 17 and 34. They call her Mom, and she refers to them as "my boys." She helped them sign up for English classes, complete identification and insurance paperwork, and get registered for OSHA training to find employment. Their faces, she says, light up when they receive New York City IDs. "It made them feel like, I belong," she says. The men also volunteer to sort and distribute donations to fellow asylum seekers across the city.
Most of Napoleon's "boys" have since found their own places to live or reunited with their families. Five remain in her home (along with little Zuyen, the dog of a migrant couple that she's fostering). They frequently host scary-movie nights — "lots of popcorn, lights off" — and take over Napoleon's kitchen, teaching her about their cultures through cooking. "It's an honor that they have allowed me into their lives," she says. "I didn't give birth to these young men, but they are mine." Fewer migrants are coming into the city these days, but she still shows up at Port Authority at least once a week and continues to manage the bagging and distribution of donations. Families haven't stopped reaching out for help, either — they need winter clothes, school supplies, outerwear. "I can't see myself removing myself from a person in need," she says. "Even if the buses have slowed down, the need has not."