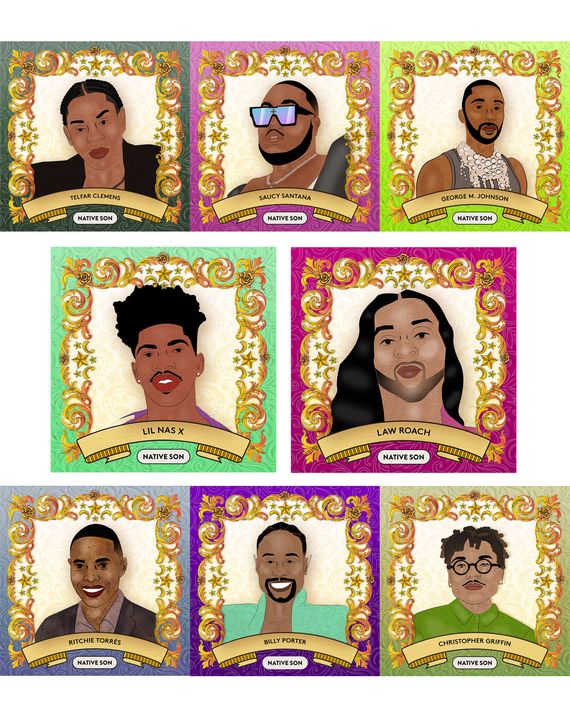 Photo-Illustration: by The Cut; Illustrations: CJ Robinson/Native Son
Antoine Gregory. Darius Edgerton. Gary Carroll. Jonathan Gist. These are just four of the names on the Native Son 101 Class of 2022 list. The unranked alphabetical index honors 101 Black gay and same-gender-loving men who have made an impact this year, whether through becoming the first out gay executive in the 112-year history of the Boy Scouts of America, in the case of Carroll, or by supporting Black fashion designers through the organization of the Black Fashion Fair, in the case of Gregory. And while they sit alongside entertainment industry heavyweights like Billy Porter, Lil Nas X, Saucy Santana, and Shangela, it's this sense of discovery of the lesser known that's at the heart of the 101.
"We're filling a white space, literally," says Emil Wilbekin, former Vibe, Essence, and Complex editor who founded the Native Son organization in 2016. Wilbekin made history when he became the first Black and out gay man to lead a national magazine at Vibe in 1999. "When I talk about Native Son, the purpose is being a reflection of each other and the community. The act of defiance is 'let's see what we look like in every shape, size, shade, everything. Let's see ourselves.'"
When Native Son, which borrows its name from James Baldwin's Notes for a Native Son, began, it started as an intervention for Wilbekin himself. After watching the women of Essence support one another through events like Black Women in Hollywood and other community-building initiatives, and other women like Janet Mock and Laverne Cox leverage their visibility to speak out against the oppression of their own community, Wilbekin wanted to create a space of his own: a place for men who were Black and same-gender loving to be able to show up in their fullness and talk about what has impacted their lives.
"I wanted to talk about being HIV positive, about marriage, about being the only Black person in the office, about wanting to have kids," he says. "I didn't have a place to go, so I created a place that provided something that I wanted. Fortunately, a lot of other people wanted it as well."
Native Son began with an event: Wilbekin, activist DeRay McKesson, writer Michael Arceneaux, and the late Dr. Terrance Dean, a former MTV executive, hosted a panel in Baltimore at the 2016 National Urban League convention. Later that year, Wilbekin produced Native Son's first awards honoring Don Lemon, McKesson, and George C. Wolfe in an event that was covered in the New York Times. And while the awards portion of the organization still exists (it is now rescheduled for Pride season), the third annual iteration of Native Son's 101 list will be announced today.
"The reason we do both is because the awards are elevated and based on people's career moments," Wilbekin explains. "They've typically had a bit more impact. It's really about the legacies of Black queer excellence." This year, after a gala opened by Avery Wilson, awards were given to the likes of writer Charles Blow, creative Dario Calmese, and writer George M. Johnson. (Johnson is nonbinary.)
"The 101 list allows us to open it up," Wilbekin says. "It might not be career-defining work, but these are people who, in this moment, in this year, they've done something that deserves applause, recognition, and they deserve to be seen, heard, and respected because of what they've done."
The Native Son 101 list is a descendant of a long line of directories seeking to honor powerful figures from marginalized communities. It was in 1971 that Ebony published its "Most Influential Black Americans List" for the first time. It would later become the Ebony Power 100. In November 1994, Paul Russell published the book The Gay 100: A Ranking of the Most Influential Gay Men and Lesbians, Past and Present. A month later, Out magazine released its very first Out100 listing, a compilation of names that has been published every year since. Wilbekin's creation, which was started through his own note-taking and then added to and whittled down in community with others, sits at the nexus of these lists while catching names they might miss.
"I'm not usually surprised by the people on those larger lists," says Preston Mitchum, director of advocacy and government affairs at the Trevor Project and member of the Native Son Class of 2021. "What I look toward for Native Son is there are always a lot of names I've never heard of. I think it allows us to honor folks a little more expansively."
This year, the list includes names like Dr. Keletso Makofane, a public-health researcher who was instrumental in the work around the monkeypox virus. Ernest White II, the executive producer and host of PBS's Fly Brother, making him the only Black man with a travel show on network television, is also on the list. Tyler TerMeer, the CEO of the San Francisco AIDS Foundation, and Jalen McKee-Rodriguez, the first out gay Black man to serve on the San Antonio City Council, are also included.
Shortly before our call, Wilbekin had been texting with friends about the announcement that James Ijames's play Fat Ham would go to Broadway in 2023 — Ijames is on this year's list of honorees. "It's a beautiful time to be a Black gay man," he had told them.
"Being able to go to Broadway and see Ain't No Mo' or to be able to go to the opening of A Strange Loop and see it win the Tony," Wilbekin says, his voice trailing off. Jordan E. Cooper and Michael R. Jackson, the creators of those productions, are also both on the list. "To see our stories be told in such profound, authentic, and revelatory ways, it's very affirming. It's revelatory for me," he says.
Wilbekin says that growing up, "the closest thing I had was Gene Anthony Ray on Fame, who I assumed was gay. Now, I think about for the future how important it is that young folks will be able to see these lists and then watch these plays and see people who look like them winning elections and Tonys and Grammys and Oscars and know that it's okay to be themselves."
The Cut is a media partner of Native Son 101.