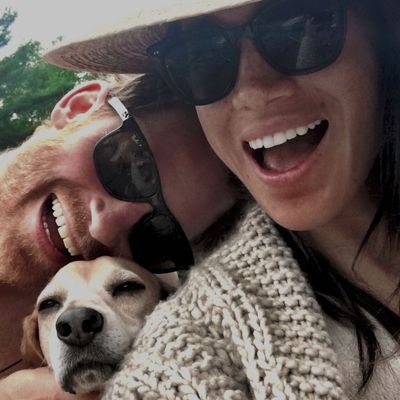 Photo: Courtesy of Prince Harry and Meghan, The Duke and Duchess of Sussex.
Apologies to Orlando Bloom and Katy Perry, but today we must take away your crown. Since 2016, you have reigned as the world's corniest couple, but rest on your laurels and someone may steal your spot. Trumpets, please — our new king and queen of corn cometh. It's Prince Harry and Meghan Markle, whose much-anticipated Harry & Meghan hit Netflix today and clinched them the throne.
Based on the trailers — which included footage of Harry serenading Meghan, who is wearing a fedora, on an acoustic guitar — we expected the tone to be dark but also saccharine. The first three episodes of the docuseries (or "volume I," as they are calling it) confirm that hunch. In episode one, Harry remembers the first time he saw Meghan: In 2016, on a friend's Instagram, her face ornamented by the Snapchat puppy filter you may remember as being very popular in those days. Harry, or @SpikeyMau5 as he was then known on the app, recalls looking at the video and thinking, Who is THAT, before going to their mutual for an intro. For her part, Meghan admired the "beautiful photography" on Harry's grid, and things were looking very promising by their second date. Meghan saved Harry's contact info under "Prince Haz" in her phone and a beautiful journey began.
Fast-forward to the night before the news of their secret relationship broke, when the couple "pulled the pin on the fun grenade," to borrow Harry's turn of phrase, and had one last young and wild night. They went to a Halloween party with a group of friends dressed in what to me look like Burning Man costumes: dust goggles, bandanas, utility vests, and other Mad Max–type ephemera. They also indulged in a bit of dress-up for their engagement party. Everyone wore animal onesies, one friend who attended said in an interview, while "Meghan and Harry were in penguin onesies because penguins mate for life."
My sources are telling me that's true, though penguin pairs spend most of their lives apart — a fate M and H (as they call one another even when speaking to other people) have mercifully avoided. Meghan recently told the Cut that she and Harry work from one shared desk in Montecito and envision themselves as two palm trees attached at the root. (Of course they do.) None of this comes as a surprise, but still, with Harry & Meghan, we're unlocking new levels of their love. I am cringing as Meghan reveals her massive Medieval Times–style curtsy to the queen, but I am also happy for them having found one another — true partners in crimes of corniness.