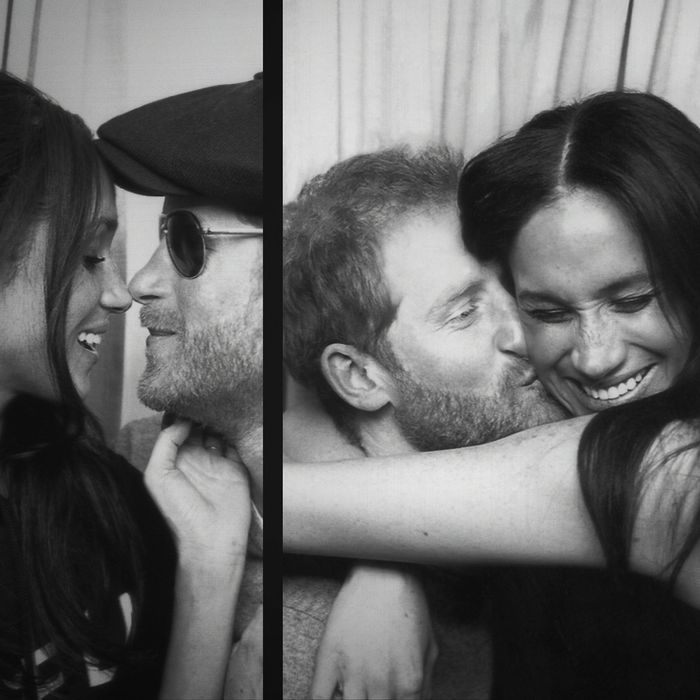 They did a photo booth one time — isn't that nice?
Photo: Netflix
In March 2021, Prince Harry and Meghan Markle sat down with Oprah Winfrey to set the record straight on their resignation from British royal life in their own words for the first time, and wasn't that a wild ride? Silenced no more. Then, a few months later, Penguin Random House announced Harry would tell his story himself for the first time in an "honest" and still-forthcoming memoir — aaaaahhh! The suspense was killing us, but then Meghan, mostly mum in the press since arriving in the U.S., sat down with this very magazine and told us how "none of it had to be this way" and also that she and "H" fancy themselves two palm trees attached at the root! We were learning so much about these two crazy kids even before Meghan released her podcast, so I am wondering what fresh bombshell revelations the Sussexes will drop in the six-episode docuseries (aptly named Harry & Meghan and rated TV-MA for "mature audiences" — oh la la) that debuts on Netflix this week.
The first trailer, which the streaming platform shared December 1, did not offer many clues as to specific contents, but it did set a tone: sort of sweet and distinctly ominous.
The teaser gives us some never-before-seen pics of the couple — Harry playing guitar for a fedora-wearing Meghan; the couple kissing in a photo booth and hiking and weeping — but, as for the substance, it wasn't clear what's new. Netflix promises an "unprecedented and in-depth" look at "the other side of their high-profile love story" with input from friends and family members who (for the most part) have not spoken to media before. In the trailer itself, Harry tells an interviewer, "No one sees what's happening behind closed doors. I had to do everything I could to protect my family." In a separate sit-down, Meghan explains the couple's participation in the series thus: "When the stakes are this high, does it make more sense to hear our story from us?"
Possibly sensing that you, the viewer, were not as stressed or excited as you could be, Netflix followed up with a second trailer December 5. The takeaway? Tension.
"There's a hierarchy of the family," Harry explains in voice-over as a doom score plays in the background. "There's leaking, but there's also planting of stories."
"There was a war against Meghan to suit other people's agendas," an expert I can't identify claims in an interview. "It's about hatred; it's about race," another adds. "It's a dirty game," Harry agrees. My shoulders are at my ears! Parallels with the late Princess Diana are being drawn! The paps are swarming! The flashbulbs are reaching a fever pitch! "No one knows the full truth," Harry tells us. "We know the full truth."
But based on public statements the couple has already made, much of this impending truth sounds familiar even without hearing the latest retelling. Meghan has recalled, to Oprah and on her podcast, asking her in-laws for help when the scrutiny of royal life left her with thoughts of suicide. She and Harry have claimed that someone in the royal family raised questions about their son Archie's skin color when he was still in utero. She has already accused the palace of "perpetuating falsehoods," and an often racist double standard is clear when reviewing tabloid headlines from her time as a royal associate.
Then, in the weeks since Harry's grandmother Queen Elizabeth II died, the couple is rumored to have lobbied for edits that would paint Harry's dad, King Charles III, in a more flattering light. They don't appear to have been particularly successful in their efforts, though that writing was already on the wall. In a recent interview with Variety, Meghan seemed to want to distance herself and her husband from the project. "It's nice to be able to trust someone with our story" — director Liz Garbus, whose work Meghan has "long admired" — "even if it means it may not be the way we would have told it," she said. "But that's not why we're telling it. We're trusting our story to someone else, and that means it will go through their lens."
Does that mean they didn't sign off on the splicing of a shattered-glass sound effect over the grim visages of their royal relatives Prince William and Kate Middleton? We may never know, but, anyway, the first three episodes of Harry & Meghan arrive December 8; the final three land on December 15, a date on which the royal family just so happens to have some festive counterprogramming planned. According to People, the Princess of Wales organized a caroling event at Westminster Abbey, "dedicated to Her Majesty Queen Elizabeth II and the values Her Majesty demonstrated throughout her life, including duty, empathy, faith, service, kindness, compassion and support for others," to quote a press release from the palace. The king, the queen consort, and (naturally) Prince William will all attend. This is apparently the second year Kate has hosted Royal Carols: Together At Christmas — last year she sang! — but the timing nonetheless feels … convenient, even though the special itself airs Christmas Eve on ITV1. Craig David and Mel C are performing! Catherine Zeta-Jones will narrate! And maybe that will be enough to distract you from a spicy little drama unfolding on Netflix? Sure, maybe.
This article has been updated.