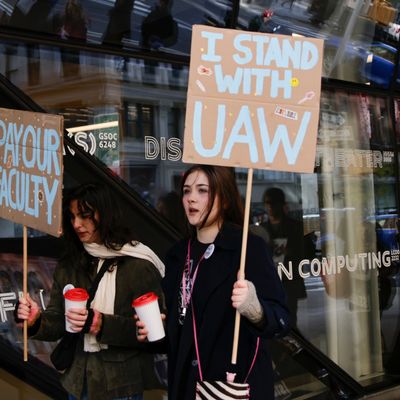 Photo: VIEW press/Corbis via Getty Images
Over the weekend, part-time faculty at the New School and one of its divisions, Parsons School of Design, agreed to end a three-week-long strike for better pay and working conditions and to resume classes immediately. The strike centered on the New School's contact-hour system, in which part-time instructors — who make up almost 90 percent of the school's teaching faculty — are paid only for hours they spend inside the classroom, while labor performed outside of it, like grading and prep work, goes uncompensated. During the grueling strike, the university, which bills itself as a socially progressive and avant-garde institution, argued that it cannot meet adjuncts' demands without raising the cost of undergraduate tuition, which, including fees and on-campus living expenses, totaled roughly $78,000 last year. Meanwhile, part-time faculty have claimed the school isn't transparent about where tuition dollars are going; the New York Times reports that the school purchased a $125 million building this past year alone. Things occasionally turned hostile during negotiations, with the university withholding pay from protesting workers during the last week of the strike. While we don't know the official details of the tentative agreement and union members have told the Times that not all of their compensation demands were met, a statement posted to the union website notes that part-time faculty will receive "substantial raises," payment for work performed outside the classroom, expanded health-care eligibility, paid family leave, and more.
The strike was the longest of its kind in U.S. history, and many undergraduate students joined the picket line. Working conditions for part-time faculty remains an issue outside the New School, as academic institutions have become increasingly reliant on adjunct labor to cut costs and adjuncts frequently make poverty wages without receiving benefits. The Cut spoke to three part-time faculty workers, many of whom work multiple jobs to stay afloat in New York City, about their struggles.
"I feel like I'm in a dysfunctional relationship." —Emily*, fashion, textile-history, and cultural-studies professor at Parsons
I began at Parsons in 2005 while also working part time at the Whitney. I have additional jobs as a fashion producer and consultant. On average, I teach eight to ten classes a year, including summer classes, whereas full-time faculty teach four to five classes during the year and don't teach during the summer. I'm currently teaching four classes and am getting paid for 12 contact hours, but I do between 30 to 40 hours of work a week because of all the prep. 
Before we went on strike, I told my students, "Imagine you went on a job interview today and the job was presented to you as 'We're going to pay you for one-third of your time, and you're going to volunteer the other two-thirds.'" That's the equivalent of what most of us do. I have double the workload of full-time professors for half the pay. For my first ten years at Parsons, I was bright-eyed and bushy-tailed and kept taking on classes and contracted work in the hopes of going full time, but they never took me on despite having ten years of incredible evaluations and students who vouch for me. After 18 years, I feel like I'm in a dysfunctional relationship.
I'm on the higher end of the pay scale and earn about $6,000 per class, but ten classes a year is only $60,000, and you often need more money than that to even get a studio apartment. I'm a single mom and don't have consistent child support. One reason I've stayed is because being an adjunct and working freelance gives me the maximum flexibility to raise my son. I try to work enough freelance jobs to break $80,000 and pay my rent. When I was pregnant — it was a surprise pregnancy — I was teaching online. Back then, Parsons only had unpaid maternity leave, which I couldn't afford to take. I gave birth on Tuesday and was back online with my students by Friday, and they had no idea I had a baby. It's horrific to think back on now.
I've lived in a rent-stabilized apartment in the Village for the past 20 years. I often laugh because it's a posh neighborhood, but I'm working so hard just to make ends meet. I've worked at least eight to ten jobs in addition to Parsons. I can't be fully available to my child or my students. I pick up gigs whenever I can, and my mother often helps out when I'm working late because I can't afford child care. Then there's spells where there's no freelance work and it's like, How are we paying rent this summer?
My main concerns are rent and food. I'm just trying to keep the lights on. I'm ready for retirement, although I'll never be able to retire because I don't have any money, even though my CV is nine pages long. It's been therapeutic to be on the picket line with colleagues and realize I'm not alone in this, to learn that they also didn't take maternity leave and are also working 50 jobs.
"There's a sense of overarching anxiety that always follows you around." —Amy*, art-history adjunct at the New School 
I've worked as a writer in galleries, at nonprofits and foundations, and in publishing, which are great places to work but tend not to offer health insurance. I was interested in the New School because of their social-justice mission and their health-care benefits. You're only eligible after working a certain number of semesters, and there are hoops you have to go through to get it, like no pauses in teaching and minimum hours, but once my wife and I decided to have a family, health care became imperative.
I teach one class a semester. I'm in the classroom five hours a week but spend a good 15 outside of class doing unpaid labor. Adjuncts make around $4,000 to $6,000 a semester, but because I have a family on the health-care plan, I bring home about $400 a month and pay the rest of my income toward my health-insurance premium. Many of us teach because health care isn't an option elsewhere, even when we're working ten other jobs. I work at a nonprofit six days a week and as an editor and freelance writer. It's a constant juggle, and there's a sense of overarching anxiety that always follows you around.
Before the strike, a lot of undergraduates were unaware of adjunct conditions. Some of them have been taught by adjuncts throughout their whole time at the New School and didn't know the difference between part-time and full-time faculty, and I saw several of them on the picket line. They understand our working conditions are their learning conditions. My students are so worth it. They're the reason I remain, but my stomach hurts all the time.
"I increasingly take on more jobs to cobble together an income and survive." —Annie Lee Larson, knitting instructor at Parsons 
I'm a knitwear designer with a small made-to-order business and started teaching at the Parsons School of Fashion in 2016. I've taught every semester since then, with the exception of one year during the pandemic where I didn't receive any courses and was making zero income. I loved teaching right away. Speaking with young people and getting them excited about design was transformational for me. It's so gratifying, and it never gets old.
I teach one class in the fall and one in the spring and every now and then get an extra class. I get paid for 45 contact hours in the classroom, which is pretty standard. I make $4,299 for a full semester at Parsons, and my rate has hardly increased since I started. A huge part of our contract campaign has been getting recognition for the immense work we do outside of class, from grading to prep. While I'm grateful to have health care [under our old contract], part-time faculty have to work a few semesters before they receive it, and sometimes — this happened to me a few years ago — the school wouldn't assign you enough courses, and you wouldn't be eligible for benefits. During COVID, many of my colleagues were forced off the plan and went on Medicare.
It's really hard to stay afloat. I still work full time at my business, but it's not enough to live on. I increasingly take on more jobs to cobble together an income and survive. Living alone in the city is hard. I couldn't afford my old studio and had to move. I work all the time, including nights and weekends. We're passionate educators and want to be the best we can for our students, many of whom led the way on the picket line and demanded to know where their tuition dollars were going. But when we're so disrespected by our institution, that spirit gets ground away. There's no transparency about finances. When you see the school purchased a $125 million building in 2022 but said they didn't have money for adjuncts making $4,000 a semester, it's such a slap in the face.
*Some names have been changed.