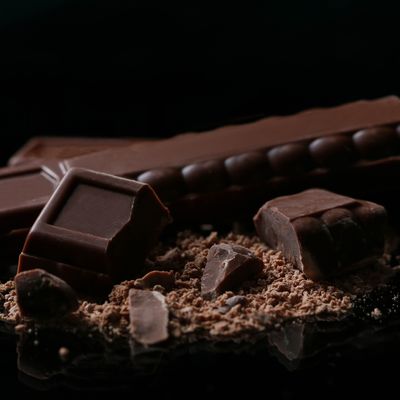 Photo: Kevin Delcroix/Getty Images/500px
Dark chocolate lovers, we have a problem. A new study from Consumer Reports found that many common dark-chocolate brands contain potentially harmful levels of lead and cadmium, which could cause health problems. And no, the antioxidants in dark chocolate won't cancel it out.
Consumer Reports tested 28 dark-chocolate bars for lead and cadmium, including ones from Ghiradelli, Scharffen Berger, Lindt, Dove, Godiva, and even Trader Joe's. Of those 28, 18 were found to contain levels of lead or cadmium in just one ounce of product that are above what is deemed safe by California standards for maximum allowable dose levels (MADL); five were found to contain unsafe levels of both lead and cadmium. For context, NPR reported that an average chocolate bar ranges from 1.5 ounces to 3.5 ounces, so if you're eating more than a few squares of chocolate a day, you might want to rethink your habits.
According to Consumer Reports, long-term exposure to high levels of lead and cadmium can cause developmental problems in young children and pose threats to pregnant women. It can also reportedly lead to "nervous system problems, hypertension, immune system suppression, kidney damage, and reproductive issues." And these heavy metals are not just found in dark chocolate, they are present in other foods as well, which means that even if you don't eat one ounce of dark chocolate a day, you might still be consuming above the MADL of lead and cadmium. That said, there are no claims that these chocolate bars are not in compliance with requirements from the FDA or California's regulations.
As John Hopkins Medicine toxicologist Andrew Stolbach told NPR, the MADL is meant to be "very conservative" to protect higher-risk individuals. "The safety levels for lead and cadmium are set to be very protective, and going above them by a modest amount isn't something to be concerned about," he said. "If you make sure that the rest of your diet is good and sufficient in calcium and iron, you protect yourself even more by preventing absorption of some lead and cadmium in your diet."
This sounds bad, but there is some good news: five of the 28 chocolate bars tested were deemed to be "safer" — meaning they contain less than California's MADL. These "safe" bars include: Mast's Organic Dark Chocolate 80% Cocoa, Taza Chocolate's Organic Deliciously Dark Chocolate 70% Cacao, Valrhona's Abinao Dark Chocolate 85% Cacao, Ghiradelli's Intense Dark Chocolate 86% Cacao, and Ghiradelli's Intense Dark Chocolate Twilight Delight 72% Cacao. And there's still hope that other chocolates can reduce lead levels, as lead contamination reportedly occurs post-harvest, meaning changes in procedure could lower lead in chocolate. In the meantime, Consumer Reports' Tunde Akinleye, the food-safety researcher who led this study, advised chocolate lovers to embrace moderation. Or you could always do the unthinkable: switch to milk chocolate.